Professor Damian Chalmers - 4 December 2017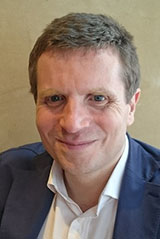 On Monday 4 Decemeber at 16:00 Professor Damian Chalmers with present a paper entitled The Future of Regional Integration: Moving from Trade Communities to Investment Communities.
Damian has worked at the London School of Economics and Political Science for twenty four years with ten of these as a Professor. He was Head of its European Institute and the Jean Monnet Centre there for four years. He has held Visiting Appointments at the CEU, College of Europe, Copenhagen, EUI, Fundacao Getulio Vargas, Instituto de Empresa, Institute of Advanced Studies Vienna, and Fudan (PRC).
He was also a Strauss Fellow at NYU and a Senior Fellow on the British ESRC 'UK in a Changing Europe' programme. He was co-editor of the European Law Review for six years and won thhe Wedderbrun Prize in 1997 for best article in the Modern Law Review in that year.
Competition Law Scholars Forum Workshop -
September 2016
On Friday 16 September 2016, in association with A&L Goodbody, the Competition Law Scholars Forum (CLaSF) and UCD Sutherland School of Law (BLREG), a workshop was presented on 'Competition Law and Enforcement Priorities'.
Internationally renowned Professor William E. Kovacic of George Washington University Law School gave the keynote speech on 'Prioritization, Project Selection and Agency Effectiveness'.
There were also contributions from Dr Vincent Power, A & L Goodbody, Dublin who delivered a paper entitled; 'An Analytical Review of the Choices/priorities made by Ireland's Competition Authority/Competition and Consumer Protection Commission 1991-2016'.
The full list of speakers and papers can be found here CLASF 2016 - Final ProgrammeCLASF 2016 - Final Programme.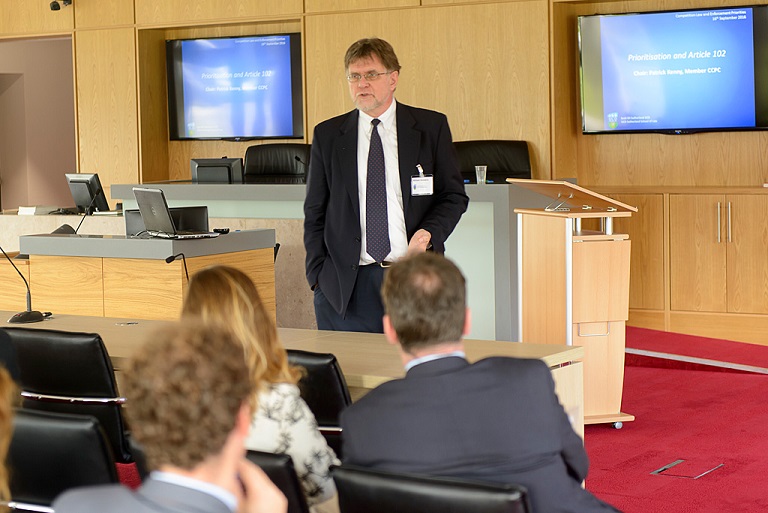 Prof. William E. Kovacic of George Washington University Law School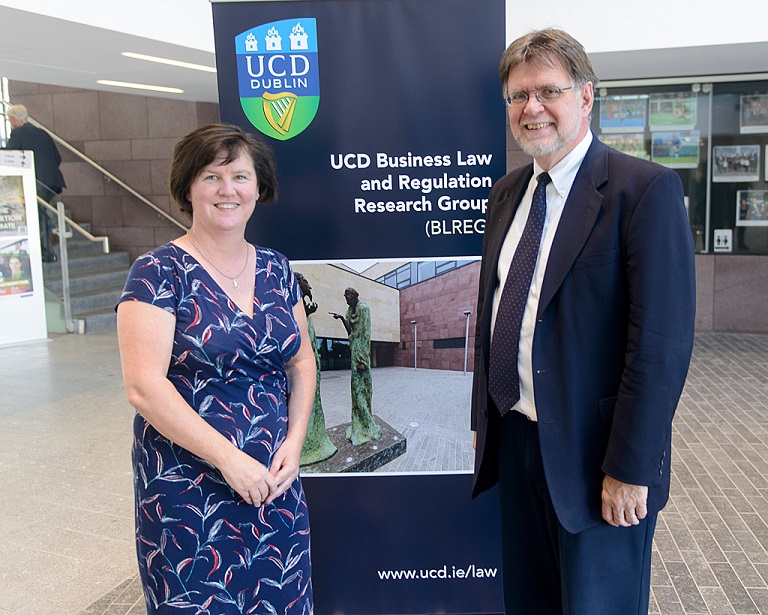 ‌
Dr Mary Catherine Lucey and Prof. William E. Kovacic
Prof. William E. Kovacic, Prof. Imelda Maher, Dr Mary Catherine Lucey, Prof. Colin Scott and Prof. Barry Rodger (CLaSF)
Hong Kong Competition Commission Colloquium - October 2016
Hong Kong Competition Commission Colloquium
Enforcement Issues of Shared Interest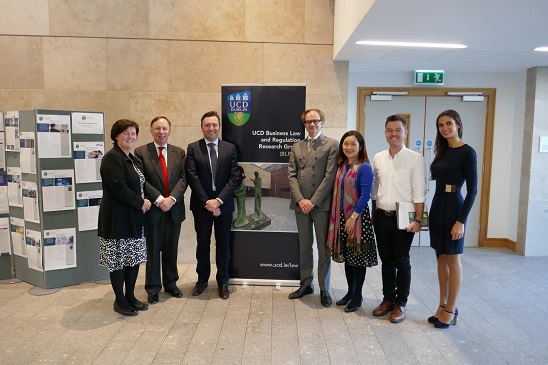 Hosted by BLREG, Sutherland School of Law, UCD
CLEC BOARDROOM October 6th 2016
3.30 - 5.30
Click here for the full programme: HONG KONG COMPETITION COMMISSION COLLOQUIUM
FATF Workshop - September 2016
You are welcome to register and participate in a workshop about the Financial Action Task Force country evaluation of Ireland and how this relates to nonprofit organisations/charities. The event jointly organized by Dr. Oonagh Breen from the Sutherland School of Law, the European Center for Not-for-Profit Law, the European Foundation Centre, and Human Security Collective will take place on Monday September 26th from 11:00 – 15:00 at the Sutherland School of Law, University College Dublin.
This year, Ireland is scheduled for a mutual evaluation review from the intergovernmental body Financial Action Task Force (FATF). The FATF calendar indicates that representatives from the FATF are due to visit Ireland in November/December 2016 to investigate if Ireland lives up to the recommendations that are set by the FATF. The FATF is a policy-making organisation that leads the international fight against money laundering and terrorist financing. One of its standards, FATF Recommendation 8, specifically aims to mitigate the risk of terrorist financing by way of non-profit organisations (NPOs). The implementation of Recommendation 8 at a national level can either enable or constrain the activities of affected NPOs.
The aim of this meeting is to get a good understanding of how the FATF system works, what are the current issues at stake for Irish actors, both State (Government, Charity Regulator, Garda Síochána, etc) and NPOs; and to learn how NPOs can engage in the evaluation process. We will also share NPOs' experience with recent FATF evaluations in other countries. We hope that you, as an NPO, committed both to insuring that NPOs can operate in an enabling environment and to mitigating the risk of abuse for the financing of terrorism, will be able to join us on September 26 for this interactive session.
Please confirm your attendance or that of an appropriate associate to Hanna Surmatz, European Foundation Centre at HSurmatz@efc.be.
Prof. Adrian J. Walters to visit Sutherland
Professor Adrian J. Walters, Ralph L Brill Professor of Law, Chicago-Kent School of Law is visiting the Law School the week of June 27. The Group will meet with Prof Walters for a brown bag lunch (i.e. bring your own lunch, coffee will be provided) on Wednesday June 29 at 1 pm in the CLEC BOARDROOM to hear about his paper - "Shoppers' paradise? Some realism about 21st century United States bankruptcy jurisdiction over non-US debtors".
Prof Walters is a corporate and insolvency lawyer and has kindly agreed for his draft paper to be sent out with his caveat that it is a work in progress and is targeted at an insolvency audience but hopes it may be of some interest to us also. More detail on his profile can be found here: https://www.kentlaw.iit.edu/faculty/full-time-faculty/adrian-walters.
‌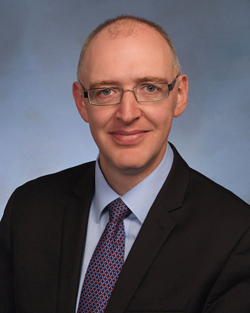 Prof. Adrian J. Walters.
D‌r Oonagh Breen's paper makes Top 10 List

Dr Breen's paper, "European Non-Profil Oversight: The Case for Regulating from the Outisde In", was recently listed on SSRN's Top Ten download list for: Nonprofit & Philanthropy Law eJournal. Please view the abstract and download statistics at: http://ssrn.com/abstract=2784714.
D‌r Oonagh Breen visits Melbourne
Dr Oonagh Breen recently spoke at a forum on International fundraising regulation hosted by the Australian Charity and Not-for-Profit Commission (ACNC) while she was the Potter Foundation Fellow at the Australian Centre for Philanthropy and Nonprofit Studies (ACPNS) at QUT, Brisbane. The Commissioner refers to this forum in her most recent Commissioner's Column, which is circulated to all registered charities in Australia and other interested parties (see http://acnc.gov.au/ACNC/Comms/Com_Col/CC_20160524.aspx).
The ACNC has also shared the slides from the presentations made that day on its website at http://acnc.gov.au/ACNC/Comms/LN/LN_20160513.aspx.
‌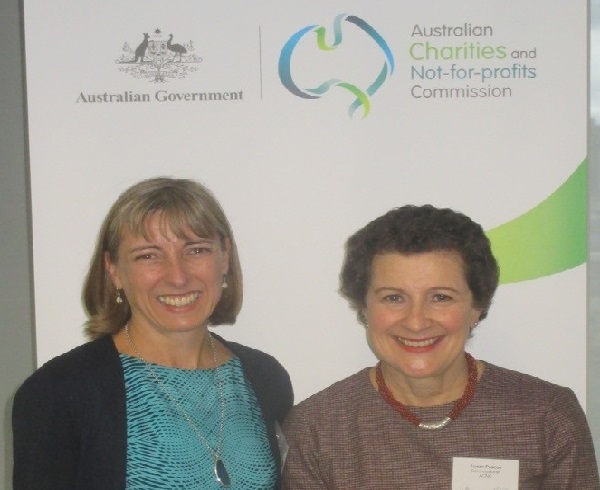 Dr. Breen with Commissioner Susan Pascoe.
D‌r Mary Catherine Lucey visits Singapore
Dr Mary Catherine Lucey, Associate Dean of Undergraduate Programmes, was an invited guest speaker at a seminar organised by the Centre for Business in the National University of Singapore. Her paper discussed "Professionals in Employment and Competition Law". In addition, she delivered a paper "Associations on the Margins of Competition Law" to the Competition Commission Singapore - see photo with Ms Winnie Ching Deputy Director (Legal) and Harikumar Pillay, Deputy Director (Enforcement).
Mary Catherine also delivered a joint paper (with Prof Barry Rodger, University of Strathclyde) on "Convergence and Divergence in the EU: Norms, Enforcement Rules and Prioritisation in the UK and Ireland" at a conference entitled 'The Regionalisation of Competition Law within The ASEAN Economic Community' organised by the Centre for Law and Business, National University of Singapore. Dr Lucey presented alongside speakers including Professor Alison Jones, King's College London, Professor Eleanor Fox of New York University School of Law and Professor Josef Drexl, Director of the Max Planck Institute for Innovation and Competition, Munich.
On the final days of her visit to Singapore she participated in the International Competition Network (ICN) Annual Conference as Non Governmental Advisor to the Irish Competition and Consumer Protection Commission.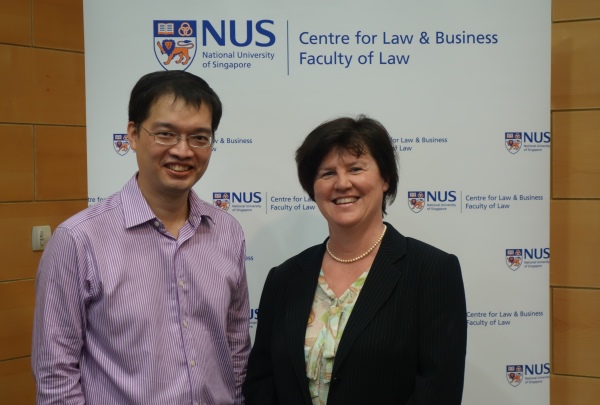 Dr. Lucey with Professor Burton Ong Director (Competition Law) Centre for Law and Business at the National University of Singapore.
D‌r Mary Canning attends Cass Business School's Leadership, Professionals and Power Symposium
In association with Allen & Overy in London, on Friday 20 May 2016, Dr Canning attended this one-day symposium bringing together leading scholars, senior professionals, regulators and clients from around the world to discuss the challenges, implications and prospects for leadership and power in the changing context of professional work.

Click on the link to download the Draft Agenda - 2016 Leadership Symposium.