Department of Psychiatry and Mental Health Research (SVUH) E-learning Projects 2011/2012
The UCD School of Medicine and Medical Science Department of Psychiatry and Mental Health Research is committed to maximising the benefit to all of every encounter between patients and our trainees. We want students to arrive on site feeling optimally prepared for any learning opportunities that may arise and to be able to turn to a set of structured resources that enable them to consolidate and build upon their learning to date.
To this end, the department is actively developing and validating a variety of E-learning resources that cater to the ways students are learning today and exploit the opportunities afforded by emerging technologies to better achieve our learning objectives and map learning and assessment to the context in which the knowledge will ultimately be applied. These resources are currently used as part of a blended learning strategy.
We work closely with Teaching and Learning and Media Services at UCD and are grateful to have received funding from the National Digital Learning Repository and through the UCD President's Teaching Grants and Module Innovation programmes. We actively welcome approaches about possible future collaborative projects.
Dr. Allys Guerandel of St. Vincent's University Hospital has been involved in the production of much of this content and can be contacted here.
E-learning module on History Taking and Mental State Examination
This module makes extensive use of video-supported clinical vignettes with activities and appropriate formative assessment. In this way, it is hoped that the learning will be more appropriately situated. Indeed, early feed-back from student focus groups who have used the module suggests that, as students often find themselves echoing phrases they have heard in the module, they were less likely to resort to jargon. Sample content from this module may be viewed here.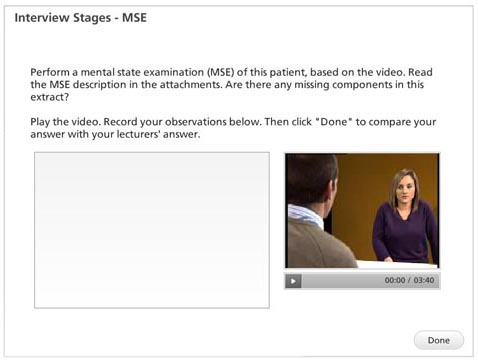 E-learning module on Reflection
This module (developed in conjunction with Teaching and Learning at UCD) uses video footage of Dr. Geraldine O'Neill to guide the student through a series of activities. These are, by necessity, self-paced and many incorporate a component of reflection. The module also exploits the forum functionality of our Learning Management System to incorporate a degree of social construction into the learning. Sample content from this module may be viewed here.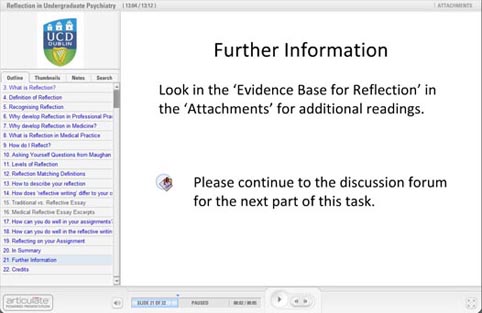 E-learning module on Clinical Audit
The procedural and analytical nature of clinical audit can make it a daunting topic for students and educators alike. This module seeks to place clinical audit in the context of everyday practice. It aims to lower the barriers to participation by walking the students through a simplified audit simualtion in which the students must choose standards, analyze data and take appropriate action. Sample content from this module may be viewed here.
Postgraduate E-learning module on Electro-Convulsive Therapy
This module has been developed for use by trainees in psychiatry in sites across the country. It instructs the trainee in the procedures involved in obtaining informed consent from patients for treatment with Electro-Convulsive Therapy and facilitates the acquistion of the knowledge, skills and competencies necessary for the safe and effective delivery of ECT.Sample content from this module may be viewed here.