UCD School of Veterinary Medicine - Athena SWAN
Athena SWAN Charter
Recognising advancement of gender equality: representation, progression and success for all.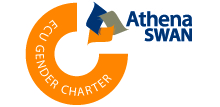 The Athena SWAN Charter was established in 2005 to encourage and recognise commitment to advancing the careers of women in science, technology, engineering, maths and medicine (STEMM) employment in higher education and research.
In May 2015, the charter was expanded to recognise work undertaken in arts, humanities, social sciences, business and law (AHSSBL), and in professional and support roles, and for trans staff and students. The charter now recognises work undertaken to address gender equality more broadly, and not just barriers to progression that affect women.
The Athena SWAN charter commits education institutions to adopt ten principles to tackle gender inequality and the underrepresentation of women in senior roles in higher education.
UCD signed the Athena SWAN charter in 2015 and received the Athena SWAN Bronze Institutional Award in March 2017 in recognition of its commitment to improving gender equality. The award is given to higher education institutions that have demonstrated a comprehensive understanding of gender equality issues and have enacted an action plan to tackle them.
By the end of 2019, Higher Education Institutions in Ireland will be required to hold an Athena SWAN Bronze award to be eligible for research funding from Science Foundation Ireland, the Irish Research Council and the Health Research Board.
Self Assessment Team (SAT)
In September 2017, the School of Veterinary Medicine set up a Self-Assessment Team (SAT) with a view to applying for an Athena SWAN Bronze award in November 2018.
The SAT has 24 members from across the School who are at various stages in their careers. Team members' selection was based on the need for diversity in gender, academic level and parenthood responsibilities. It's made up of members of senior management, professors/lecturers, clinical staff, professional staff, research staff and students.
‌SAT membership is as follows:
The School's SAT meet regularly to progress our application for the November deadline. We also review and monitor the implementation of our planned actions.
We welcome feedback that helps us address our Athena SWAN objectives - SAT members can be contacted at their email addresses above to discuss Athena SWAN.
Karen O'Connell and Jenny Caffrey joined the School in January 2018 and May 2018 respectively to help with the administration of the Athena SWAN application. They can be contacted on vetathenaswan@ucd.ie