School Accreditation
AVMA (American Veterinary Medical Association)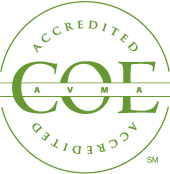 The UCD School of Veterinary Medicine is one of only six veterinary schools currently accredited by the AVMA in Europe. As a result, graduates from the UCD programme can receive a license to practice veterinary medicine in the US or Canada without having to complete a special 'foreign graduates' exam.
The UCD School of Veterinary Medicine has full accreditation from the American Veterinary Medical Association (AVMA) Council on Education. Full reaccreditation was awarded after a site visit in January 2014 and the next visitation will be in 2021.
NAVLE Pass Rates
The North American Veterinary Licensing Exam or NAVLE is a requirement for licensure to practice veterinary medicine in all licensing jurisdictions in North America. Senior students and recent graduates of AVMA-accredited veterinary colleges must pass the NAVLE in order to gain licensure. The NAVLE is comprised of 360 clinically relevant multiple-choice questions and is administered as a computer-based examination throughout North America and at certain overseas sites during a four week testing window in November/December, and a two week window in April. The AVMA Council on Education current required pass rate is 80%.
| UCD Full Year | Number NAVLE Candidates | Number Passing | % Passing | Number Conferring |
| --- | --- | --- | --- | --- |
| 2009 - 2010 | 29 | 24 | 86 | 75 |
| 2010 - 2011 | 25 | 24 | 96 | 68 |
| 2011 - 2012 | 27 | 26 | 96 | 74 |
| 2012 - 2013 | 56 | 49 | 88 | 93 |
| 2013 - 2014 | 57 | 52 | 91 | 104 |
| 2014 - 2015 | 63 | 56 | 89 | 110 |