Dr. Dara Stanley awarded 'Founders Prize' by British Ecological Society
Dr. Dara Stanley, UCD School of Agriculture and Food Science awarded 'Founders Prize' by British Ecological Society
The British Ecological Society (BES) announced today, 15th October, the winners of its annual awards and prizes, recognising thirteen distinguished ecologists and groups whose work has benefited the scientific community and society in general.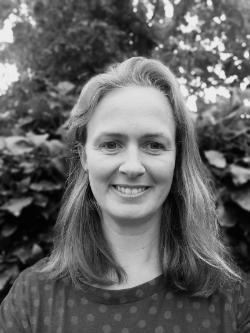 This Founders Prize which was awarded to Dr. Dara Stanley, UCD School of Agriculture and Food Scinece commemorates the enthusiasm and vision of the Society's founders. It is awarded to an outstanding early career ecologist who is starting to make a significant contribution to the science of ecology.
Dr. Dara Stanley a Lecturer in Applied Entomology and agro-ecologist at the UCD School of Agriculture and Food Science was awarded the Founders' Prize. This Prize commemorates the enthusiasm and vision of the Society's founders and is awarded to an outstanding early career ecologist who is starting to make a significant contribution to the science of ecology.
Dara Stanley is interested in insects and their interactions with plants, from a basic ecological perspective through to conservation and roles in agriculture. Dara began her research career as a PhD student at Trinity College Dublin and has spent time in London, Pietermaritzburg in South Africa and Galway before starting her current position at UCD.
On receiving the award, Dara said: "Ecology is becoming an increasingly important and well-recognised discipline, especially in this era of biodiversity loss and climate change, and the BES is at the forefront of this. I have been a BES member throughout my career and have benefitted so much from BES annual meetings, SIGs, funding, and publications. Therefore, as an early-career ecologist it means so much to me to get this award from BES."
Dr. Stanley was nominated for her current work investigating the non-target impacts of pesticide use on terrestrial ecosystem services in Ireland. Pesticides are widely used in modern agriculture, to combat crop pests. However, when applied to crops they can also come in contact with other non-target organisms, many of which may in fact be providing ecosystem services to the crop. This interface between pesticide use and the delivery of services from nature to agriculture is becoming increasingly important as we try to move towards more sustainable agricultural systems explained Dr. Stanley.
Some current projects which Dr. Stanley leads at UCD include the Department of Agriculture, Food and the Marine funded PROTECTS project and the Science Foundation Ireland funded SUSPOLL project
Through PROTECTS researchers are trying to understand how pesticides widely applied in Irish agriculture, which are largely fungicides and herbicides, may affect ecosystem services provided by pollinators and residues in soils and how to mitigate against these impacts to ensure sustainable farming systems.
The full list of 2021 BES award and prize winners is as follows:
Honorary Membership: Sue Hartley, The University of Sheffield; Peter Vitousek, Stanford University; Gretchen Daily, Stanford University; Pat Monaghan, University of Glasgow.
President's Medal: Yvonne Buckley, Trinity College Dublin
Marsh Award for Ecology: Julia Koricheva, Royal Holloway University of London
Marsh Award for Climate Change Research: Ruth DeFries, Columbia University
Marsh Award for Ecologists in Africa: Paula Kahumbu, WildlifeDirect
Founders' Prize: Dara Stanley, University College Dublin
BES Award: Zoe Davies, Durrell Institute of Conservation and Ecology (DICE), University of Kent
Ecological Engagement Award: Charudatt Mishra, Snow Leopard Trust
Equality and Diversity Champion: BlackAFin STEM Collective
Marsh Ecology Book of the Year award: Ian Newton for Uplands and Birds
The winners will be presented with their prizes during a ceremony held at Ecology Across Borders, a joint conference with the French Society for Ecology and Evolution (SFE²), which runs from 12 – 15 December in Liverpool. The meeting will bring together 1,200 ecologists (in person and online) to discuss the latest advances in ecological research across the whole discipline.
For more information about the awards, please contact: Davy Falkner, Media Relations Officer, British Ecological Society. Email: davy@britishecologicalsociety.org, T: +44 (0)20 3994 8255, M: +44 (0) 7525 966 919
About British Ecological Society
Founded in 1913, the British Ecological Society (BES) is the oldest ecological society in the world. The BES promotes the study of ecology through its six academic journals, conferences, grants, education initiatives and policy work. The society has 6,000 members from more than 120 different countries. www.britishecologicalsociety.org
UCD School of Agriculture and Food Science
Agriculture and Food Science Centre, University College Dublin, Belfield, Dublin 4, Ireland. T:
+353 1 716 7205
|
Location Map