Registration is now open for UCD Agriculture, Food Science and Human Nutrition Summer School Programmes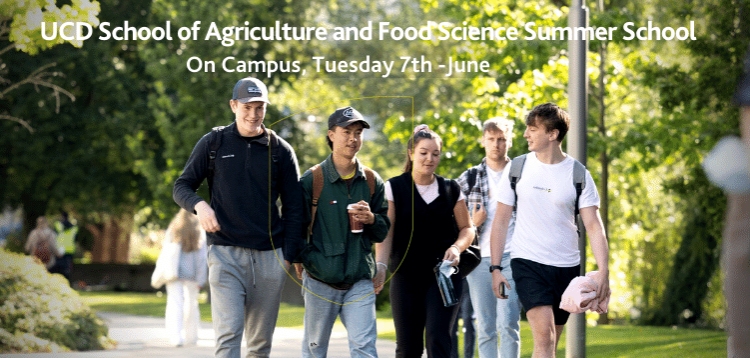 Interactive full-day information event on 7th June 2022 for 5th-year students considering their CAO options, with four summer schools on offer.
The UCD School of Agriculture and Food Science will host their first in-person Summer School since 2019 on the UCD Belfield Campus on Tuesday, 7th June at 10 am.
This year's exciting summer school will offer four separate events covering the wide range of programme opportunities available at the school with off-site visits to UCD Lyons Farm and UCD Rosemount Environmental Research Station.
Prospective students can choose from a summer school in:
Each event has been specially tailored to give prospective students an in-depth understanding of each of the programme areas and will include subject-specific interactive workshops designed to give those in attendance an understanding of what being a student at UCD School of Agriculture and Food Science is like.
Those attending the Agricultural Science Summer School will take a tour of the UCD Lyons Farm, a 280-hectare research farm located 40 minutes from the UCD Belfield Campus while those attending the Food Science and Human Nutrition summer school will take part in activities at the UCD Institute of Food and Health.
Dr Caroline Elliott-Kingston, Head of Horticulture at UCD will welcome Horticulture attendees to UCD Rosemount Environmental Research Station, a state-of-the-art plant and environmental research facility located on the UCD Belfield campus which supports teaching and learning on several programmes within the school.
Students attending the Forestry programme will have an opportunity to find out about the latest Forestry research taking place at UCD on topics such as Sustainable Forestry Management, Continuous Cover Forestry and Forest Management and Economics and to conduct some forestry related experiments with UCD staff and students.
During the event, UCD staff members will provide information on the fourteen programme entry routes on offer. You will find out about the exciting career opportunities open to graduates and hear about programme highlights such as study abroad opportunities and professional work experience. Current and former students will share their experiences of studying at the UCD School of Agriculture and Food Science.
Student ambassadors will bring attendees on a tour of the UCD Belfield campus.
A highly recommended event for anyone considering studying Agriculture, Food Science, Forestry, Horticulture or Human Nutrition at university.
Registration is now open at www.ucdsummerschool.ie. Places are limited so advance booking is advised.
DATE: 7th June 2022
TIME: 10am – 5pm
CONTACT: Valerie Abbott – valerie.abbott@ucd.ie
UCD School of Agriculture and Food Science
Agriculture and Food Science Centre, University College Dublin, Belfield, Dublin 4, Ireland. T:
+353 1 716 7205
|
Location Map