Agricultural Sciences is top ranked subject at UCD and

placed

24th in the world
UCD remains No.1 in Ireland in US News & World Report's Best Global University Rankings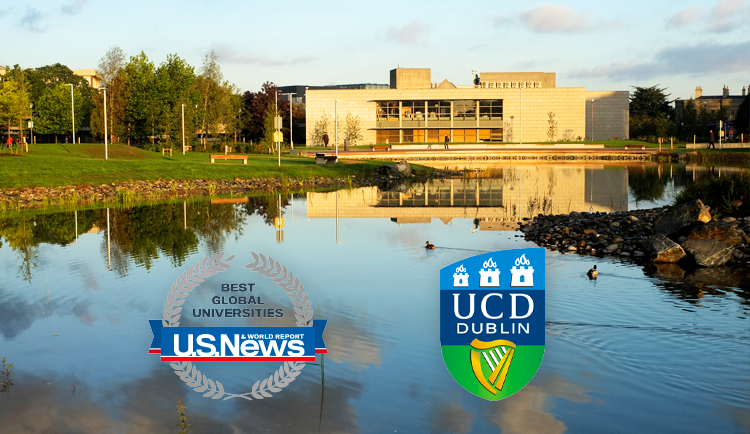 UCD ranked number one in Ireland for a second year in a row by US News & World global rankings

UCD Agricultural Sciences 24th in the world
University College Dublin has again topped the list as the number one ranked university in Ireland, according to the latest US News & World Report's Best Global University Rankings.
In the 2021 listings, the university now sits at 226 globally and 97 in Europe – a rise of five places over last year's rankings.
UCD is now the only Irish university listed among the top 100 European Best Global Universities.
This is the seventh year that the US News & World Report has published the Best Global University rankings, which includes over 1,500 universities from across 86 countries.
The rankings employ more than a dozen performance indicators, assigning a score to each, to determine an university's overall placement.
They include total citations, research impact, international collaboration, and a university's publications and their total citation amongst the 10 percent most cited works.
UCD's top subject ranking was Agricultural Sciences, with remains in the top 25 in the world at 24. In terms of percentages, research in this area at UCD was number one globally among the top 1% of most cited papers.
Regarding the number of highly cited papers from Agricultural Sciences listed among the top 1% most cited, UCD was ranked third in the world.

UCD President Professor Andrew Deeks said that the recognition of Agricultural Sciences at the University was a "a terrific validation of the quality of our research in this area."
Two countries are represented by the overall top 10 universities, the United States of America and the United Kingdom.
Harvard University maintains its No. 1 rank, while Massachusetts Institute of Technology comes in at No. 2. Stanford University and the University of California–Berkeley are third and fourth, respectively. The UK's University of Oxford finishes out the top five in the overall ranking.
By: David Kearns, Digital Journalist / Media Officer, UCD University Relations
UCD School of Agriculture and Food Science
Agriculture and Food Science Centre, University College Dublin, Belfield, Dublin 4, Ireland. T:
+353 1 716 7205
|
Location Map