UCD School of Agriculture and Food Science researcher recognised at IRC's Annual Research Awards
UCD School of Agriculture and Food Science Researcher awarded as Top Ranked Postgraduate of the Year in STEM
Dr Tara Dirilgen, UCD School of Agriculture and Food Science, has received the 'Thomas Mitchell Medal of Excellence' at this year's Irish Research Council (IRC) Research Awards.
The 'Thomas Mitchell Medal of Excellence' is awarded for being the top-ranked postdoctoral researcher in the STEM category and is one of four 'Medals of Excellence' present to early-career researchers at the annual Research of the Year Awards.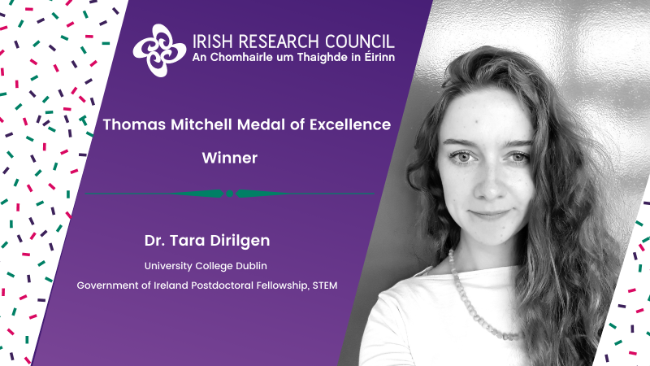 Dr. Dirilgen is a Postdoctoral Researcher on the Science Foundation Ireland SUSPOLL project. Her research explores how biodiversity below ground influences plants and pollinators above ground. Her research investigates how below ground interactions, soil biodiversity and plant roots, effect plant-pollinator interactions and how the use of pesticides in crop protection might alter this. The findings will inform management of agricultural systems to promote both biodiversity conservation and food production.
"The diversity of life that surrounds us, be it plants, insects, birds and so on, fascinates me to no end. With this comes the desire to understand biodiversity, the threats causing its loss and the subsequent impact on services the environment provides, such as pollination," Dr Dirilgen said.

"In particular I am keen to explore biodiversity in soil and how this may have effects above ground. I am driven by curiosity and wanting to add to the existing pool of knowledge that feeds into developing solutions to current threats to biodiversity."
She added: "My proposal would not have been what it is only for the support and encouragement I received from a number of people, especially the enthusiasm I received from my research mentors, Dr Dara Stanley and Dr Saoirse Tracy."
Two other researchers from University College Dublin were also recognised at this year's IRC Researcher of the Year Awards.
Dr Colin Keogh, who completed his PhD earlier this year under the supervision of Professor Lizbeth Goodman, Chair of Creative Technology Innovation in the UCD School of Mechanical and Materials Engineering, was awarded this year's IRC Impact Award.
Dr Brynne Gilmore, UCD School of Nursing, Midwifery and Health Systems, was highly commended in the Early Career Researcher of the Year Award category.
UCD School of Agriculture and Food Science
Agriculture and Food Science Centre, University College Dublin, Belfield, Dublin 4, Ireland. T:
+353 1 716 7205
|
Location Map