Student Experience
Student Blogs
Student Testimonials
Show/hide contentOpenClose All
Joshua Hüning Architecture major TU Vienna, Autumn 2019
Coming to UCD, I was impressed by everything this university has to offer. If it is a student's centre where you can do sports exercise and go swimming or all the other activities you can do such as sailing or volleyball, there is a society for everyone. During the first week, I participated at the welcome events where I made amazing friends with whom I made the best memories over the semester, and these friendships will certainly continue throughout our stay here in Ireland. I enjoyed the atmosphere on campus, where friendships can be interdisciplinary, and people meet from different countries studying different subjects. UCD is also a university that encourages its students to explore the richness of the country, so I made some unforgettable trips to Galway, Belfast and Wicklow. Studying architecture at UCD Richview was a great experience I wouldn't like to miss.
The equipment of the workshop is outstanding, and the topics are appealing and actual. Unlike in other universities, I learned here to cooperate much more with other students and develop strategies as a group, from which we all benefited. The professors were very open and gave very helpful advice. They also took a lot of time for us and our projects, which was remarkably. Also, our fellow Irish students were supportive from the first day and got us involved like we were an important part of this university. Overall, I have to encourage everyone thinking of studying architecture at UCD, use this great opportunity and make experiences that last from which you will benefit your whole life.
Noa Barak, Junior Year Architecture Student, University of Massachusetts Amherst, academic year 2016/2017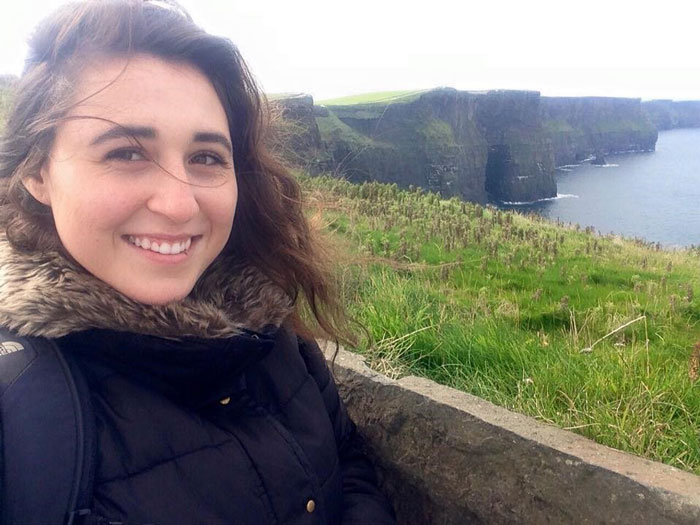 "My time at UCD has been unforgettable. I have spent the last year studying architecture, which is unlike a lot of the other study abroad programs in the sense that it requires a lot more work than most. The architecture program here in UCD produces independent-thinking, hard-working students who go on to achieve amazing success in their careers. It's easy to understand why, because the program requires you to do a lot of things on your own with very little strict guidance. I have learned so many basic planning and time management skills as well as creative processes by which to go about my work. I loved my time at UCD. I would say if you decide to come to UCD for architecture just know that it will be challenging but the skills you learn and especially the people you study with in Richview will make your time at UCD 100% worth it."
Talia Gasko, Urban Planning Junior, University of Delaware, Fall 2018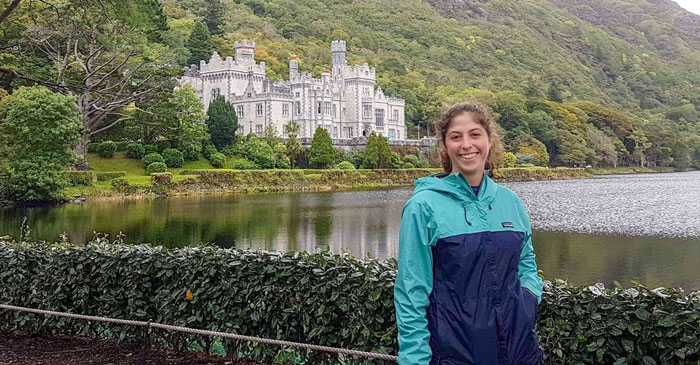 My semester at UCD was one of my best semesters of college. I was enrolled in the Landscape Architecture program, but after switching majors back at my home university (University of Delaware), I was able to take more Urban Planning focused courses. The faculty I worked with in order to make this module adjustment were great and made the process really easy. I was able to get all my first-choice modules and a great schedule with modules on only Tuesdays and Wednesdays. With all my free time I got the chance to explore Dublin, and greater Ireland. The country is beautiful and is filled with so much culture. Everyone I met was lovely and so down to earth. The societies I joined on campus were quick to include the exchange students just like the full-time students. I felt like I had a strong community through my societies from day one. UCD's campus was also gorgeous, with lots of trees and wildlife intertwined with the buildings. It was a really great place to walk around on a daily basis. I loved everything about Ireland and my semester abroad! I highly recommend it to anyone looking at UCD.
Nadine Salhab, Urban Design Senior, American University of Beirut, Fall 2018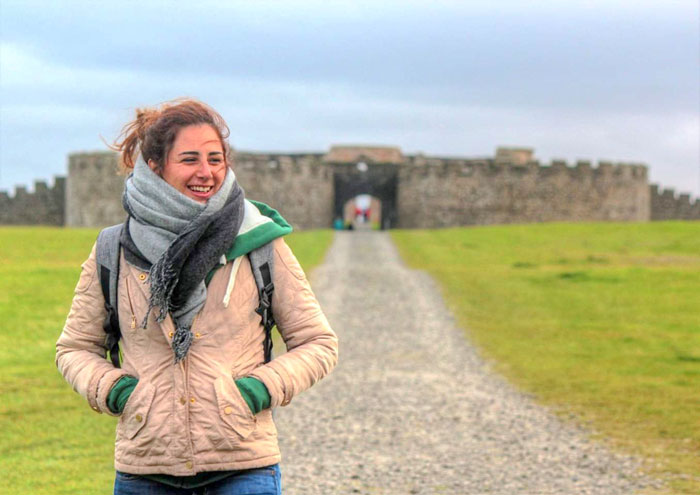 My time at UCD was one of my best experiences so far. Following my Master's in Architecture, I started an Urban Design masters at the American University of Beirut (Lebanon) and got the opportunity to study abroad for a semester at UCD. I am used to travelling a lot across the world but, before applying to UCD, I never thought about studying abroad, or visiting Ireland. I didn't know what to expect and I was a bit worried about going to live in a country that I've never been to. Little did I know that my decision was actually leading me to the most enriching experience of my life! The contact with UCD was very easy and the international team was very supportive. The courses were very interesting. They enhanced our sense of teamwork, communication skills and time management. The group discussions were very inspiring. There were students from different ages, from all over the world. The cultural exchange widened my horizons and helped me learn about aspects of planning and design from different points of view. The dedicated teachers in my faculty were very supportive and always ready to listen to the international students. I also got the chance to take a Spanish class which allowed me to connect with students from other faculties. Moreover, UCD's campus was a great environment for studying. The nature melting with the built environment made me feel that I was anywhere but a university. Whenever you felt tired or down you could just take a walk or sit by the gorgeous lakes!
I also got the chance to explore the emerald isle with all its breathtaking landscapes. I was amazed by the l hiking trails and unique town centers across the island. I had the chance to discover most of the regions and hidden gems across Ireland. I was hosted by an Irish lady that treated me like family and made me feel like I was at home even before I got to Dublin. I've never met locals as friendly as the Irish people. Their positive vibes make you fall in love with the country!
I was also lucky to meet lovely people from my classes and UCD societies. I developed special bonds with people (I never thought I would get along with) from different continents. I would definitely recommend UCD and Ireland to anyone who wants to live a unique educational experience abroad, combining culture, leisure, peace of mind, and most of all, personal growth. If I had the choice, I would definitely live the experience all over again, and I wouldn't change a thing!
Hannah Welsh, Landscape Architecture major, University of Massachusetts, Amherst, Spring 2020
Studying at UCD was an amazing experience. As part of the Landscape Architecture department, I was able to experience the Irish countryside through a class field trip to County Mayo for our studio project. We had several members of the Co. Mayo council came in for our studio presentations that gave insightful and helpful critiques for the site we were working on. The tutors were all very supportive and knowledgeable especially with helping me understand the metric system. UCD has a great community and it was easy to make friends from all different countries and across different courses. The Campus itself has many different societies and events where you can meet people and by living so close to the city centre it was easy to find exciting things to do when we were not in class. Throughout the semester I was also encouraged to explore the country – some of my favorite places were Galway, Ardmore, and County Wicklow. While my experience was cut short due to the Coronavirus I am so grateful for the incredible opportunity I had to study at UCD!
Ron Cubbage, Landscape Architecture Major, North Carolina A&T State University, Autumn 2019
Studying Landscape Architecture at University College Dublin was an amazing opportunity to learn from a group of outstanding peers and professionals while expanding my world view. Through the 4th year studio, I was introduced to the aspects of european planning and design through a trip to Vienna, Austria. While completing an undergraduate thesis, I had the pleasure of working with and being critiqued by professors who were passionate about the way my work progressed.
I joined the Landscape Architecture Society and they hosted a few holliday events that were a great way to relax between studying and traveling. As I look back, it's clear that this semester has had a large impact on my work as a designer and student, all while having fun with a tight group of students in the program.
Useful Documents