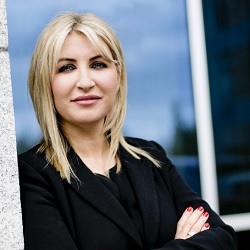 Aisling Keegan
MBS '94
Aisling Keegan spent the first five years of her career in New York City cultivating her leadership skills before returning to Ireland 18 years ago to join technology giant Dell, working with all customer segments in the UK market. In 2016, a year before the formation of Dell Technologies, she was made chief integration officer for the UK and Ireland market, and she was recently appointed vice president and general manager of the Dell EMC commercial business in Ireland.
About Aisling Keegan
Tell us a bit about your education and early career
I went to college originally to become a secondary school teacher. The plan was to do a BA in languages followed by a HDip in education to qualify. As part of the plan I put myself through college by tutoring secondary school students for their Leaving Cert while simultaneously doing some part time sales for various food and drink brands on behalf of Astra Sales Promotions. As part of the sales roles I travelled abroad to participate in the IFEX exhibitions and got a taste of the business world. When I was in the final year of my degree I decided to change direction and do a two year master's in business in UCD, specialising in international business.
After graduating in 1994, I handed in my thesis on Friday morning, flew to New York Friday afternoon and made a call to a company I'd seen advertising for sales leaders in downtown Manhattan in the UCD office, prior to my departure.
It was Columbus Day weekend. I interviewed late Friday afternoon and started working for them the following Tuesday and that was really the beginning of my business career. I was charged with leading a team (of men as it happened, most of whom came from north of Columbia University on the Upper West Side….let's just say the diversity agenda was not top of mind for the company when I joined) to sell space in downtown Manhattan. It was a unique and great experience.
I did that for about a year before moving on to what later became Verizon Wireless. I spent about four years there as manager of the consumer business for the north eastern seaboard.
After about five years in New York I had to decide whether to stay or to come home and set down roots. So I came back to start with Dell around 18 years ago.
I started with the company as leader for the small and medium sized (SMB) business in the UK. I did that for about 12 months and was then promoted to run the SMB division as a senior leader. Since then I have led various customer markets, primarily in the UK but also teams in India, from SMB to mid market, to large enterprises and corporate. Prior to taking on my current role, I was the executive director for our commercial business in the UK.
Towards the end of 2015, I was asked to be chief integration officer for Dell in the UK and Ireland ahead of the combination with EMC. In addition to my day job, I worked with my EMC counterpart to prepare for day one of the combined entity in September 2016.
At the same time, I took on the role of vice president and general manager of Dell EMC commercial business in Ireland and Northern Ireland and that's what I've been doing ever since.
What does your role involve?
Essentially, I'm responsible for driving the company's commercial business on the island of Ireland. This involves delivering a wide range of services, solutions and products to a diverse group of customers in the public and private sectors.
I'm also a member of the Ireland Leadership Forum, a group that provides strategic direction and governance to Dell EMC's sites in Cork, Limerick and Dublin. Dell EMC's Irish operations span sales, services, operations, IT, manufacturing, finance and solutions development.
I have recently taken over as chair of Technology Ireland and I am really looking forward to the challenge.
How would you describe your leadership style?
I think the team I lead would say I'm firm but fair. I've been described as very open and "sickeningly" optimistic. I always look on the bright side and no matter what challenges we face, I believe that every cloud has a silver lining.
I think to be an inspiring leader you've got to be an authentic one. Part of that authentic leadership involves sharing a little bit about yourself with your team and sharing your own developmental areas.
I'm a firm believer Steven Covey's Seek First To Understand principle, be it your customers or employees. I would operate on the premise that you need to understand your people and your customers first and foremost. You can't really bring teams with you unless you clearly understand how they tick. Internally, that's not always easy when you are leading a large organisation so you have to try hard to foster a positive culture of transparency and openness.
What motivates you?
From a personal perspective, it's my family. I've two gorgeous young boys and a great husband who inspire me to be a better mother, wife and leader. It's the whole family unit: my husband is a huge support in every sense of the word and my family makes me want to be a better version of myself.
From a professional perspective, I had an external mentor many, many years ago who taught me a lot of lessons. One of his expressions was: "You've got to crack a few eggs to make a good omelette". The lesson for me was that as a leader sometimes you have to make tough decisions at various points in your career that don't come easy, but if your intent is right these decisions usually end up being the right ones in the long run.
Who or what has influenced or inspired you?
There have been lots of individuals along the way. But when I look back I think probably the most influential individuals were my parents. They have been married for 52 years and have had their fair share of personal tragedies over that time. But in spite of all of that they still share a very deep and powerful love for each other, which is very inspiring. Throughout my life, they've worked very, very hard to develop me and my siblings into independent, confident men and women.
From a business perspective, I've had mentors who have taught me some life lessons. In recent times, Aongus Hegarty, president of Dell EMC EMEA, has been a great influence. One of the qualities I think is really important in leadership is humility and that's something Aongus exudes in spades. He is also a great role model for promoting our diversity and inclusion initiatives.
What is your proudest achievement?
I'm here 18 years and the company has gone through its own evolution. The market in which we operate is transforming at an unbelievable pace. While our mission, enabling human progress, has remained the same, through our own incubated technologies, our organic growth and acquisitions along with the biggest combination in IT history, the scale, breadth and depth of what we're bringing to market to enable that progress with our customers is fundamentally differentiated and uniquely relevant. To have the privilege of leading through this evolution for the last 20 years has been humbling and fulfilling.
More recently, being appointed leader for the value creation integration office for the UK and Ireland was a great experience. Both myself and the team around me had to ensure we were ready for day one. Again, I feel genuinely privileged to be working for a company that empowers their teams and their staff to take on these roles.
Are there any failures or mistakes that stand out?
I've made mistakes over the past 20-odd years in business and there have been decisions that in retrospect I would probably not have made. But I just see these types of experiences as opportunities for learning.
And I believe that intent counts for more than technique. So, if your long term intended outcome is positive and for the greater good of your people, your customers and your business, then you can't go far wrong.
What are your tips and advice for success?
Just be yourself. Be brave and bold. "When you learn, teach. When you get, give." I think you reap what you sow.
It goes back to intent – as long as your intent is well meant and you have the best interests at heart that goes a long way to building inspired and motivated employees, customers and business.
Do you have plans for the future you want to share?
I've still a lot to do in the role I'm in. I've only moved into the Ireland market in the last year. I'm thoroughly enjoying what I'm doing right now.
If I had more time, I'd like to do a bit more voluntary work with children's charities, which I have a keen interest in. I try to do some of that in my spare time, but that's something none of us have enough of.
What are your main interests outside work?
During the spring and summer months I love being on the beach with my husband and my boys. We spend a couple of hours walking from Portmarnock, which is where I'm from, to Sutton and back. I also like mountain climbing and trekking. It's a good way of decoupling. And I have a keen and avid passion for interior design.
Insight Track
How has your degree benefited your career?
The degree has been a strong foundation for leadership in business.
What is your fondest memory from your time in UCD Smurfit/Quinn School?
Friday afternoons after the lectures at the Trap Bar J
Tell us one thing that most people don't know about you
I summited Kilimanjaro two years ago for Temple Street Children's University Hospital.
What piece of technology can you not live without?
My smartphone.
What are your pet hates?
Negative attitude and lack of follow through.
Who's your favourite writer and what's your favourite book?
Charlotte Bronte and Wuthering Heights.
What is your favourite band or musician?
Blue Rodeo (great childhood memories).
What's the last gig, play, film or exhibition you went to that you loved? Tommy Tiernan in Vicar Street.
What is your favourite dish to cook?
I don't cook.
What teams do you support?
Leinster Rugby team, GAA Mayo and Dublin – difficult these last few years J
What is your favourite place in the world to visit and why?
Toronto, my sister lives there.
Name three things on your bucket list
Learn how to swim.
Do a mountain trekking expedition with the three men in my life.
Spend more time with my loved ones.
What charities or causes are closest to your heart?
Crumlin and Temple Street children's hospitals and Barnados.

December 2017