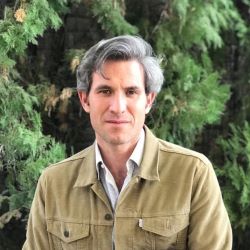 Alejandro Limon
MSc in Energy and Environmental Finance '14
Having spent the early part of his career working in banks and providing finance for renewable energy projects, Alejandro Limón moved to the other side of the table securing the money to develop large photovoltaic schemes for Fotowatio Renewable Ventures (FRV) in Mexico and Central America. He has recently been appointed managing director of FRV.
About Alejandro Limon
Tell us about your education and career background
I've been in the banking industry in one way or another since getting my first job after finishing my bachelor's degree in finance in Mexico City in 2006.
I moved to New York and did a rotation programme in a Spanish bank for just over a year. At the end of 2008 I moved back to Mexico because of the sub-prime crisis: at that time local banks were in a good position and were doing business as usual.
I got a position in the project finance department in a local commercial bank. I was specifically involved in energy projects – renewable energy projects here in Mexico at a time when this was all relatively new. Around 2012, when I was looking to do a master's degree or MBA, reforms were being planned to open up the energy market in Mexico to foreign and local investment.
So I was looking for a really good opportunity to get to know the market better and to find out about the experience of other countries as their markets opened up. And I decided to pursue the MSc in Energy and Environmental Finance in UCD.
I spent a great year in Dublin, living in Temple Bar and cycling out from the city centre to Blackrock every day. And the programme was really fun because we were such a small class. It was the first year of that specific programme so we were just 10 or 12 people and there was a really good connection between all the class.
When I came back to Mexico, the energy reforms were passed and there were many opportunities in the market. Because of my experience and my master's degree a lot of banks looked at me as a very good asset to have. I got an offer to move back to New York working for a Canadian bank opening a Latin American capital markets division – we were working with clients in Latin America who were looking for funds to finance large infrastructure projects.
Moving back to New York was not the best decision for me at that time. Everyone who works in finance looks at New York as the ultimate place to be. I accepted a junior role to be able to go back there but things did not go well; the NYC pace is very intense and probably the experience was not the best for me at that specific time of my life. So, after about 18 months, I decided to move back to Mexico in 2015 to help set up an office for Fotowatio Renewable Ventures (FRV), which is involved in helping to deliver renewable – and specifically photovoltaic – projects all over the world.
Tell us about your current role
For the last few years I have been responsible for project finance and mergers and acquisitions for Mexico and Central America at FRV.
Our job is to secure land, develop photovoltaic projects and ask for equity support from our parent company, Abdul Latif Jameel, a sophisticated Saudi Arabian family-owned conglomerate.
I have been in charge of the process of looking for the funds necessary to run these projects from local and foreign banks. Basically, I have moved to the other side of the table from where I was earlier in my career: I now have the projects and I'm looking for the money. Recently I was promoted to managing director of Mexico and Central America and starting this month I will be in charge of running FRV´s Mexican business, which currently adds up to circa 650 MW of installed capacity divided into two utility scale projects, Potrero Solar and Potosi Solar.
What motivates you?
For a society or a country to have economic stability to be able to move forward into better conditions I believe you need to have two things: basic infrastructure and access to financial services. One of the key parts of basic infrastructure is energy – if you don't have it, you are behind. So I believe, in order to move forward in a community, it's crucial to have energy, and it's better to have renewable energy. If Mexico wants to move forward and have better economic conditions for everyone, we need access to reliable and suitable energy.
So that's what motivates me – helping to develop basic infrastructure, and more specifically providing access to green and renewable energy, for everyone and to help boost the economy.
What is your advice for people starting their career?
I think it's good for everyone to challenge themselves in terms of new experiences, new adventures and new forms of living because you have to adapt to where you are living in order to succeed. When I did my master's in UCD, the way of learning was quite different to the American system and it was a challenge that everything was in English. Of course I could already speak English but it's completely different to be involved in a programme that's 100% in English.
But I was looking for a new challenge and I was really happy with my decision to go to Dublin and do the degree. I do think it's important to take on new challenges.
What do you feel has been your biggest achievement to date?
No doubt setting up the Mexican office for FRV with the help and lead of the former managing director was quite an achievement. More specifically, securing the financing and equity commitments for one of the most iconic transactions in the Latin American renewable industry – Potrero Solar- a 100% merchant 299MW renewable energy project.
In my personal life, my family is definitely my biggest achievement and more so now that my three-month old daughter is with us.
What traits have helped you get to your current role?
I consider that I have some characteristics, such as a developed common sense, logical structured thinking, and a talent for focusing that help me to better understand and address the current circumstances and social reality of world economics. I consider common sense as one of the biggest assets to have.
Insight Track
How has your degree benefited your career and/or personal life?
The Mexican renewable market/industry was incipient at the time of my master's degree. Getting a strong background in environmental finance from UCD added value to my professional career. And probably the lack of people with that background has given me a competitive advantage.
What are your fondest memories from your time in UCD Smurfit School?
Finishing the mid-term exams with a celebration at my Temple Bar apartment and St Patrick's Day in the city centre.
How important is your UCD alumni network to you?
I have a very good relationship with all the class. We have a WhatsApp group and we keep in contact every single day. Recently I participated in the UCD Mentors Programme and it was a pretty good experience with my mentee.
What are your main interests outside work?
100% sports and outdoors activities.
What piece of technology can you not live without?
My iPhone.
Who's your favourite writer and/or what's your favourite book?
James Robinson (Why Nations Fail) and Steven Kotler and Jamie Wheal (Stealing Fire).
And what is your favourite band or musician?
The Killers.
What is your favourite dish to cook?
Spanish cuisine and sushi.
What teams do you support?
Club América and Juventus.
What is your favourite place in the world to visit and why?
For sure NYC. I try to visit Manhattan once a year. Now it is difficult because of Covid but NYC offers everything, from sports events to one of the best places to have dinner or to experience a new and fun thing.
Where is home and why?
Wherever my wife Paola, daughter Natalia and family are.
What are your insider tips for visitors to Mexico?
Mexico has the most diverse geography. My recommendation is to avoid tourist traps like Cancun and visit more virgin sites on the Caribbean coast or Baja California (for example La Paz or Cabo) which combine beautiful spots and exquisite cuisine.
Name three things on your bucket list
Hiking to Everest base camp, scuba diving at Revillagigedo and a full ironman distance or Boston Marathon.
July 2021