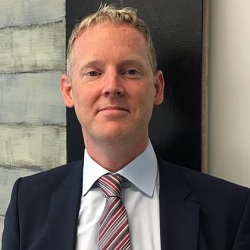 Andrew McDowell
BComm '91, MSc '92, MBA '03
In a career characterised by roles with particular challenges and specific end goals, Andrew McDowell has recently moved from his position as Taoiseach Enda Kenny's economic advisor to vice president at the European Investment Bank in Luxembourg.
About Andrew McDowell
Tell us a bit about your education and early career
I'm a UCD person through and through. There was a time when I was there that my two sisters, my brother and my mother were there too. My parents are both UCD graduates, as are three of my grandparents. So, we're a big UCD family.
The thing I did differently was to study commerce instead of law. I thought commerce opened up more opportunities and I wasn't narrowing myself at an early age. It's a very good foundation on which you can build a career in all sorts of different directions.
I was definitely most interested in economics and finance so I went on to do the master's degree in finance in the Michael Smurfit School.
After a year of accountancy, which I decided wasn't for me, I went to the John Hopkins School of Advanced International Studies, Bologna where I did European studies and economics.
I then went to work at the Economist Intelligence Unit in London where I did country analysis and forecasting for a number of European countries. My girlfriend Caitriona – now my wife – was in Dublin, so after a lot of time spent in Stansted Airport I moved back and worked for a couple of years as economic adviser in the US embassy.
I moved on to Forfás, the national enterprise development agency, where I initially worked primarily on international trade policy, before broadening out to take responsibility for the National Competitiveness Council and the Expert Group on Future Skills Needs.
About that time I returned to UCD on a part-time basis to do the MBA. I was taking on more management responsibility within Forfás and thought it was important to develop a better understanding of organisational and management skills and strategy.
That fulfilled all my expectations. MBAs are very intense and I think one of the biggest things you get is that experience of working very closely and very hard with a bunch of other students. You tend to forge bonds that last a very long time.
Around 2005 I met Enda Kenny at the airport in Paris on the way back from the OECD. We ended up talking while queuing up at the check-in desk – I expressed some concerns about the direction of the economy. Coming into the 2007 election when he was looking for an economic adviser, I got a call asking if I'd be interested in interviewing for the job. I'd never been very active politically but I saw this as a wonderful opportunity to bring ideas and advice into practice.
I was with Fine Gael from 2007 until 2011, initially as economic advisor. Then I took on a broader role as director of policy to prepare policy positions for the party in every area.
During that period, my worst fears had become fulfilled in terms of the direction of the economy. It was a harrowing time politically, but also a fascinating time for somebody involved in economic policy formation. The challenge couldn't have been greater.
Enda became Taoiseach in 2011 after an election fought on the basis of the five-point plan to restore the country's economic fortunes. He asked me to join him as his economic adviser and programme manager in government and I was there until the end of August 2016. Under his leadership it's quite evident that most of what was promised and planned in 2011 was delivered in terms of turning the economy around and moving the country out of the bailout.
What is your current role?
I joined the European Investment Bank as a vice president in September for a four-year term. I was quite familiar with the EIB from the very positive role it played in Ireland's economic recovery. The opportunity came along for Ireland to nominate a vice president for the first time in 12 years and I was privileged enough to be nominated by the government.
What does the role involve?
The role is first and foremost to participate in the collective decision making of the EIB management committee, which consists of eight vice presidents including myself and is chaired by EIB president, Werner Hoyer. It is responsible for the day-to-day running of the institution and for recommending the larger lending decisions to the board of directors.
The purpose of the EIB itself is to support the policy goals of the European Union through the development of financial instruments. The bank's two top priorities within Europe have been economic and social cohesion and they're reflected in all the main lending streams of the bank, which is the largest multilateral lender in the world.
All decisions are taken on a collegiate basis so the eight vice presidents have to be familiar with every area and have to immerse themselves in all the major lending proposals. That said, each of us has oversight responsibilities for our particular areas.
In addition to Ireland, I am looking after the EIB's relationship with Romania, Austria, Norway, Iceland, Liechtenstein, Switzerland and the Former Yugoslav Republic of Macedonia within Europe, as well as southern Asia, including India, Pakistan, Bangladesh, Nepal, Bhutan, Sri Lanka, the Maldives, Afghanistan, Iran and Iraq. I also have oversight responsibility for our lending to the energy sector, and joint responsibility for our lending to the agriculture and agribusiness sectors. Within the bank, I have oversight responsibility for our economics function.
A big priority for me will be to expand the presence of the EIB even further over the next few years. In Ireland, we are seeing the economy recovering strongly but that's beginning to run into some bottlenecks in terms of infrastructure, housing and the ability of a lot of companies to finance additional investment. The EIB can play a role in working with other financial institutions and investors in addressing a lot of those bottlenecks. In particular, we need to develop stronger links with the private sector.
One of my challenges over the coming months is to develop that greater awareness within the private sector that the EIB has products and offerings in terms of both debt and quasi-equity type instruments with long maturities that will address their financing needs. During December, we opened an office in Dublin for the first time. We're hoping our presence on the ground will boost annual lending volumes in Ireland to at least €1bn per year, which will be around 40% up on annual average volumes in the last five years.
Incidentally, I'm proud of the fact that the EIB has been particularly active in financing investments by the Irish higher education sector. Over the next few months, we hope to have completed investment loans for every single Irish university, including UCD, which has received two loans, totalling €104m. In the last few years, the bank has provided more than €650m to support transformational investment at Irish universities. On a per capita basis, it has lent more to higher education in Ireland than any other country in the world and, overall, Ireland is the fifth largest recipient of loans for this sector after the UK, Germany, France and Spain.
What is your philosophy in business?
My philosophy in my professional life has always been to look to things that I enjoy. Unless I enjoy my work, I don't think I'm very effective. I did a year of accountancy and decided that while it was a very good opportunity and would be a very steady profession, it wouldn't provide me with the intellectual challenge I was looking for. Ever since, I've decided that unless I'm really enjoying what I do and I wake up every morning looking forward to the challenges and am thinking about what I'm doing rather than just doing it by rote, I'm not going to be very effective at it.
I also think change is good. My career has been characterised by periods of time where I've worked in organisations, delivered on the goals I've set for myself and then looked for new challenges.
What is your leadership style?
I've learnt over the last 20 years that you can't do anything unless you're working with people who have a sense of mutual respect. Developing those personal relationships is always the first challenge I've taken on in any new job. I think it's important within a reasonably short period of time to develop a clear sense of direction for where you want to go and where you want to bring people. I do tend to challenge people around me within a couple of months to agree where we're going to be in two or three years' time and what difference we're going to make. For me, it's always important to articulate and be able to synthesise quite clearly what the end goal of the team is going to be and have everybody working towards the same thing.
What are your tips and advice for success?
Follow what you like. When you enjoy something it's a sign that it's an area where you're going to be able to make a positive contribution. I always encourage younger people to experiment for a few years in terms of their professional careers. People tend to commit themselves to careers and specialise at far too young at age. People should feel able to change and experiment right through their twenties, and beyond, to find out what they enjoy. If you don't enjoy work, you're not going to use your full potential.
What do you feel has been your biggest achievement to date?
Professionally, working with Taoiseach in government for five years, steering the country back to economic growth and lower unemployment, and working with so many people across government and politics to deliver on that challenge has been a source of great satisfaction.
Who or what has influenced you?
My father and my mother have been very strong influences and both gave me great encouragement and great freedom to choose and pursue my own direction. I've seen other colleagues and friends who grew up in households where the direction was pre-set for them. That certainly wasn't the case in my house and I've always appreciated that.
In terms of UCD influences, maybe my economics professor in the Smurfit School, Des Norton. Des was not only a great economics professor, but a great reader of life and somebody who enjoyed life to the full.
What are your interests outside work?
I don't get much of an opportunity right now. They're working me very hard in the EIB! For the last few months, I've been Luxembourg during the week and commuting back at the weekends to spend time with my family.
However, things will change from the beginning of January when the family will be moving over to Luxembourg. Then I hope to start taking up some of my old pastimes that I used to do before I joined government five years ago – things like golf and squash and walking. I look forward to all of that.
What are your plans for the future?
The challenges ahead in the next four years and the contribution I hope to make here predominate in my head. I've never been a person who's planned my career with great precision. I think if you give everything to what you're doing in the present and you succeed in what you're doing, opportunity then arises. We'll see what happens. For the moment I'm absolutely focused on the job.
January 2017