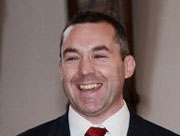 Andy O'Brien
BA '00, HDipEntrepS '01
He showed early promise as a rugby player, most notably as a member of Ireland's Under 19 World Cup winning team in 1998, but in recent years Andy O'Brien has been more focused on the business world and he's now sales director of London-based Little Dish, the first brand to launch a range of fresh, natural and additive-free foods for babies and toddlers.
About Andy O'Brien
For O'Brien, who was semi-professional from the age of 17, starting in UCD in 1997 was something of a means to end as he was a rugby player "first and foremost".
"The way for me to a get a scholarship and into the UCD Rugby Academy was to be in UCD," he explains. "I ended up going into economics purely because it was the closest thing I could do to business, which I found easier in school."
After his BA, he opted to do a HDip in entrepreneurial studies at the Smurfit Business School, mainly because several of his fellow rugby players had gone there.
"Within a couple of weeks I had a very serious injury to my shoulder, which meant I couldn't play rugby for most of the season. It suddenly meant I had to find an alternative use of my time. It was a surprise to me that one I was enjoying it, and secondly that I was doing quite well at it."
Getting a first in his Christmas exams and coming top in his year was a shock and changed his outlook. "In my second term I really went for it full on. It also put in perspective that rugby was great, and if everything were to fall my way it would be brilliant, but I was getting injured, whereas people like Brian O'Driscoll were not. They were making it onto Leinster and beyond and I seemed to be standing still."
His focus earned him an invite from Cambridge where he spent a year playing rugby and did a master's in business. "It was a great exposure for me," he says. "I'd been so wedded to Ireland because of the rugby and I hadn't really done anything on my own independently."
After graduating, he spent 18 months at a London management consultancy measuring the impact of marketing on FMCG sales, working with clients like Mueller Dairies, Tropicana, the AA, British Airways and Masterfoods across its confectionery and petcare ranges.
Returning to rugby
He was also invited to train with London Irish on a part-time basis. "I got the stars in my eyes again," he admits. "I decided I wanted to give it one more crack so I went professional with them and gave up work. It was a short-term thing that was hopefully going to lead onto more."
It didn't and he ended up going to Hong Kong as a professional rugby player with DeA Tigers. He picked Hong Kong out of a number of possible destinations to see if he could immerse himself in a culture and learn another language. "I went there to learn at the same time as play rugby. My Cantonese got to a pretty good level pretty quickly, which really surprised me and the Chinese people as well.
"I absolutely loved it but it came to an end when I realised I could do this for another five or six years but my brain might eventually run out of steam and suddenly my degree would be very old news and my experience would be quite out of date as well."
O'Brien returned to the UK in 2005 to marketing insights firm Kantar, where he looked after the Sainsbury's and Marks & Spencer accounts and reported to people like Stewart Rose and Justin King. Next up was a three-year stint with Unilever, first as a category manager working mainly on Surf and being involved with the launch of Small & Mighty, which he says turned a declining brand around to the fastest growing product in the market. "It was probably the first success of my career that's still very visible."
That led to him being made Unilever's account manager for Asda ice cream. One of his big achievements in this role was the hugely successful launch of Magnum Minis in Asda. This was balanced somewhat by a failed attempt to launch Romantica in the UK. "I loved that as a kid," he explains. "It wasn't in the UK, so I launched that thinking after the Magnum Minis that I would be untouchable and learned a very hard lesson!"
He went to Innocent Drinks in 2008 after that company had "basically experienced the worst year of its history, when it went through significant decline".
"I took over the company's Sainsbury's business, which was about 20/25pc of its total business and going backwards," he says. "We managed to negotiate new deals to enable us to come back out of the mess through very simple things, just executed well. From that I got promoted to looking after about 50pc of the business.
"I joined the business when they were about £105m and they were about £130m in the UK as I was leaving. I very proudly put up that I'd added more value to the business across Europe than anyone else over the three years I was there. Part of that was a bit of luck of the draw. There were some good market forces that helped me."
Little Dish
In March 2011, he moved on to join Little Dish, which had been set up by Irishman John Stapleton and Hillary Graves, an American, in 2005 to offer a truly healthy alternative to home-cooked food. It was a completely untapped market at the time.
O'Brien says he was motivated to move on from Innocent by a desire to have a greater strategic input in a business. "I'd often been moaning about sales directors or MDs not doing things that I liked and I thought, 'why not give it a go myself and see if it's as easy as I like to make out?'"
He had also personally been impressed by the Little Dish brand. "My daughter would have been one, one-and-a-half and myself and my wife were using this product every day because both of us were working. I thought that getting in at the start of this would be an incredible journey because the opportunity is just huge.
"When I joined them, they'd grown from obviously nothing in 2006 to just around £4m and were going through a tough time because the market turns over every three to four years because people only use it between one and four years," he says.
"So all the new people you brought in two or three years ago were suddenly leaving the brand and we weren't really investing in getting new people back in again. Doing something about it is quite difficult when you're running on small budgets and you're up against people like Cow & Gate and Aptamil who have £30m or £40m to spend on bringing new mums in each year."
An early initiative in O'Brien's time at Little Dish was getting suppliers to invest with the company to enable it to promote more often and to be more price competitive.
"Another move was to support a push within the retailers to get more distribution," he says. Tesco's decision to put the brand into all 800 of its stores was a big boost. "We were in 400 stores at the time so it was effectively doubling our business with them. It put us on a very different trajectory."
Another important development that should have a big impact over the coming months was negotiating a partnership with Barnardo's Big Toddle initiative, a fundraising walk for toddlers that kicks off in May. "They have about half a million kids getting involved with it over here," says O'Brien, who approached the organisers of the event after receiving a sponsorship card from his daughter's nursery last year.
"This has given us exposure in 13,000 nurseries. We've found this marketing mechanic that can enable us to double our business again."
As part of building awareness around the event, Little Dish is working with Sainsbury's to give away a free pair of shoes with its meals to do the walk in. "They're imitation Crocs with our branding on them."
Being able to be creative about building awareness is one of the advantages of being a small business, says O'Brien. "I think we're going to do a great job of it and hopefully they'll get their highest ever numbers because of the awareness and the engagement and the amount of activity around the event."
Planning for growth
The company's sales reached £7m in 2011 and are expected to grow to £13m this year, but this is still very, very small in the greater scheme of things, according to O'Brien. "You need to be somewhere around £100m to get the economies of scale," he says. "We've a really clear plan: we need to get to somewhere close to £30m to really be making an impact, and to also go into other categories, like cereal and yoghurt and cheeses. There are good kids' brands there, but there's no one who's really doing natural very well with no additives."
The company has just 10 full-time people based in the office and also employs five mothers, four in the UK and one in Ireland, who are either bloggers or used to work in PR and marketing, spreading awareness. "We're trying to use social networks as much as possible to try and get awareness and noise around the brand," says O'Brien.
"It's quite exciting because it does mirror a little bit the Innocent story: a really good product, really good packaging and brand positioning, and now it's about executing it and making sure that we enable it to deliver as much as it possible can. There's so much to go after."
And he's hoping the business will go international and he'll have an opportunity to work overseas with the brand in the not-too-distant future.
"From reading management books and biographies of good business leaders in the past, you see that a lot of them have spent time overseas, learning different ways of doing things. That's a big challenge in a small business. I haven't got that many people telling me to do things in different ways because I look after sales. You end up doing things your way and I really want to get exposed to different cultures, different ways of doing things.
"I think it's pretty crucial to my development if I'm going to become a successful CEO or MD of a bigger business," he says.
Meanwhile, O'Brien has given up rugby, opting instead to spend time with the family, which now includes three-year-old Orla and five-month-old Patrick. "You've a choice on Saturdays, you can travel all day to play rugby at a level that's much lower than you used to, or remember, or you can spend time with your children. I just got really addicted to my children.
"The brand's very relevant to me, because I'm living it. I'm sure when Patrick heads off to university or something I'll probably find baby foods less interesting!"
April 2013