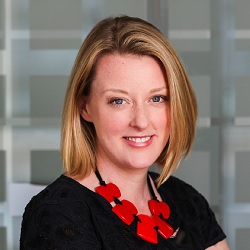 Barbara O'Beirne
MBA '11
Keen for a change in direction, Barbara O'Beirne gave up a successful and rewarding career as a water engineer to do an MBA, which led to a role as associate principal with management consultancy McKinsey and Company. Now, her focus is on helping others achieve positive change and transformation.
About Barbara O'Beirne
Tell us about your education and early career
I was something of an eternal student at UCD and ended up spending seven years there. My primary degree was in engineering, which included an amazing year studying abroad at Virginia Tech. After graduating in 2002, I went on to do a research master's – again in UCD – in water engineering. I became a water engineer, starting in the design of water plants and then a site engineer, working in construction, and I am now a chartered engineer.
Even though I liked engineering and loved working in environmental engineering and sustainability, I didn't think I wanted to do it forever. I thought there was something else out there for me but didn't know what it was. I did a diploma in financial management with the ACCA (Association of Chartered Certified Accountants), which was tough going by night, but I really enjoyed the corporate finance aspect. But again, I wasn't sure how to convert this into a new career path. Several years later, Gerry – who's now my husband – suggested I do an MBA.
I applied for and got the Newstalk MBA Scholarship, which was a huge honour, and meant I could leave work and study full time. Eight weeks later I was sitting in a classroom doing an MBA and having my horizons broadened. It was a very transformative experience that totally changed my career path and my life.
From there, I joined McKinsey and Company as an associate, and six years on I am now a junior partner.
What does your job involve?
I work mainly in strategy and transformation, quite often with large companies that are at a turning point because they're struggling with a big issue. It can often be a very challenging time for clients. I lead teams that work very closely with these clients to create a strategy for what they should do next, work through what that change will look like and develop a plan for how they're going to achieve it.
I work a lot with consumer-facing organisations, like financial institutions and retail companies, looking at their strategy and often how they can turn around their performance. I have a strong focus on digital transformation, both on the consumer-facing front end, and also a company's internal back end, which is where I can really put my engineering background to good use. My role is very fast paced and changes all the time, which I love. And it's very collaborative and that suits me a lot more than the engineering space. I'm very lucky to have fallen into it really.
All that said, I'm also very proud of the fact that I am an engineer and I use a lot of my engineering skills in the business world. The work I do is very analytical and there's a lot of problem solving. So it's not like I've totally moved away from engineering; I just don't work in construction any more.
How did the MBA impact your career?
When I started the MBA and learning about a range of new subjects – strategy, accounting and business – it opened up a whole new horizon of possibilities, and broadened my network. I had access to all the people in my class, who became great friends, but also to all the alumni in UCD. It really opened up a huge network of people who have always been happy to talk to me and provide support and advice on what to do next.
Through the MBA, I went into a career I never would have considered. I really never would have thought of management consultancy. I didn't know what it was, to be honest. McKinsey came in to us and gave a presentation during the MBA and did interview rounds and I was lucky to get a job offer through that before even finishing the MBA.
So I headed into this new world. Working in management consultancy now is like an MBA in action. It's so interesting, exciting and fast paced. I know it's not for everyone but it really suits me and I'm delighted I found what my path is and a career that really motivates me and excites me.
What is your leadership style?
Leadership and style of leadership is a big focus of the training and support we get in McKinsey. A big part of it is learning about the kind of person you are and what your own style is and the impact you have on other people before you can lead them.
I think I'm quite a collaborative leader and that works well in the environment I'm in because you need a lot of input from a lot of people so you can get to the end point and solve the problem. In my position, I also need to be able to make decisions quite quickly to keep the pace and momentum going.
So I hope my leadership style is very people orientated and lets me take account of what others have to say and evaluate everyone's opinions and then be decisive.
What motivates you?
In terms of work, I need to be excited about what I'm doing. I like to be challenged and energised by my work. I also like to feel I am creating an impact for my clients and that we are making a difference. That's one of the great things about working in transformation – you're working closely with clients solving a really big problem and you can see the turnaround happening and often read about the company's change in performance in the Financial Times a year later.
So, making an impact is a motivation. That was the same when I was water engineer. I really felt I was making an impact on my community – I was designing water systems for the whole of Dublin and that was amazing. And now, in McKinsey, I'm working on big projects that I feel are really making a difference to people's lives, to maintaining jobs and building better companies.
The other thing that motivates me is my family. Since becoming a mother, I'm even more motivated to work than I was before. I like to go into work and get things done and moving and then home to see my kids. And I notice that with other working parents (but especially mums!) they cut to the chase in meetings, get things done quickly and then get out of there.
Who or what has inspired or influenced you?
I've been very lucky throughout school, college and my career to have had some really great mentors. From my maths teacher to my university professor, my first boss in engineering and through to McKinsey, I've had some really strong mentors, especially female mentors who have been great support, particularly on coming back to work after having kids.
But if I think about my real inspiration, it's my dad, Frank. He's 82 now and is the poster child for retirement. At this stage, he has been retired for 23 years and is fit as a fiddle, so much fun and still trotting the globe.. That makes me step back every now and then to appreciate that there's more to life than just work. He worked very hard for 40 years and now has a great life and outlook. I think it's so important to make sure you have that balance of work, family and friends and outside interests.
My other inspiration is my husband. He's been such a great support to me as I've made changes and you do need someone who's going to back you when you're making big changes. He in turn, took the plunge a year ago and gave up paid work to start his own business, Staypal. It's just kicking off now and it's so exciting to watch him starting something out of nothing.
What is your biggest achievement to date?
In engineering I'm very proud of the impact I had working as a water engineer on Dublin's water and sewerage schemes, which was very much benefiting my society.
In McKinsey, I'm always very proud to look back on work I've done in the transformation space when a company has totally turned itself around or done something different that's led to thousands of jobs being retained.
Are there particular failures you've learnt from?
There are probably loads of things I would do differently but that's been part of the journey to get me where I am. I'm sure I'll make a thousand more mistakes over the rest of my career but I don't mind that.
The one thing I've learnt is that you can change the path you're on. Maybe if I could change something it would be to have changed path sooner. I'd like to have gotten to McKinsey even earlier because it really suits me. But it took me a long time to figure out that I wanted to make a change.
What are your tips and advice for success?
The big advice I'd give people is that if you're not 100% happy in your career or you're not excited to go to work in the morning, you should just make a change. It's not as scary and it's not as hard as you think it's going to be.
In my case, I didn't know where to start, what to do or how to do it. If you're in that position, just start talking to people, and not just in your own network – people are very generous with their time.. Maybe shadow people for a day or go to a career coach if you're really stuck. Or educate and retrain.
It's not necessarily going to be easy – you may have to make sacrifices to change career, but I don't think you'll ever look back and regret it. Don't ever feel like you're stuck – there's always a way to change things.
What are your plans for the future?
I don't know what I'll do in the future and that's the exciting part. I love what I do at the moment and McKinsey is a great place to work. I may still be in McKinsey in five years' time or I may be somewhere else, but I now have enough confidence to know I can make a change if and when I want to.
What are your main interests outside work?
With two kids under the age of two, my life revolves around nursery rhymes and playgrounds! It's just brilliant fun and I wouldn't swap it for the world. My interests are what the two small girls are interested in and that's about it right now.
Insight Track
What is your fondest memory from your time in UCD Smurfit/Quinn School?
We spent St Patrick's Day in China as part of a study tour, and went to a black tie ball where we danced the Walls of Limerick…it was a bizarre céilí!
Tell us something most people don't know about you
I'm a pretty terrible singer, but it doesn't stop me belting out tuneless hits. My poor girls haven't a hope of future musical talent.
What piece of technology can you not live without?
Electric toothbrush – keeps my teeth sparkling!
Who's your favourite writer and what's your favourite book or genre?
I'm an avid reader and I read all sorts, from fiction to sci-fi to business books. But I always have a poetry book beside my bed when I want a quick read. Roger McGough is one of my favourites, simultaneously hilarious and heart-breaking; and Seamus Heaney, what a genius.
And who's your favourite musician?
Paul Simon, I love him! I've been to see him a ton of times, he's incredible live.
What's the last gig you went to that you loved?
We went to LCD Soundsystem a few weeks ago in the Olympia… on a school night. Reminded me of being a student, but we had a babysitter at home!
What is your favourite dish to cook?
I make mean meatballs.
What is your favourite place in the world to visit and why?
The Forty Foot in Dublin. I grew up close by and it's so beautiful. I also like a dip in the Irish Sea whenever I can.
What charities or causes are closest to your heart?
I think Barnardos do great work through their many initiatives to combat childhood poverty. Simple things like breakfast clubs in schools can make a big difference to a child's education.
November 2017