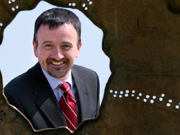 Colm Lyon
BComm '84, MMangtSc '85
Six or seven years before Colm Lyon began college in 1980, he was already being hailed as an example of entrepreneurship in John Teeling's lectures to the BComm class in UCD. It was the time of the oil crisis and of long queues outside petrol stations around the country. Lyon, who had been running his own paper round for a couple of years at that stage, recognised the opportunity, bought in extra newspapers and cycled up and down the queue selling to the people waiting.
About Colm Lyon
Teeling, who was a neighbour in Clontarf and one of Lyon's paper round customers, was hugely impressed by this enterprise and recounted the story to his students. He also took a long-term interest in Lyon's progress. "It was he who mentioned to me about UCD and introduced me to the idea of what commerce was all about. Both he and his wife Deirdre were very good to me. John was a huge influence both in terms of me doing commerce and then my love for entrepreneurship and business. He would have been my original role model."
Lyon repeated his Leaving to get enough points to do commerce and then spent four years studying in UCD, including three years as class rep. "UCD was an amazing place for loads of different reasons. When you get there you just fall in love with the place."
After finishing his BComm, he went on to do a master's in management science, because he was fascinated by computers. "I loved the idea of programming and became more involved in that. And I did it because I enjoyed it, not with any career in mind."
After his master's he stayed on in college for a while working in the MIS department. In October 1986 he got his first proper job in the Ulster Investment Bank, where he stayed for 14 years. He started off as a business analyst and worked on numerous projects over the years in various roles. By the time he left in 2000 he was head of central IT for Ulster bank capital markets.
"In the late 1990s I started thinking about what I was doing. I would have seen the web becoming very important around that time. I had looked at a couple of different projects and had gone back to John Teeling after all those years. I brought one idea. He said 'Is it your first idea?'. I said yeah. He said 'What age are you?'. I said 36. He said 'I'll see you when you're on your third idea and you'll be 38. And I always knew you'd do this'. He was reading me like a text book.
"Of course I did go back two years later with my third idea and that was Realex Payments.
"I always wanted to set my own path in terms of where I could bring a business. I thought I could be the inventor or creator of the system – that was nearly more important than the content of the business. My feeling at the time was if I could work very hard for someone else and help them to achieve great success, why couldn't I do that myself."
Lyon was hugely focused on trying to find a business that would be scalable. "I wanted to be able to make money while we were sleeping. How do you make money when you're asleep? Well people have to be using your product or your service 24/7 if that's going to happen."
"When I saw that financial institutions were being contacted by retailers who wanted to sell online and the banks didn't really have solutions for them, it was very clear to me that there was a problem to be solved.
"The simplicity of the business model was such that it just made complete sense. Businesses want to be able to sell online. The banks don't want to have to link into every single retailer who's selling online. They would like a gateway in the middle and we could be that gateway."
Lyon started the company with John Mooney, who he met at UCD and who is still a non-executive director on the board. They got the first version of the product working, despite consistently failing to raise any money. "John put a few quid in. And we scrounged and borrowed the servers, the software, the hosting, legal support, accounting support – I didn't pay for anything. It was true entrepreneurial spirit!
"It was a lesson in the leanest start-up you could find because we literally just had no money. And that's probably one of the best things that happened. It made us extraordinarily focused individuals.
By March 2001, the company had signed up ski holidays website Directski as the first customer. "By the end of that year we had 19 customers live and we then raised money from family and friends on the back of demonstrating to them that customers would pay us for the use of this service. They very generously came up with money under the BES scheme and that's been our only fundraising to date. That was €320,000. Ironically, I don't think we ever used a euro of that money. I don't think our balance ever went below that because as soon as we got the money we got very confident and we recruited our first sales guy and we started getting more customers.
"Bit by bit we built up the network and the more of the network we had in terms of the banks we were connected to,the bigger the net we could sell to in terms of the retailers."
Lyon says Realex is now one of the biggest gateways in Europe, processing around seven million transactions a month for 5,500 retailers based in 30 countries worldwide. The company processes €12bn or €13bn through the system every year and revenues are growing at around 20 to 25pc annually. Lyon expects the company to turn over around €10m this year. "It's a modest revenue still and we have great ambitions to double that or even triple it in the years ahead."
Signing a six-year contract with HSBC Merchant Services last month to provide a managed services solution for the latter's online retailers has been a "turning point deal" for the company and one that will lead to substantial growth over the next two years, says Lyon. "They had a product like Realex in-house and they've decided to retire that product and to migrate 5,500 retailers onto our platform. So we've recruited another 50 people in the last six months and we're moving offices to cope with that increased business. It's a huge boost for us."
Outside running the business, Lyon is very involved in supporting internet start-ups. In 2009, he set up the Internet Growth Alliance, which worked with Enterprise Ireland to develop the Internet Growth Acceleration Programme (iGAP), which is now in its third year. "Over 100 companies have gone through it so far," says Lyon. "It's a six-month development programme and we have the world's best speakers come and talk to them. It's just the world's best education and learning that you can get. That learning will hopefully lead to a better success rate with regard to the start-ups that we have within the industry. To our proud credit, iGAP was mentioned in the Government's Programme for Jobs."
Lyon says he got involved because of his own experience on the Leadership for Growth programme. "Enterprise Ireland had supported me by putting me on the programme in Stanford in 2008 and that was a transformational experience for me. We raised our ambition big time on the back of that programme. We restated our strategy and we've at least doubled or tripled our business since doing the programme and that's a real testament to what learning does for you."
He enjoys being involved he says, because he gets to meet some really interesting characters with interesting ideas. "I can relate to it very easily from my own experience 11 years ago.
"I also do it because I really would love to see some really big global internet companies emerge from Ireland. That would be the icing on the cake and it would demonstrate that the talent we have is there and is not constrained in any way. I've always been very fearful that the thing that constrained me most was not a lack of ambition but that our ambitions simply weren't big enough. Now I like to take people's business plans and put a zero at the end and say 'Give me another version, show me how you'll make the company 10 times bigger'. That was a big learning for me along the way."
While Realex is far bigger than he initially expected it to be, Lyon is even more excited about the prospects for his latest project Carapay, which enables cross-border mobile and web payments for consumers and businesses. "We are the first non-bank to join the clearing systems. We have a licence to give accounts to people from later on this year and to give them sort codes and account numbers. The only difference from being a bank is that we won't be a lending institution. We can bring this to 26 countries across Europe.
"I'd have never done that if it wasn't for the learning and from talking to people and realising that you can grow big businesses and not to be afraid of trying."
Lyon has won numerous awards over the years, including Software Industry Person of the Year from the Irish Software Association in 2011 and Internet Hero at the Eircom Golden Spiders in 2009, but says he is particularly proud of being named UCD Smurfit School 'Alumnus of the Year'.
"UCD gave me a fantastic education. My two directors in Realex Payments came via UCD. My circle of friends is connected to UCD. And of course my good wife Niamh came from UCD as well. UCD is responsible for an awful lot of things in my life."
"There are many awards that you like to win," he concludes. "This is an award you really want to win. Not to take anything away from the other ones, but this is the cream of the crop without a doubt and I'm absolutely chuffed about it."
February 2012