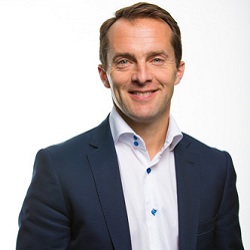 Conor Pierce
BComm '92, MBS '94
Throughout a career that has included leadership positions across several markets at some of the biggest technology companies in the world, including Ericsson, Nokia and Microsoft, as well as his current role as vice president, IT and mobile at Samsung UK and Ireland, Conor Pierce has been focused on creating top-notch teams that continue to grow and succeed without him.
About Conor Pierce
Can you tell us a bit about your education and career to date?
Following secondary school in Blackrock College I did a BComm at UCD. Because it was a four-year degree by night, I was able to fund my way with a number of jobs, including working at VHI and a stall selling socks in Blackrock Market.
After completing my degree, I started an MBS in international marketing. Two weeks in, I found out I'd received a green card through the US lottery system and had until the end of October to get my passport stamped. I told everyone I'd be away for a week, bought return flights and headed off with a small rucksack and $100 in my pocket. A few days later I made the decision to continue travelling around the world rather than go back and finish my course. I worked in a ski resort in Colorado before travelling thoughout the Pacific Islands eating breadfruit and sleeping on the beach on occasion like Robinson Crusoe before landing in Australia. It was an incredible life-changing adventure.
When I came back, I did my master's in international marketing at the Smurfit School, but I still had the travelling bug. After graduating in 1994, I bought a one-way ticket to Mumbai and spent another year travelling around the world – this time east to west.
When I returned to Dublin, I started my career at Woodchester Brokers selling insurance products to teachers in the West of Ireland. That was a valuable learning experience early on; people will only buy from you when they trust you.
After a year, I got my first real marketing job at Premier Dairies before going to work for Glenross Hosiery, a socks manufacturing company my father had set up. Although I went in as sales and marketing manager for Europe, he decided I had to learn from the ground up so I spent the first three months sweeping the factory floor, making tea, ordering yarns, working in the warehouse and packing socks – all the stuff that made the factory run. It was a great way to connect with the team and learn about the business.
A couple of years later, I entered the tech world for the first time when I joined Ericsson in Clonskeagh. I started as product manager and over the next three years progressed to product marketing manager, account manager, sales director and then managing director of Ericsson Consumer Products Ireland.
Ericsson was the number one mobile phone manufacturer globally at the time, but then Nokia knocked it off its perch and the business nose-dived. It was a good lesson for me at that stage of my career to see how quickly things can go wrong when a company becomes internalised and non-consumer centric.
I managed the transition over to Sony Ericsson in 2002 and then moved to Ericsson's charging solutions business in Dun Laoghaire, where I was responsible for global sales of the company's pre-paid network solution. I found myself leading a team of 100 people responsible for developing network solutions for new network operators in west Africa, South America and India. The business was very successful and was eventually brought back to Sweden.
I then had a brief sojourn as international sales director at Avaya, which was based in Bray but worked with oil companies in Saudi Arabia, where I spent a lot of time. I was in an American compound in Riyadh in May 2003 when it was bombed. My wife was pregnant with our third child and that was a real wake-up call, so I decided to accept an offer to join Nokia.
I spent the next 11 years at Nokia, working across a variety of roles and locations. I started off in Nokia Ireland and then moved, with my family, to Dubai for 18 months, where I looked after 22 markets in the Middle East and north Africa.
I was then offered the role of managing director for Nokia Turkey, so we spent the next two years in Istanbul. That was my first real turnaround opportunity – the business was in disarray and the team was dysfunctional when I came in. We essentially rebuilt the team and the business became very successful: the smartphone market share increased from 10% to 79% in 18 months and Turkey became Nokia's third largest market globally.
In 2011, I was asked to lead the business in the UK, just after Nokia had announced plans to adopt the Windows Phone platform. This was a seismic strategic decision that shocked the market and the company. My role was to untangle the past by reducing the Nokia UK team from 2,500 people to 250 whilst building a start-up team with a brand that was once within the top three most valued brands globally. It was a big leadership challenge but we grew the business more or less from scratch and then transitioned it to Microsoft in 2015, which is when I exited.
Tell us about your current role
At the beginning of 2015, I joined Samsung as vice president, IT and mobile, UK and Ireland. It's a US$4bn business and covers all mobile products – including tablets and wearables – and across consumer and B2B categories.
We have a team of around 400 people, including about 50 people in Samsung Ireland. I spend every second Friday in the Irish office in Stillorgan and the rest of the time in London. My family moved back to Dublin in August 2015 and I've been commuting since then. I now know the names of the gate and flight crew on flight BA831and what coffee they like!
How would you describe your leadership style?
When I left Nokia Ireland, the team gave me a mug with my picture on it and the words 'there is always a way'. My leadership responsibility is to create an environment where incredibly talented people achieve what others deem to be impossible, by working together. I firmly believe there's no point in surrounding yourself with experts if they don't work together. As individuals, you may achieve something, but you're not really leveraging all the assets and all the potential around you.
I'm permanently optimistic, incredibly curious and always looking for ways in which we can improve the way we're working and do something that's never been done before.
I set the bar very high for myself and take on a lot of physical challenges outside of work and encourage my team to really push themselves. There's always so much more in people, and if you make sure they feel supported and confident then they can reach into it. It always gives me pride to see people achieving something they didn't think they could. For example I'm leading a charity challenge with my team to complete the five peaks in 48 hours in the UK and Ireland in June.
I subscribe to the Irish war cry – 'faugh an bealach', or 'clear the way'. My role is to remove the obstacles to build the best team in the business. I always try to set the bar high but remain shoulder-to-shoulder to help them achieve the business and their personal goals.
What motivates you?
I have a competitive nature but I want to win for the team. I'm here to build a brilliant team and for them to continue to grow, even without me. You should always measure your leadership based on the quality of the people around you and how they perform after you leave. Your legacy is the true measure of your success.
Who or what has inspired or influenced you?
Many people inspire me, particularly my family.
My wife has been incredibly valuable in my career and I have to thank her for all the sacrifices she's made – from living in a challenging suburb in Istanbul to being there for me when I face challenges at work. She's a great listener and always gives me a different perspective. My kids keep me grounded, which is a good thing.
I also always lean on learnings from my parents. My father was chief executive of Glen Abbey and then started Glenross Hosiery from scratch when he was in his 50s and had four kids in college. From both my parents I learnt you have to work very hard to be successful as it doesn't happen by itself.
What are your tips and advice for success?
Be self-aware and always look for ways in which you can learn about yourself. I push myself and do some crazy physical challenges. It's not just about the physical aspect – I think when you push yourself to the limit, you really need to rely on your self-awareness and your mental stamina to push beyond what your body thinks it can do.
Be authentic. If you try to fake anything, you lose credibility straight away.
Listen. One thing I have learnt over the years is to bite your tongue and listen and be the last person to speak at a meeting. That way you get valuable insights from the team around you. I expect my team members to think for themselves and come up with solutions.
In any business, once you lose sight of the consumer it's very hard to catch up because someone else will take that space from you. Look at Motorola, Ericsson, Blackberry and Nokia, for example.
Measure your success based on your legacy. It's not only what you do on job that is important, it's what happens after you leave that defines your leadership quality
What do you see as your biggest achievements and failures?
Looking back on my career, there have been a few big achievements and one common denominator. People on my teams want to be there when they come into work because of the environment and the culture that I enjoy building. It's a family spirit and they enjoy being there and working together. I really like creating that environment and seeing people doing more than they thought they could do. I saw that in Turkey, in Nokia UK, and I see it now in Samsung. However, being quite competitive, building a sustainable and profitable business is the goal for any business and that keeps me fuelled.
There has been an equal measure of disappointments as the pace of the telecom sector demands constant innovation and bravery to pilot new models. However success leads to complacency, which results in failure. Only the paranoid survive.
In my early career I was probably sometimes more impatient with people and didn't listen to them or support them as much as I should have. I did see their potential but perhaps I didn't have the patience required. I think I'm a bit wiser now and definitely more considered. I learnt to think like a man of action and act like a man of thought, that helps harness my energy at times.
What are your plans for the future?
I've been fortunate to develop my career with valuable experience internationally across different markets and very diverse business cultures and I hope one day there will be an opportunity to leverage that within an Irish company. Maybe it comes from my dad's entrepreneurial spirit, but I do look forward to coming home at some stage and really helping Irish companies prosper and grow internationally.
That said, I'm really enjoying what I'm doing now and leading Samsung UK and Ireland as there are not many companies that have an inestimable ambition and ability to reshape the market and yet are humble in their success and have a healthy paranoia to deliver meaningful innovations to partners and people.
What are your main interests outside work?
I only spend two days a week in Ireland, so my weekends are really precious and the priority is definitely my family. I have three teenagers between the ages of 14 and 17 and they keep me busy ferrying them about.
When I have time and am granted 'permission', I love doing charity expeditions to raise money for Acquired Brain Injury Ireland, Dublin Simon and Peter McVerry Trust. Since 2000, I've been doing one expedition a year and have managed to raise €60,000 for these charities.
My preference is to mountaineer at high altitudes and have been to Ecuador to climb Mount Cotopaxi (5,858m) and Africa to climb Kilimanjaro, as well as to the Sahara Desert, Namibia, Iran, China, Vietnam and dog sledding in the Arctic. Some of these adventures really push you to the point that you're wondering if it was a good idea or not. However, you come back with a totally different perspective on life and yourself. All the problems you face at work aren't problems compared to what you've put yourself through, but also compared to what you've seen.
Insight Track
How has your degree benefited your career and personal life?
It gave me a deeper perspective on international marketing and business and also I got to know some exceptional people.
What is your fondest memory from your time in UCD?
The people I met, all of whom were energetic, ambitious to learn and have a bit of craic. I also remember Frank Bradley who was a great career coach.
How important is your UCD alumni network to you?
The UCD alumni network is very important to me as it keeps us connected as friends and as a network to lean on to help each other.
Tell us something most people don't know about you
I bought a peacock for my wife as a surprise and it became a family pet. She eventually warmed to it and named it 'George Ploomey'.
What piece of technology can you not live without?
My Samsung Galaxy S9+. I work in the mobile phone business so naturally it keeps me connected. Having said that I do look forward to the odd 'no-coverage' message so I can switch off!
What are your pet hates?
Complacency and arrogance.
What's your favourite book?
Dee Brown's Bury My Heart at Wounded Knee.
And who is your favourite musician?
David Bowie.
What's the last gig you went to that you loved?
RedKid in The Harbour Bar, Bray.
What is your favourite dish to cook?
Middle Eastern dishes from the cookbook Persiana.
What team do you support?
My family.
What is your favourite place in the world to visit and why?
Roundstone, Co Galway for its Twelve Bens, beautiful beaches and landscape. Also, it's where Val and I got married.
Name three things on your bucket list
Learn to kite surf with my kids
Ride across the US on a touring motorcycle with my wife
Climb Mera Peak (6,476m) in Nepal
What charities or causes are closest to your heart?
I support Acquired Brain Injury Ireland because my youngest brother Patrick died in 2005 at the age of 22 as a result of a road accident in 1996.
His heroism and determination to overcome any obstacle is a constant source of perspective and fuels my 'can-do' attitude in life. Patrick received inestimable support from my parents and from Acquired Brain Injury Ireland, which really helped his recovery and his spirit and that is why I do what I can to help this charity.
April 2018