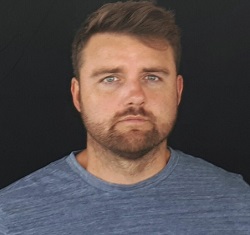 David Costello
BComm '11
Busy setting up and working with start-ups since his college days, David Costello's latest venture is digital marketing agency Disrupt Digital, which he co-founded in Dublin three years ago. He and his business partner opened a second office in Prague this year and already have their sights set on further international expansion.
About David Costello
Tell us a bit about your educational background and early career
I've always been starting a business or involved in a start-up. I originally did an arts degree in UCD and, at the same time, decided to set up my own jobs company. It was the Celtic tiger period and we were helping workers from outside the EU to apply for work permits and get established here in Ireland. There was a lot of demand for that at the time and it went really well.
After a couple of years the Celtic tiger ended and things kind of fell apart and I decided to close it up. It was a great experience and a taste of having my own business and everything that goes with that, including learning all the mistakes.
After finishing my degree I decided to do a BComm. In my final year, a former classmate and I set up a strength and conditioning facility. I'd been involved in sports for a number of years and had some really good contacts. He had already graduated and had been working so put up most of the seed capital and we opened the facility pretty close to the Smurfit School. I was involved in that for about a year and a half.
Then, because my partner had most of the shares, we agreed he would take on the rest of it and I went to work for a company called Youth Nation, which had been set up by a friend of mine from commerce. He invited me to help turn his CollegeTimes.com website into a student marketing company. We had two content creators and I would promote it to businesses and try to build the commercial side. It was one of the fastest growing websites in Ireland – we went from around 40,000 to 1.5 million visitors in about a year. From there we branched out to create the Student Network, an on-campus marketing network. It was all great experience that shaped a lot of what I do now.
Just after leaving Youth Nation in 2014 I managed to win one of the sections in Ireland's Best Young Entrepreneur and got €10, 000 in funding to start a company. We had entered on the idea of creating a marketing app for micro businesses. The aim was to provide people with a platform to promote their services in their local area. We didn't really understand the app development industry too well so we went with an Irish company, which is not really what you do if you only have €10,000. The end result wasn't anything like what we needed to get in the market or attract additional investment. That was a kick in the teeth for us and the first real exposure to a major failure.
However, we'd got initial interest from some start-ups that wanted to use our platform so we decided to pivot into more of a digital marketing agency and we founded Disrupt Digital. Our main focus is marketing for high potential start-ups. That's the experience we have in the business and with our current team. For us, it's the most exciting industry to be in because you're starting off with a company that might have a lot of potential but hasn't done very much so you can help drive very rapid growth and get a lot of interesting partnerships out of that.
What is your role in the company?
Mine is quite a strategic role: because we started out as something really different, it's quite important to lay out our short and long term strategic goals.
In terms of the day-to-day, I'm focused on dealing with clients and helping them with whatever projects we're working on. Like any start-up, you're going to be putting a lot of different hats on at different times and jumping in where you're needed.
Because we're dealing with different projects that might be three months or six months, we find it works best to have a decentralised set up. At one point, we had seven employees in Dublin and were working with 10 or 15 freelancers. Now, we have three employees and work with around 20 freelancers in different areas. We have people we can call on quite quickly and they'll either be available or can refer us to someone who is. And their work is always going to be high quality because they're working for themselves.
We opened a Prague office earlier this year. We were looking to open a second office to reduce the costs and my business partner had studied in Prague so she knew the area pretty well. The cost of doing business in Dublin is very high, especially on the content creation side of things. Here in Prague, the office spaces are much better value and the wages are a lot lower. In terms of the talent available, there are a lot of ex-pats here and everyone speaks English anyway so there's no language problem. It just seemed like a good fit for us and it's a nice city to be in at the moment.
With our clients, everything's through English because the majority of them are promoting to English-speaking markets and the investors are generally English-speaking as well.
What is your leadership style?
I try to keep it very simple. I look to take on people who are smarter and better at their jobs than I am and just try to facilitate them. As a start-up that just makes sense – if you're starting with a smaller group of people and competing with a company that might have 20 or 30 employees in the same industry you have to try to get the best people you can early on and then let them do their job and help them wherever you can.
What motivates you?
In terms of business, it has to be the growth end of things. That's when you encounter the most interesting opportunities and challenges. That's why we decided to focus on high potential start-ups – we're getting to meet really good industry contacts and investors and building partnerships with large companies. Everything is new and there's a great freedom in how many different areas of the business you can be involved in with start-ups. If you're dealing with an established brand you're very limited in the scope of what you get to do.
What are your influences or inspirations?
Elon Musk for me is a great example of what an entrepreneur is. After selling his share in PayPal and making US$165m, instead of deciding to head off to the Maldives, he invested a large part of that straight into SpaceX to build rockets. It doesn't get more ambitious than that. Only 50% of his companies are going to be successful in the long-term but he still goes after these really ambitious goals without any support bar his own drive and commitment. For me that's pretty aspirational.
What has been your biggest achievement to date?
It has to be opening the second office in Prague and being in a position where we're getting established clients. We've been in business for less than a year and we're yielding good results at the very top level. We're coming up against much more established agencies and are already pulling work off a number of other agencies that have been in the market for 10 years. For us that's a big indicator that we're done the right things. And that's a big achievement.
What are your tips and advice for success?
From an entrepreneurial standpoint, I'd say the best thing is to start young. A lot of people come out of college and work for five or 10 years and then decide to open their own business and of course that's a great thing to do. But in my experience, you're going to make a bucket-load of mistakes and have loads of failures and it's easier to do that when you don't have a large mortgage or five kids.
And it's always good to remember that you only need to be successful once. You can have 10 failed companies but if you have one successful product or service that people like you're going to do well.
What are your plans for the future?
My business partner and I are big travellers so we're looking at a structure where we're going to decentralise 90% of the business. We'd like to spend three years in Prague and then move on somewhere else for another three years and pass it on almost like a franchise to the local team and let them handle the local business and then just continually do that. That kind of exposure to other cultures and building contacts in different places around the world is really exciting for me and my business partner. It might not work out like that but that's the plan we have in mind. We're building some good contacts up in Singapore at the moment so that could potentially be our next destination.
What are your interests outside work?
I'm still involved in a good bit of sport. I play for the Czech national touch rugby squad and we're just back from the Capital Cup in Berlin, which was a great event. I'm maybe not as fast as I was when I was 22 but I can still run around. I also get involved with the committee. It's a great way to build up contacts and friendships with people from other teams around Europe.
Insight Track
How has your degree benefited your career and personal life?
The biggest benefit for me has been the opportunity to meet like-minded people who have become friends, colleagues and collaborators in the years since I completed my degree.
What is your fondest memory from your time in UCD?
My fondest memory is probably during that first Freshers' Week where the difference between school and university becomes apparent. It was an exciting time.
How important is your UCD alumni network to you?
It has been a fairly big part of my day-to-day life. Reaching out to old classmates is something that always yields a positive response.
Tell us something most people don't know about you?
I had a national record for powerlifting!
What piece of technology can you not live without?
Given the business I am in it has got to be the smartphone. If forced to I could do 90% of my day-to-day tasks from my phone.
What is your pet hate?
A big one is people who cancel things they have agreed to on a consistent basis. In business it is suicide but also in your day-to-day life it makes it difficult to make an effort with someone.
Who's your favourite writer?
I like to read epic fantasy so would be a fan of the likes of Robert Jordan.
And what is your favourite band or musician?
I would listen to a wide range of different music so it would be impossible to pin down just one!
What's the last gig you went to that you loved?
I just watched the Stones play in Prague so would have to say I am a big fan.
What is your favourite dish to cook?
I like to cook and make a delicious blue cheese pasta with Parma ham. I think so anyway!
What teams do you support?
I am from a rugby background so it's a pleasure to watch the provinces and national team in a golden era for Irish rugby.
What is your favourite place in the world to visit and why?
I visited Mauritius last summer and made a trip to a private island on the Blue Lagoon Marine Reserve. That was pretty special.
What are your insider tips for anyone going to Prague for the weekend?
Avoid staying in the tourist centre (Old Town Square) for longer than you need to. Take the funicular to the top of the Petrin Hill and walk down via Prague Castle. Stop for the midday concert at the Lobkowicz Palace and enjoy one of their branded beers or wines. You will see the best view of Prague and be able to stop in great restaurants and bars on the way.
Name three things on your bucket list
Visit the highlands in Ethiopia
Travel around South East Asia
Finish writing a novel
What charities or causes are closest to your heart?

Homelessness is an issue that I feel strongly about. I do what I can locally and we have helped out the likes of Focus Ireland and Mendicity when the chance arose.
August 2018