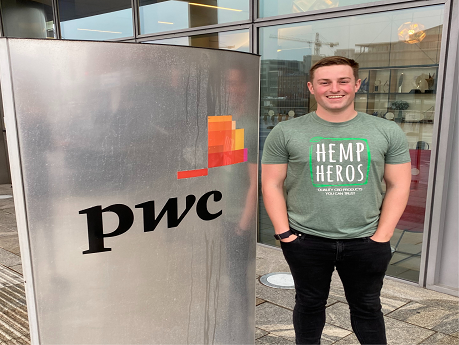 David Hartigan
MSc Management Consultancy '16
UCD Smurfit Aspire Scholarship alumnus David Hartigan left his job as a manager in PwC in Dublin last year to focus on scaling up his start-up Hemp Heros. He was recently named one of the Irish Independent's 30 under 30 and awarded gold in the product and manufacturing category in the National Startup Awards.
About David Hartigan
Tell us a bit about your education and career to date
I'm originally from Crumlin and went to Drimnagh Castle Secondary School. We had to apply to do transition year and I was lucky to get it. However, a couple of weeks in I realised it wasn't for me – it felt like it was all moving far too slowly. So I went straight into fifth year but, because I'd missed the first two weeks, most of the electives for the Leaving Cert were already booked. I wanted to do all business modules, including accounting which I love, but couldn't get any of them. Because I wasn't that interested in my subjects I didn't do as well as I'd hoped in my Leaving Cert but I did have enough points to do a bachelor's degree in business management in Tallaght IT.
Once I was in college I realised if you want something in life have to work really hard to get it. I knuckled down and because I was doing something I was passionate about didn't mind the study. I pretty much got all As in my exams and finished the four years with first class honours.
Through college I was doing various part time jobs, some of them more interesting than others. At one point I was working in Leggs nightclub, while also doing event security and working as a private investigator. Towards the end of my degree I started doing a bit of marketing consulting and strategy for a friend who owned a restaurant in Ballsbridge. He won the 98FM best restaurant in Dublin award that year and I thought, maybe consulting was for me.
I was interested in the master's in management consulting in UCD Smurfit School but the cost was far beyond my savings so I applied for the Aspire scholarship on a whim. I was quite surprised when I was called for an interview.
I got the scholarship and did my year in Smurfit, which was very enjoyable. However, even with my first class honours undergrad degree and being awarded the scholarship it was extremely difficult to even get an interview for a grad programme – most of them wanted you to have achieved 450 or 500 points in the Leaving Cert, which was a lot more than I had come out with.
I had to apply three times to PwC to get an interview. In the end, I was called for an interview for a summer internship – it went so well I got the internship and the grad programme in one. Now, if I'm giving advice I'd always say to be persistent – that's been key in a lot of things I've done.
I spent six and a half years in PwC, working across financial services, drones and emerging tech but I always had my eye on doing something entrepreneurial and did a few things on the side. A chance opportunity came along when John Phillips, a professional fighter who had recently been signed to UFC, reached out to my brother – a musician – to collaborate on some music. It occurred to me that he might not have a manager as he was newly signed and I started to wonder if there was an opportunity to work with professional athletes to help them with sponsorship, media and so on.
Anyway I pitched the idea to John and secured sponsorship for him from a couple brands and that started my relatively short career in sports management.
At the time, CBD – cannabidiol oil, which is derived from cannabis and hemp – was becoming a hot topic among athletes as it's used as a supplement for pain relief, recovery and to help with sleep. We got sponsorship from a couple of CBD brands and that's how I fell into this space.
A lot of athletes weren't happy with the quality of the CBD products that were available and putting my consultant's hat on I thought maybe I could do something better. I spent the next eight or nine months researching the industry and going to hemp farms and looking at different ways of extracting the CBD oil. Then, together with John, I launched Hemp Heros in November 2018 to produce health and wellness products for people and pets.
The business has grown organically and we went from being a white label producer – like 90 per cent of the industry – to making our own products using a patent-pending cold press technology. We're now a 'seed to shelf' producer of hemp products – the only part of the process we don't do is grow it ourselves. We currently have over 25 products in four segments: our pets range, as well as supplements, cosmetics and superfoods for humans.
John exited the business last year because of other commitments and I left PwC last September to focus on it full-time.
What does your day-to-day role involve?
I'm chief executive and we're a small team of three so I wear many hats at the moment. I do everything from checking emails first thing in the morning to make sure we're on top of orders to projections and business prospecting. I'm quite focused on developing the range – we have more than 25 products at the moment – and different opportunities. For example, I'm looking for potential opportunities in India, where our products are a best seller. I'm taking to a big pets products supplier there to see if there there's something we can collaborate on. I'm also speaking to several big players in the pets industry in Europe and we're looking for local partners in different regions to distribute our products.
What motivates you?
A few years ago I would have said it was money, but that's not exactly it now – it's more about having financial freedom. When I left PwC I was a manager and on €80,000 a year. This year, I'll make a hell of a lot less than that. So if it was just money that motivated me it would have made a lot more sense to stay in PwC or move to a big tech company and try to move up the ladder.
How would you describe your leadership style?
I wouldn't expect anyone to do anything I wouldn't do. I'm very much someone who gets stuck in and leads from the front and not from behind. I've seen plenty of people who are managers rather than leaders and they expect things from others that they wouldn't think of doing themselves.
I try to put myself in the other person's position and think how I would feel if I was asked to do something. And I try to be as fair and as equitable as possible.
Who are or what has influenced or inspired you?
I definitely get a lot of inspiration from family members. Most of my uncles are tradesmen so they're all self-employed. My dad was involved in hospitality and nightclubs and always ran his own businesses. It's probably in my DNA to want to run my own business.
A pivotal moment that inspired me came during my interview for the Aspire scholarship. One of the interviewers was Fergal Mulchrone, who owns Hugh Jordan, and he really grilled me and initially said I was more of an entrepreneur and he didn't think the course was for me. We had quite a bit of back and forth and at the end he said he liked me and that he'd invest in me if I ever wanted it. That was quite something and really gave me some faith in myself.
Is ongoing learning important to you?
Yes, I definitely think it's important to keep learning, formally and informally. I recently completed an online course in medical cannabis for pets. Usually you have to be a vet to do the course but I got an exemption because we're so heavily involved in the pets sector. We're working with the veterinary college in UCD on studies into CBD and animals and one of the vets there gave me the recommendation I needed to do the course. It was a good bit outside of my own expertise but was very interesting and informative
What advice would you give someone starting their career?
I'd definitely say to people that persistence can pay off. Also, if you don't ask you don't get, which is probably something I was told as a kid. Basically, don't be afraid to put your hand up or put yourself out there.
I've no problem approaching anyone – the chief executive of the biggest company or even the president of a country. So often, I've been at an event and have gone over and chatted to someone most people would be afraid to talk to. For example, I met Leo Crawford, the CEO of BWG, at an event and got chatting to him and said I'd love to meet him for a coffee sometime. We've met up a few times and I now have his personal number. I don't think any of the other 80 people in the room asked him for a coffee.
My experience has been that if you put yourself out there a lot of people are very willing to meet and are more than happy to help if they can. You've got to risk being told no. And even if 10 people say no and one says yes, that yes could make a massive difference to your life or your business.
What's your biggest achievement?
It's probably taking the plunge and leaving PwC. I was there for six and a half years and was getting paid very well and it would have been the easiest thing in the world to stay. When you're comfortable in your job and it's well paid, it's very hard to leave and I was quite hesitant but I think I would have lived with massive regret if I hadn't gone with this full time to see where it could go.
Being named one of the Irish Independent's 30 under 30 for 2022 last December is also something I'm very proud of.
What are your aspirations for the future?
I would love to bring Hemp Heros to the point where it is the gold standard of the hemp space and becomes a global brand, like the Kerrygold of CBD.
I'd like to see us continue to grow and to help more and more people, because our products are making the world a better place – it is very much a health and wellbeing brand. And hemp itself is great for the environment and takes more CO2 out of the atmosphere than trees.
Personally, I would like to be thought leader in this space and to help the industry grow as a whole. I'd like to be that person where if you think of hemp you think of me!
Insight Track
How has your degree benefited your career and/or personal life?
My master's from Smurfit has made a massive impact on my career and personal life. The whole process helped me build so many news skills and confidence and friends for life.
What is your fondest memory from your time in UCD Smurfit School?
One of my best memories from Smurfit was when I joined the rugby team and we placed third in the MBA World Cup in the US beating Harvard and Yale.
How important is your UCD alumni network to you?
The UCD alumi network is something I use a lot. It's a brilliant resource and has been vital to starting a number of studies with UCD.
What are your main interests outside work?
Outside work I love martial arts and do a lot of ju-jitsu and surf when I can.
Tell us something most people don't know about you
I'm a qualified private investigator and worked as a PI throughout college. Two of my uncles are private investigators.
What piece of technology can you not live without?
It would have to be my phone as I do 80 per cent of my business from my phone.
What is your pet hate?
One of my pet hates is indecisiveness. I'd rather someone try and fail at something than be too afraid to try in the first place. The only time you really fail is when you never try.
What is your favourite book?
Think and Grow Rich by Napoleon Hill. I'd highly recommend it.
And what is your favourite band or musician?
Kygo the DJ would be my favourite artist.
What's the last gig, film or exhibition you went to that you loved?
The last movie I saw was the new Top Gun and it was brilliant.
What is your favourite dish to cook?
My favourite cuisine has to be Mexican and I cook great fajitas.
What team do you support?
I'm actually not a big football or GAA fan, I'm more into boxing and MMA.
What is your favourite place in the world to visit and why?
I love travelling to Asia and Bali would be my favourite place. I've been three times now and it's the perfect mix of culture, food and adventure.
Where is home and why?
Home is Dublin for me. It's where I've grown up and have many memories and friends.
Name three things on your bucket list
Travel to Hawaii and surf there, learn how to fly a plane and travel around South America.
What charities or causes are closest to your heart?
Animal rescues are a cause really close to my heart as I'm a big dog lover. I'm lucky to say we work with nine animal rescues at the moment through Hemp Heros. Pieta House is another charity I have huge time for as they help so many people and raise awareness for mental health.
January 2023