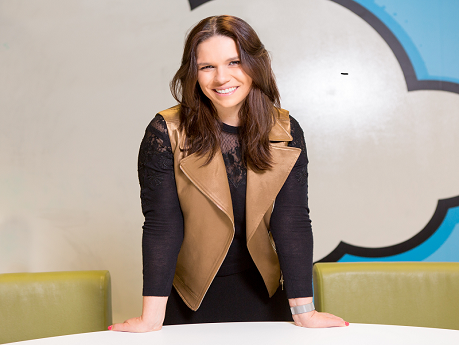 Deborah Clarke
MBA '13
After growing up in Florida and going to university in Tennessee, Deborah Clarke spent a year in Paris teaching English in underprivileged schools, which inspired her international career. Doing her MBA in UCD brought her back to Europe and to a career in product management. Now based in Luxembourg, she is senior manager of product management at Amazon and is soon to transition to a new role as director of product at Booking.com.
About Deborah Clarke
Tell us about your background and early career
I grew up in Florida: my dad's Australian and my mom's half French and half American, so I'm a patchwork quilt of different nationalities. I did my undergraduate degree in art at Rhodes College in Memphis, Tennessee.
I developed a deep appreciation for the French language at university, which led my professors to recommend me for a programme teaching English to primary school children in under-funded schools in suburban Paris. I was recruited and appointed by the French embassy and spent a year there teaching 200 kids. That early part of my career was where I caught the 'international bug'. To be in an environment that was vaguely familiar and yet completely foreign was incredibly scary, exciting, and intimidating and one of the most fulfilling experiences in my life.
At the end of the year, I didn't want to leave France but had no visa, so I decided to go back to the States. I wanted to live in a city with an international presence and ended up in Washington, DC, which I thought would be an exciting place to grow my career. I worked at an arts magazine and then moved into finance.
Then I had one of those flashbulb moments. I was looking around the perimeter of the building I worked in where the private offices were located. I was working very hard, the same hours and often more than most in the building, and I just asked myself what they had that I didn't have. It came down to a degree. They either had JDs or MBAs, so primarily legal or business backgrounds. I decided that if I was going to take myself to the next level, I needed an MBA.
After applying to various MBA programmes, I was pleasantly surprised to receive acceptances at all of them and had the lucky problem of choosing the right fit for me.
When I started talking to the schools, the things I loved most about UCD were the marketing programme – Damian McLoughlin and people like that were so strong – and the breakdown of the student population in the MBA programme. In the States, the MBA cohort was typically 95% American population and 5% international, and in France, it was the reverse: 5% French and 95% international. I was questioning how I could build a network, grow my career, understand the culture and what it's like to work in the country when the student population was so disproportionate. UCD was 50/50, and I thought that was brilliant.
My MBA taught me many different disciplines, industries, perspectives, and strategies, and I really learned what I excelled at and what made me curious.
When I emerged from the programme, I was looking for a new challenge and took on a role in France that involved growing and building a team for the title sponsorship of the largest sporting event in France that year. The role was exciting, and I loved having ownership of an end-to-end product journey.
After my stint in France, I went back to Dublin to work at CarTrawler, where I began as a customer strategy manager. In my role there, I was able to recognise need within the company and troubleshoot solutions that would improve the product. I built and scaled a team from 12 people to 80. It set me off on the path I'm now on: enjoying the product development life cycle from understanding your customer needs to continuously solving problems by creating and building the products, services, and solutions.
After leading product for four years at CarTrawler, it was time to think about my next role. I met an inspirational leader at Amazon and decided to take a role there
What is your current role?
I'm senior manager of product management working on the third-party seller side of the business. Third-party sellers represent over half the products on Amazon today and are an extremely crucial part of the business. I own the worldwide products and programmes that are fundamental to growing their businesses and continuing to succeed in an increasingly complex e-commerce environment.
My team's programmes encompass everything needed to sell a product into another country, including the various rules, laws, and regulations. For example, shipping vitamins to another country might be illegal, not because there's anything wrong with the vitamins, but because the label hasn't been translated. My team's goal is to make everything easier for sellers. We are passionate about understanding their needs, goals and ambitions so that they can grow their businesses.
How would you describe your leadership style?
I'm ambitious, adaptive and supportive. I enjoy going after big opportunities, rallying the team to get there, and, as we go on that journey, being adaptive to either help or enable people along the way.
What motivates you?
I'm primarily motivated by three things. First is impact – it's got to be something big and exciting. I'm also motivated by learning: I really value growing as a leader through learning about new ways of doing things from people from different backgrounds, contexts and environments. Third, I'm motivated by people: I enjoy working with highly talented, thoughtful people and mentoring them along the way.
What's the best piece of advice you have received?
I studied in Oxford for a semester during my undergraduate degree. I loved it – being abroad and travelling to so many countries steeped in rich history was life-changing. I didn't have a lot of money at the time, and I was backpacking for about a month around Europe at the end of the semester. I was in Switzerland and had the opportunity to go to the summit of the Schilthorn in the Bernese Alps, which has famously amazing views. The cable car to the top is very expensive, and I wondered whether it was wise to do it because I was a student on a tight budget.
I called my dad from a nearby payphone and asked him what he thought I should do. He asked me when I would ever be there again. Then he said three words: "Spend the money". I remember it so vividly, and ever since, I've lived my life like that. You don't get many opportunities again. Yes, opportunities are high risk, but they're also likely to be high reward, or at the very least, you'll learn something powerful. I really take those risks and try to live life to the fullest.
And for the record, I've never been back to that mountain.
Who or what has influenced or inspired you?
I've been inspired by lots of incredible people from Michelle Obama to Helen Keller as well as folks I've met in real life, like my high school art teacher, who taught me resilience and open-mindedness. The people who have inspired me the most tend to be the ones who do things that nobody has done before.
I love the story of Kokichi Mikimoto who created the world's first cultured pearl despite everyone telling him he couldn't do it. Or Rose Ayling-Ellis, who won Strictly Come Dancing last year and is a member of the deaf community. She had to learn how to dance on national TV without hearing the music. These people – changing the way we interpret or navigate the world and culture – inspire me the most.
What do you feel is your biggest achievement?
I was worried I wouldn't get into my MBA programme – sometimes your confidence is in the gutter – and every now and then, I realise how far I've come since that point. Sometimes I just have to pinch myself! When I started at Amazon a little over three years ago, I was a team of just one, and through finding opportunities, building ideas, and garnering funding, it's been tremendously rewarding. I'm proud of my career trajectory, and excited about what's ahead.
How important is ongoing learning to you?
I grew up in a family of educators. My dad was a professor and my mom was a teacher. My dad and both of my sisters have PhDs. In some ways, I was an anomaly who went straight to work after my undergrad and then eventually did my MBA.
I love learning and am always curious about the world around me. For me, it can be as simple as connecting with people outside my area of expertise, at work or outside of work. It could be about learning new disciplines or new areas of the business. I also usually choose complex, sometimes ambiguous roles because I thrive on continuous learning.
Like so many, I also listen to a lot of podcasts, attend webinars and conferences, and enjoy the odd documentary. It's just innate to who I am.
What are your career or business aspirations for the future?
I do feel like I've found my niche in product management. It's at the centre of so many intersections, certainly in the tech business. Today, I own the strategy for creating products that our customers love, and that's very rewarding.
In terms of growth, I am looking ahead at more leadership roles – being perhaps a VP of product or CPO – but staying within this discipline that I truly love.
Insight Track
How has your degree benefited your career?
In some ways, it's been a necessary feather in my cap to help propel my growth. More generally, the MBA provided me with working knowledge of the critical business functions and methods to strategically approach business challenges.
What is your fondest memory from your time in UCD Smurfit School?
I was lucky to have a fantastic, fun-loving class with a wide variety of personalities and backgrounds. My fondest memories were the everyday things, like getting coffees, group study sessions, and preparing for presentations. I was lucky to work on a capstone project that shipped us off to Paris for the summer. Some other highlights included celebrating each other's successes in newfound jobs, being put forward and getting elected to represent the class as class rep, and participating in the class-wide video competition at the farewell dinner that really captured so much of our comradery and team spirit. We learned a lot and laughed a lot.
What are your main interests outside work?
I am a work hard, play hard type of individual, so whenever I get the chance, I enjoy travelling and exploring new places (very easy as an expat in Europe). When the pandemic put a damper on those plans, I renewed other interests, which included picking up my camera and reigniting my passion for photography (even tried my hand at drone videography and photography) and of course enjoying the outdoors!
Tell us something most people don't know about you
I majored in studio art in college and still enjoy drawing (in addition to the photography). Studio art doesn't logically progress to business, but it's given me a unique perspective and approach to my career. During my MBA, I was dubbed 'the creative one', and as I have moved forward in leadership positions, my teams have been known for making bold decisions and moving in new directions.
What piece of technology can you not live without?
This is probably a bit obvious, but my iPhone – access to all-things music, podcasts, social media, the ever-handy GPS, and photography on the fly.
Who's your favourite writer or book?
Too hard to pick, but growing up, I loved Shel Silverstein's creative poems and stories, especially The Giving Tree. I love literary fiction and recently read Celeste Ng's Everything I Never Told You. Tough story but powerful.
And what is your favourite band or musician?
Cliché but The Beatles hands down. Some other top favourites include the alternative stylings of The Shins, The Strokes, Red Hot Chili Peppers, Beach House, Wilco, Belle and Sebastian, Christine and the Queens, Jungle and The Lumineers, and more mainstream U2, David Gray, Simon and Garfunkel, Creedance Clearwater Revival, Cat Stevens and Elton John.
What is your favourite dish to cook?
Fusilli Bolognese. I experimented with different variations for a while until I landed a flavourful recipe that is the ultimate comfort food. One of the secrets is to let the veggies and tomatoes cook into the sauce for hours.
Where is home and why?
As an expat who has lived on three continents, soon to be six countries, home is where the heart is. And that's with my partner, family, and the place that's resonated with me most: Ireland.
What charities or causes are closest to your heart?
I am passionate about supporting cancer research, STEAM education, equality and LGBTQ+ rights, and women's health
November 2022