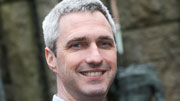 Declan Bourke
MBA '08
Seeking to rapidly grow its share of the Irish market for retail financial derivatives trading, IG Group has brought in Declan Bourke (MBA 08), who has a 17-year record of leading company growth in Asia and Europe, to head up its Ireland office.
About Declan Bourke
Officially opened in February, the Irish operation currently has a team of four people, which Bourke says will increase to six in the very near future with further growth planned in the long term. "We've taken a building on Charlemont Street and we can probably accommodate 40 people," he says. "We have plans in terms of market share. I estimate that IG has a 10 to 20pc share of the space we're in here in Ireland. I'd be looking at growing that quite aggressively over the next 12 to 18 months."
Bourke has been involved in growing companies since his very first job after completing a BA in economics and geography at UCG in 1995. He landed in Tokyo in mid-August that year to manage a company set up by a friend of his brother. The company, Nichiai, assembled computers, Dell-style, but on a much smaller scale, he says. Bourke spent his first year in Japan sleeping on the floor and then the couch in a friend's apartment before he was selling enough computers to draw down a salary and rent his own apartment.
"When I left in 2006 we had 35 people employed, turnover of between €2m and €2.5m and the business had changed quite dramatically. We got out of assembling hardware completely over that time and were into IT consulting and what was essentially a digital agency."
At that stage, he had met and married his French wife and they had their first child. "Much as we loved Japan, I'd been there 11 years at that point and we decided we didn't really want to raise our kids there."
"For 11 years I'd worked rather hard, often six-and-a-half-day weeks. I decided I needed a break. I also needed to go and round myself off, maybe apply myself at a university course."
He applied to do an MBA at a number of different schools in France, the UK and in Ireland and was accepted for all but one of them. "I opted for Ireland for the primary reason that my in-laws are 15 years younger than my parents and I wanted my children to know my parents.
"In terms of the MBA, UCD was hands down reputationally the winner. So I went to UCD and really enjoyed it and got a hell of a lot out of it. Considering I didn't really apply myself at university, most of what I'd learnt was on the street. So, armed with a lot of practical knowledge, it was very nice to go and to apply myself and be in a room with lots of smart people and look at the theory behind running a business and all the tools you need to employ to be successful at that. It strengthened me."
After completing his MBA in 2007, he was taken by CMC Markets, which is in the same space as IG, to set up, launch and manage an Irish operation. "Towards the end of my tenure, there was a lot of change within the company and the director of Europe asked me if I would move over and run the UK business," says Bourke. "At that stage, the family was settled, we'd had a second child and everybody was happy, so I wasn't really up for that. I turned down nine offers and then said I'd do it on an interim basis while we looked for somebody, which wound up being about 10 months, eight months of which I was spending the guts of four days a week in the UK.
"I guess I was getting a bit tired of that. I wound up getting in the door with IG to open up in Ireland and CMC decided to close the Dublin office, so the timing of that was perfect. I spent garden leave in France with the family and then came back here in August of last year. I spent a while in London with my team so we all got familiar with the IG culture. In the middle of February, we opened our doors officially with a big launch event in the National Gallery. So we're up and running, ready to roll."
Bourke says he's been impressed with what he's seen so far at his new company. "IG is a FTSE 250 listed entity that made a colossal amount of money last year, has a very strong share price and is going places. I'm very impressed with the leadership. I can learn from these guys, which I like. They're very rational and logical and yet they're human, which can be quite unique in the financial services space. They have a history of opening offices and being successful."
Having worked extremely long hours in Japan, Bourke now believes it's important to have a good work-life balance. Soon after he met his future wife, he started French lessons with a Japanese woman who suggested he read journals in French relating to his interests and hobbies. "When I thought about what I liked to do, I found out I did nothing but work. I really was a boring sod. I've fixed that since I've come home. I'm a very proud supporter of Leinster Rugby. I sail out of the National Yacht Club in Dun Laoghaire once a week in season. I play the odd bit of golf, go for the odd walk in the hills and spend a fair bit of time with my kids. They're mad into the beach.
"I'm getting more of a life. I could be earning more money in London but I can't do any of those things I mentioned there.
"I also read quite a lot and I enjoy a certain amount of intellectual debate. Prof Pat Gibbons, in particular, I have a great affinity towards and think is great value for money for a cup of coffee or lunch if you can ever get his time. I love spending time with him, it's never boring."
In terms of influences, he says Gibbons is probably the professor who has had the biggest impact on his thought process from a business perspective. "In terms of business people who I admire in different ways, Sean O'Driscoll, who runs Glen Dimplex, I think is quite an understated yet pretty inspirational kind of guy in the way he's gone about doing things, and not really a put the spotlight on me kind of fellow.
"My dad is someone I have immense respect for. I believe he is a man with great integrity and it's something that I value a lot. It's not a word I use lightly. I've been around the block in terms of where I've lived and people I've dealt with in various business dealings, and integrity isn't a word I'd use a lot in business these days. I don't think there's a hell of a lot of it around if I'm being blunt. It's one of the things that appealed about me about IG. It's a firm that I believe has integrity and that makes it a relative rarity in financial services. So I'm very happy at the moment."
February 2013