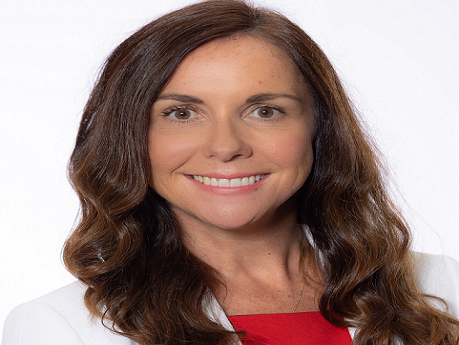 Donna Cleary
HDip Business & Finance 2003
Opting to do a postgrad in business rather than teaching has led to a 20-year career – so far – for Donna Cleary in banking, first in AIB and more recently Santander, where she's Head of Middle Market for New York and Long Island. Teaching is never far away, however, and nurturing talent and people continues to be one of her areas of focus.
About Donna Cleary
Tell us a bit about your education and early career
I grew up in Co Clare and wasn't sure what I wanted to do career-wise after school so ended up studying French and Spanish in UCG – and spending my third year in the University of Valencia in Spain – because I definitely always knew I wanted to travel. When I graduated from Galway I still didn't really know what I wanted to do so spent a year travelling around the world. During that time I applied for a couple of postgraduate programmes, including a HDip in education in UCD and the HDip in Business & Finance at the Smurfit Graduate Business School and was accepted to both.
I enrolled in both courses but still hadn't made a decision when I came back from travelling at the end of August. Just because Smurfit was such a great school and so well renowned I went for business, but that was the sliding doors moment in my life where I could just as easily have been a teacher. I would never have ended up in New York if I had decided to do teaching.
After Smurfit I was accepted into AIB's graduate programme and I spent the next 10 years with AIB in Dublin in various roles, ending up as vice president – corporate banking relationship manager. Then the travelling bug came back again and I just knew after 10 years in one place, I wanted a big change.
My plan was to move to Australia so I resigned from my job in early 2013 and was working out my three months' notice when AIB offered me a role in the New York office, which had been due to close. It had been in wind down mode for a few years so my job was to help grow the business back up, which I did over the next five years as director of leveraged finance in the US market managing a team.
I joined Santander in November 2018 as a senior underwriter. It was a step in the door of a company that's in growth mode in the US – I always love the idea of being involved in trying to grow something, it really allows you to make a big impact.
In June 2020 I was promoted to head of corporate underwriting and also became head of the commercial credit analyst programme at the same time.
About eight months later the head of commercial decided to create the new role of head of underwriting for the commercial bank. Although I was happy in my role at the time I was encouraged to go for it and went from managing seven people to having a team of 80. The underwriting function needed a complete transformation, so I restructured it over a very intense 18 month period and put a very strong and capable management team in place.
What is your current role?
Last year, my boss asked if I would be interested in creating a new team and building a business. So here I am again with another big undertaking ahead – in October 2022 I officially started as managing director, middle market for New York and Long Island, a newly created market that includes New York, Brooklyn, Queens, the Bronx, Connecticut and Long Island.
The goal is to grow the bank's client base and have a deeper penetration in these markets.
What motivates you?
I love solving problems: give me a good problem and I'll try to figure out a way to solve it.
I also like the challenge of building and growing new things. Working on something that doesn't need that big change doesn't feel like a challenge, or as satisfying, to me.
And I love working with people and trying to bring out the best in them. If you can surround yourself with good people you can trust you can literally do anything. I think I have a good eye for talent and what people are capable of, even if they don't even see it themselves (yet).
My original areas of interest – business and teaching – are very different in some ways but not in others. For example, one of the things I like most about business and my job is being able to advocate and bring junior talent along. Heading up the analyst programme at Santander for a couple of years was because I love coaching people and that aspect of my role. The leadership part is the most rewarding side of the job for me. I feel like I have found a true purpose in finance.
How would you describe your leadership style?
I think it's quite facilitative. My job is to bring the best team together and to remove any roadblocks from their way. I don't see people as working for me but rather that we're all working together.
I believe in getting everyone's buy-in and making sure the team is as strong as possible and works well together. If I had the option of hiring a superstar but thought they would disrupt the team dynamic, I wouldn't take that risk.
The team is a sum of its parts: people have different strengths and can learn and benefit so much from working with others where they might have a shortfall. When you're building a team not everybody has to be really good at everything. Together we can help fill the gaps.
Who or what has influenced or inspired you?
We had a lot of entrepreneurs in my family, including an aunt and uncle who were both very successful business people. That inspired me and definitely gave me an interest in business.
Also, I was the fifth girl in a family of eight children – I have 3 three brothers – and trying to prove you're as good as the boys when you're in that traditional Irish family certainly did push me on. I always felt everything was easier for them. I played on a boys' football team when I was younger and ended up in a very male dominated industry too. I still play on a men's soccer team. I always wanted to show I could do things just as well, if not better.
Now I have two little girls – a six year-old and a seven year-old – and I want to make things better for them and more equal and fair. And I want to make things more equal for all women – when I took over the underwriting team, for example, I increased the proportion of women to almost 50/50 of the team of 80 by the time I moved into my new role.
What is your biggest achievement to date?
Apart from my daughters, I think I'm most proud of coming to the US by myself and building a great life here, a family and a successful career. I knew two people from my primary school who were bartenders here and that was the extent of it.
Now I have a family here and I'm in this job. It's a long way from where I grew up in a farmhouse in Co Clare five miles from the nearest town.
It's very difficult to make it over here and it needs a lot of hard work. I'm proud of that for me and I'm proud of it for my daughters. They see the importance of having a work ethic and trying to balance everything. They know it's not easy but they get it. I am also very lucky to have my supportive husband John. I hope my daughters will use all of the opportunities they are getting to do a lot of really great things and most importantly be kind human beings. Nothing is more important than being kind and respectful of one another.
How important is ongoing learning to you?
It's very important. After finishing at Smurfit I did my ACCA at night and became a qualified accountant, which was very challenging. Right after that I studied to be a qualified financial advisor. And when I moved here I did a bankruptcy course in NYU. I'd love to do another course but it would be difficult to find the time right now with small kids and balancing everything. I already feel the guilt of being a working mother.
At the moment, I'm working on an ESG-related project and am launching an ESG webinar in June to bring solutions to small to mid-sized companies on the ESG front and help them prepare for regulatory changes and tax incentives/cheaper financing available to them. I'm very focused on that and trying to learn more about what we do as a group and what's important. That's the one thing I want to know more about and be able to speak about in detail so I'm reading a lot right now to get smart.
What is your best piece of career advice?
The advice I always give is that your attitude and work ethic are what will really make you successful. It's all about having the right attitude, listening and absorbing information and then just working hard. It's also so important to know where you want to go, otherwise how are you going to know how to get there.
My first mentor said to me once that perception is everything. It was something I definitely heard but I didn't take it in the context that I think they were saying it to me. I believe if I work hard and have the right attitude then my efforts will be recognised and appreciated versus being political; I am never afraid to voice my opinion if it is something I believe in.
Having advocates in your career is invaluable but you can't forget to give back as well. At every step along the way in my career people have encouraged me to go for jobs that maybe I didn't think I was ready for. I've had a lot of advocacy from the start and people giving me a push when I needed it. I've always felt I need to pay that forward to other people as well, and especially women. Also selfishly, it makes me feel good advocating for others that deserve it.
What are your plans for the future?
I would like to make sure ESG is at forefront of our strategy in the commercial bank. And I want to pave the way for other women as well and bring them with me on my journey. Looking forward, I want to make real change so that it feels different and we have more diversity at the table.
Insight Track
How has your degree benefited your career and personal life?
I would not be living in New York if it wasn't for my post grad with Smurfit.
What is your fondest memory from your time in UCD Smurfit School?
The people I met. Lucinda Kelly and I organised some great events for our year as part of the social committee. The Seven "Smurf" Awards (instead of dwarves) the night of our graduation was the most memorable (Clever Smurf, Fun Smurf, etc and everyone had to vote).
How important is your UCD alumni network to you?
It is going to be very important in my new role as I leverage the network to help bring in new clients to the bank. I also want to do more to help younger alumni earlier on in their careers.
What are your main interests outside work?
Being a mom, running, soccer, movies.
Tell us something most people don't know about you
I completed a triathlon (I am a terrible swimmer).
What piece of technology can you not live without?
iPhone.
What is your pet hate?
I cannot tolerate bullying behaviour.
Who's your favourite writer and what's your favourite book?
I love Sheryl Sandberg; Lean In inspired me to choose Santander over UBS as I could see more growth at Santander. Another sliding doors moment…
And what is your favourite band?
Florence and the Machine.
What's the last cultural or sporting event you went to that you loved?
Islanders hockey game.
What is your favourite dish to cook?
Spanish omelette.
What team do you support?
Liverpool Football Club.
What is your favourite place in the world to visit and why?
Spain – the food, the culture, the wines, speaking Spanish, reminds me of my Erasmus days.
Where is home and why?
I will always consider Ireland my home. Some day I plan to live both there and in the US.
Name three things on your bucket list
Travel South America with my girls, build a house in Ireland, and more travel. I dream of early retirement and dusting off the backpack!
What charities or causes are closest to your heart?
Destiny Housing, Unicef and Irish Cancer Society who were amazing when I lost my mother from cancer in 2008.
May 2023