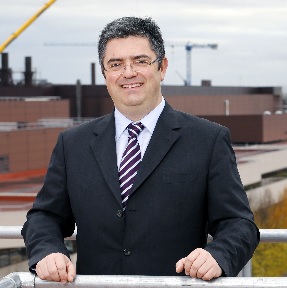 Eamonn Sinnott
MBA '00
The merging of his dual interests in technology and business has been a powerful combination for Eamonn Sinnott (MBA 2000), who was appointed a vice-president of Intel Corporation and general manager of the semiconductor giant's Irish operation at the beginning of 2010.
About Eamonn Sinnott
With a strong interest in science and all things technical as a child, Sinnott went on to specialise in physics and mathematics for his BSc degree at Trinity, which he completed in 1986. His first job after university was a four-year stint with an electromechanical components maker in Donegal, where he progressed to the role of manufacturing manager. "It was small in size, but large in its scope of work," he says. "It was a tremendous place to cut my teeth because I got to see the entire spectrum and business cycles."
In 1990, he applied for jobs in both Digital Equipment in Galway and Intel, which was in the very early stages of starting up in Ireland at the time. He was offered the job in Digital, while Intel said it was putting its recruitment drive on hold. Having accepted the Digital job, Intel contacted him within a year saying it was back hiring and wanted him to come for an interview.
"I said, thanks very much but I've just started a new job. They said, we really think you'd like this, it's a big deal. So up I came and I was really impressed with the scale of their ambition and what they were doing. So, even though I'd just begun with Digital and I was getting on well and really enjoying it, I took up a position with Intel."
His first day on the job was in Albuquerque, New Mexico. "They hired a team here for the start up of Intel in Ireland, but they hadn't built the building yet. In order to get us ready and to explain to us what was involved in running one of these large factories, they sent us to their existing factory network."We were given an apartment and a car and we had a swimming pool and fantastic weather guaranteed there every day. It was almost like I was on vacation. It was to be for three months, but I was learning about the cyclical nature of the semiconductor industry and it turned out to be two years."
He returned to Ireland in 1993, beginning as one of four shift managers in Intel's newly built Fab 10 facility, which operated around the clock, seven days a week. Sinnott notes that the company is now celebrating its 25th anniversary in Ireland having started in relatively humble beginnings in a disused car warehouse in Palmerstown in November 1989. "Our first manufacturing facility here in Leixlip was an assembly facility. We made motherboards. If you wanted to set up a PC company, we wanted to help you because we wanted to sell as many of these things as we could. So we would make the PC for you and put your sticker on it. "Then we began what really to me was the magic – we began installing and investing the capital in the wafer fabrication facility. It's probably without hyperbole to say that the microprocessor is the most complicated product made by mankind. And I think the buildings that we build to make them may not be the most architecturally beautiful, but they're certainly the most magnificent in what it is that they have to do."
The Fab formula
Fab 10 went on to produce around 50pc of the world's supply of Pentium processors. In 1998, production began at Fab 14, which had been commissioned in Leixlip to bring on the next generation of technology. In 2006, Fab 24 and Fab 24-2 came on stream. "We have many, many thousands of square feet now of leading-edge manufacturing space that is getting ready for the very latest and greatest Intel process technologies. We've spent north of US$8bn in capital in those 25 years." Sinnott believes that Intel's manufacturing record here proved to everybody that Ireland is capable of manufacturing the "most complicated products on the planet and doing so at world-class levels and competitively".
Meanwhile, Sinnott was moving up the operational line to manufacturing manager in late 1995 and then factory manager in 2000. Taking over his current role coincided with a time of significant change for the company. "Little did I realise at the time that we were about to face into a big currency crisis in Europe," he explains. "We had run the operation here very, very successfully here for 20 years and with the shift in computing preference – it's not the big beige box that you buy any more, it's the tablet or the phone – there was a shift in the way Intel was deploying its capacity. "We had to close down Fab 10 and that was a tough, crucible moment for me shortly after I got the new job. We also had to continue to compete for further investment from Intel. We worked really, really hard on that – not only demonstrating our capability, but on making sure that our workforce was flexible, responsive and was able to contribute to the core agenda for Intel. The fact that we're continuing to invest here to this day, getting ready for future technologies, is a testament to all of the skills, flexibility and capability.
"Along that journey, one of the opportunities I saw was to create a small design team." The focus of that team would be to develop products that could address the new 'internet of things' or wearable computing market.
"We hired around 60 people and they quietly worked away for two to three years and produced a part that was launched by Intel last year as the Quark product line. The first deployment of that line is in the product Galileo. We launched it in Rome and we managed to emblazon on that board 'Designed in Ireland'. "It is Pentium-class computing in a tiny, tiny footprint and we've made it available to the maker community to see what they invent with it. We also will be trying to figure out ways to deploy it with products like smart watches or smart wearables.
"It's been a tremendous success in the company and Intel in Ireland is now able to proudly send out a signal that not only have we demonstrated a world-class track record of being able to manufacture the most complicated parts, but we're able to also design the most complicated products."
Building blocks
In the late 1990s, Sinnott had decided to broaden his own expertise by doing an executive MBA at UCD. "I could have chosen to go and do a master's degree in semiconductor physics," he says. "Intel is one of the companies that can offer progressive and long careers in a solely technical capacity. So that was the juncture I was at – to pursue a purely technical role or to prepare myself to participate in the industry more broadly. I was drawn to the latter and I felt the MBA was a great baseline and gateway to that.
"I've never regretted it. It was tough work and I approached it with the right spirit I think. I really, really wanted it as a learning experience and as a platform for myself. And I really enjoyed it."
Sinnott says he also always looked for a connection back to his work. "Other people might have chosen the MBA to make a career change or to start a new business or just for the educational qualification. In my case, whether it was a marketing or corporate finance lecture or stream, whether it was in the accounting modules, organisational development, HR or the case studies, I just loved relating them to Intel.
"And I constantly find myself utilising and referencing the skills and the things that are taught on the MBA programme."
And it was a factor in enabling him to drive the initiative that led to the development of the first Quark chip in Ireland, he says. "There are only four product lines – the Xeon parts we make for servers; there's the Core we make for desktops; there are the Atom products for phones and tablets; and then there's Quark. There are only four and we were at the leading edge of that."
Leadership philosophy
Sinnott sums his personal leadership philosophy in three sentences. "The first one is: while I'm passionate about winning, I want everyone I'm associated with to flourish. The second thing is that I try to be authentic in everything I do. And the third one is that I stand for honesty, integrity, hard work and creativity. And I want to be held accountable to those ideals and values. That sums me up as a leader.
"The teams that you lead and try to influence for success are increasingly diverse. If you're expecting to have a followship as a leader, you don't have the luxury any more of long hours together. Putting yourself out there and explaining who you are and what you're about and explaining the standards you want to be held to as well as the standards you're going to hold others to, I think is critical. Maybe it always was, but in the fast paced business we have today, even more so."
Key challenges going forward include Ireland's competiveness compared with other locations and its ability to continue to deliver an education system that provides the raw talent needed for the tech industry. "The disciplines that are inherent in the Stem subjects are going to provide in our opinion 75pc of the jobs that are going to be available in the future," he says.
Sinnott describes the first key influence in his career as his interest in science and technology. "The next was finding in Intel a company in which I could pursue my passions and have success – a place maybe where I could thrive. Marrying that with the inevitable business pressures that a company like ours has as well has been a great influence and motivation for me. It gives you great encouragement to continue to learn and apply new skills in a whole variety of different aspects."
He firmly believes in the importance of self belief. "As Henry Ford said, whether you believe you can or whether you believe you cannot, you are correct. When I heard that expression first, I thought, another one of those expressions. But there is something in this rhetoric that says, you will rise to the level of your own expectation for yourself. "And I personally haven't met anyone who is successful who hasn't worked extremely hard. So, the lesson I tell the kids today, is if you work hard you can be successful and if you believe you can, you will."
He also emphasises Ireland's positive advantages going forward. "There's more foreign direct investment in this country than in Brazil, Russia, India and China combined. What a base of talent and capability that we have here. And I think the Intel story proves that from that base, they can be a strong wellspring of innovation and creativity and talent to do some amazing things for the planet. Ireland can rise with that; Intel can rise with it; the world in which we inhabit can be flatter, more connected and a better place for it, frankly. This industry is really just getting going."
February 2014