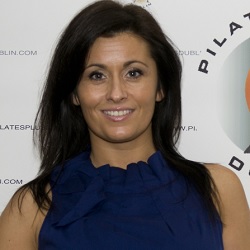 Emma Forsyth
BSocSc '98
Emma Forsyth (BSocSc '98) leveraged her dual interests in research and health and fitness to become the first person to bring the Los Angeles developed, machine-based SPX workout system to Europe when she opened her Dun Laoghaire-based studio Pilates Plus Dublin in April 2007.
About Emma Forsyth
Unsure of what she wanted to do after leaving school in the mid-1990s, Forsyth opted for a broad degree, choosing social science in UCD because of her interest in research and finding out about things. "There's a lot of research with both sociology and social politics and that's what interested me."
After graduating in 1998, she spent a year in Australia followed by a stint in Dublin temping while she continued to mull over what she wanted to do. "I think some people hear social science and think social work," she says. "I never wanted to go down the social work route. I loved the communications side, sociology and all the stuff like that."
She started to look at opportunities in media. "I wanted to do research in media, particularly in sports, because I was very interested in sport and health and fitness. I had a meeting with somebody in RTÉ who asked me had I ever contemplated being a presenter. I said no, that I wanted to be behind the scenes and do research. But I ended up getting presenting work on some motor sport and soccer programmes. I also worked in radio and did some print journalism, mostly speaking about sport.
"The good thing was that I did have to research my pieces and I wrote most of them rather than being handed a script.
"I would have been – particularly at that time – quite shy, so it was a very strange move for me," she explains. "But it was also great, because definitely it makes you have to speak to people and has helped from a networking or meeting people point of view."
Then she began to look at becoming more actively involved in the health and fitness area. She had always been interested in and involved in sport and believed there was a gap in the market for a different kind of health and fitness offering. "There were an awful lot of gyms that people went to but didn't necessarily know what they were doing," she says. "And I found at the time that a lot of classes weren't maybe as advanced and intensive as they probably should be.
"The classes I had done were often in a hall somewhere and not in a studio. I always found that with those kind of courses people did it for six weeks and then some dropped off and then it went back to the beginning again because new people joined. For me personally, it wasn't beneficial in terms of getting better at it and what you get back.
"I had done some Pilates classes and I liked it but felt it needed a bit more. Then I found the SPX Pilates Plus system online and got in touch with Sebastian [Lagree] who developed the system and developed the machines."
Training in LA
She corresponded with Los Angeles-based Lagree for some time before travelling over in 2006 for an initial eight-week intensive training instructor course to see what she thought of it. "You couldn't do it anywhere else at that stage. I thought that if I liked it I'd look into opening a studio. If I didn't like it, well it was a good experience of living in LA for a while.
"From the very first class I loved it," she says. "I had loved the whole idea of Pilates but wanted to do something that was a little bit of a step up from it and that's what this is. The workout works your muscles very intensively so you really feel it and the results are very good.
"I came back after the first time to think about it because it was going to be quite an expensive foray into the world of exercise. The machines are very expensive and are custom-made in Seattle. So, I wanted to think about whether I loved it that much. And I did."
She returned to LA to do a bit more research and then signed up to buy six machines and a one-off licence fee. "I was the first person to take it outside LA," she says.
Finding a suitable unit from which to operate took some time, she says. "I needed somewhere that was slightly bigger than most units would be. I set up in Dún Laoghaire as it's probably slightly a comfort zone because I'm from Killiney and I know the area. But it was also about the demographic of the area.
"I opened up in April 2007 and I have clients still coming to me from the first week I opened. I have a lot of clients who are coming a long time. And that's one great thing about the studio, because there's a form of camaraderie as well. I've also had a lot clients say that to me – on top of how great the fitness system is and how effective it is – they do love the atmosphere in the studio. I think it's something that definitely helps people."
Each class has a maximum of six participants and is open to people of all levels. "The fact that it's machine-based makes very different to other classes that people have done," says Forsyth. "It's never the same class. There are obviously core exercises. But we're constantly evolving and coming up with new exercises to do on the machines. And we can always make the exercise harder because they're resistance based. So people never plateau."
Most of Forsyth's core clients sign up for unlimited classes for a monthly fee of €199. "It sounds expensive, but they'll do 20 classes for that and some will do more. And for a machine-based Pilates class with only six people that actually works out really cheap. A lot of them have previously gone to personal trainers where they've paid the €100 an hour three times a week and didn't get the results in any way, shape or form that they get from my classes."
Forsyth remains evangelistic about exercise and fitness. "You do have to realise that looking after yourself should be a top priority. It is very hard. I know myself that only for the fact that I run a fitness studio, I don't know how often I'd be able to fit it in – I've a nine-and-a-half month old baby and I run a business so it's hard. But I do think it needs to be something that we prioritise.
"One way I look at it is to basically consider your hour a day or your hour every second day as a meeting you have with yourself. You're not going to not turn up to a meeting you have organised with somebody else and you should make the meeting you have with yourself just as important. At the end of the day you sleep better, you're more efficient, your brain works better and you tend to be in better form if you exercise. It is so important."
Starting and maintaining the business to date has been "equal measures brilliant and hard". "I love the studio, I love my clients and I love the fitness system," she says. "But I don't necessarily love the fact that I opened up at the peak of everything. All my costs were very, very high. And obviously by September 2008 everything collapsed. I unfortunately didn't get to experience the boom.
"What I would say to anybody looking to start their own business is to try to keep your start up costs low, which I didn't, and try to keep your overheads low, which I didn't, and just make sure you're 100pc committed to it."
An added challenge for Forsyth has been building up awareness of the system itself because it was brand new. "Over the last few years, it's become more and more popular. Sports people are coming out and saying how important Pilates has been for them. Virtually all the premiership soccer teams do it. And social media is great because you'll see tennis players like Nadal and Murray tweeting pictures of themselves doing Pilates. And a lot of the Leinster Rugby team do it. So a lot of them have come out and said it's a really important part of their training."
Mixing it up
Forsyth is also involved in a number of other areas to push the health and fitness agenda and to develop her business into different areas. For examples, she's currently in the early stages of organising a 'fitness mixer', where a number of health and fitness people will come together to give talks, tasters and demos around their fitness systems or health and nutrition areas. "It's a very American thing, but I think it could work very well. It's a combination of creating awareness for the businesses and just creating awareness of health and fitness, which I just think is really important."
She's also looking at offering online courses because people are constantly asking her to opening up a studio outside Dublin. "The start-up cost is the only reason why I haven't done it. I know they say speculate to accumulate but I also know from experiences of friends and clients that sometimes you can spread yourself a bit too thin and push yourself too far. So, I'm going to do online tutorials of a modified version of my classes, which just uses a mat so you don't need a machine."
She's also completed a number of other instructor courses and last year, when her baby was just a few weeks old, qualified as a health and wellness coach.
"The health and wellness coaching is something I'm really going to focus on this year," she says. "A wellness coach facilitates clients to plan and change their lifestyle to more sustainable healthy behaviour. They do it by getting the client to identify their own values and transform goals into actions. It's to bridge the gap between what people say they want to do and what they actually do, from a health and fitness point of view."
She also currently writes for Easy Parenting magazine and is the health and fitness correspondent for news website TNT24.ie. "That's just stuff I love to do," she says.
Health and fitness may be her passion, but Forsyth says she's also very focused on the business side of things. "I opened in April 2007 and huge gyms closed after that because it was so hard. I'm quite proud of the fact that my studio managed to stay open when the likes of Total Fitness and others had to close down. And a lot of Pilates studios had to either close or modify.
"The business side of things is important and that's why I'm constantly trying to challenge and do different things. It's why I want to do the mixer and why I want to go on and do online and get the system out there to people outside of south Co Dublin. The whole goal was not to just be a one studio base."
Special Offer for UCD Alumni:
If you email your details to emma@pilatesplusdublin.com and reference UCD Alumni promotion by Friday 25th January you will receive two free sessions into your Pilates Plus Dublin online account for you to book into classes which suit you www.pilatesplusdublin.com
January 2014