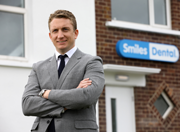 Emmet O'Neill
BComm '01
A trip to Florida with an orthodontist who was dating his mother led Emmet O'Neill to set up Smiles Dental in 2005, a business that now includes 20 practices in both Ireland and the UK.
About Emmet O'Neill
"I wanted to get my teeth whitened and when I looked into it I realised it was a service not readily available in Ireland and was also very expensive. I asked Hugh [Bradley, the orthodontist] about it and two weeks later he had booked us flights to Florida to research the idea," he says.
"We immediately saw what a huge market it was over there and growing fast so I thought, 'Let's bring this home'. We set up a tooth whitening clinic on South Anne Street in 2005 and that was the birth of Smiles Dental."
Since those early days, the number of practices has steadily grown and the business has evolved from pure teeth whitening into a comprehensive dental service, employing a total of 75 dentists and a further 150 staff.
A BComm graduate from UCD in 2001, O'Neill had no background in dentistry, but had always wanted to work for himself.
"In my family people ran their own businesses – we didn't have any doctors or solicitors – so I saw this as the norm. I always liked being involved with customers. While I was at college I worked part-time in telesales and enjoyed talking to people about their options and so on," he recalls.
"I am a marketer's dream. If something is sold properly to me I will buy it. I've tried to apply this philosophy to Smiles Dental, making it a clear, simple option to people and being upfront, straight and honest about it."
The Smiles Dental offering is described as 'quality, accessible and affordable dentistry'. O'Neill likens it to booking a hair appointment. "If you're going to get your hair done, there's a system there to make it suitable for you – it's priced to suit, you get an appointment at a time that suits you and everyone is very clear about what it's going to cost."
The Smiles clinics are open seven days a week, 8am to 8pm on weekdays, allowing people to come after work. Pricing is very transparent and Smiles Dental recently launched a cloud computing platform which allows patients to log in and view their x-rays and charts, free of charge.
"This is very useful when customers are abroad and need to see a dentist. It allows the foreign dentist to look at their records. It also includes information and videos on different types of treatments showing how they are done. This allows customers to make much more informed decisions on whether they should get veneers, for example."
Dave Raethorne, one of Smiles Dental's investors, developed the system for the company over the past year, which O'Neill says represents a "significant investment". "We will definitely get the value back from this investment as we are putting the power back in people's hands. They can sit and review their options properly and not feel under pressure in the dentist's chair to make decisions."
It is also now possible to book an appointment with Smiles Dental online, which O'Neill says is a relatively new concept for dentistry in Ireland.
"The cloud-based platform is our big innovation this year. One of the things I took from the BComm was the willingness to change, innovate and move forward. I can't stop learning and looking for new ideas.
"Every year I try to set aside a week where I go somewhere new, get out of my comfort zone, meet random people and take some lessons from them."
For example, last year O'Neill went to China twice. "What got me the most there was that anything you can imagine, they can do because there are so many people. Dentistry is a massive business over there, but you need to live in China to make it work. In Shanghai there are 12 big dentistry hospitals, each the size of the Treasury Building in Dublin and every floor a different sector. People just go in and get a ticket and wait for treatment."
Since the early days in South Anne Street, O'Neill's role has changed a lot but he still strives to maintain his leadership philosophy.
"I've a pretty good grasp of figures and finance. I focused on that in my last year of the BComm and that's really stood to me in terms of how to get money, how much things cost and how best to use money. The first two years of the BComm were very broad, which gave me a rounded view of leadership, marketing and management and pointed me in the right direction," he says.
"When you start off in business, you are effectively the manager of an outlet, and could be doing anything from answering the phone to cleaning the toilets. I had a great relationship with people in that first outlet, as I was working side by side with them.
"It's difficult when the business grows to have that same relationship, but I try to make sure that I have it with the people I'm closest to and to influence them to have the same relationship with the people they work with. I have been really lucky with the people I've hired along the way. A lot were part of the first shop and are now running several others. The culture feeds through.
"You can't be everything to everyone as you'll never get anywhere. So I try to find people who I think share the same outlook and I meet everyone before they work here."
These days O'Neill starts work at 7am and spends about an hour and a half going through emails. He has a daily meeting at 8.30am with people in head office to plan out the day and provide his input into things.
"Otherwise I could be travelling – this week it's London – meeting dentists, looking at clinics we might be interested in buying, working with suppliers to get better deals or dealing with a staffing issue. My phone is always on and any member of staff is welcome to call me. If there is any kind of issue in the business I like to be involved to resolve it."
O'Neill was just 26 when he started Smiles Dental. He had considered a career as an investment banker, having secured a position at a London investment bank on graduating in 2001. "Just as I was supposed to start, the bank went wallop. Then I joined the aviation team at Anglo Irish Bank for six months and after that went to work for one of its clients, a small aircraft leasing company. This really gave me an opportunity to see how deals are put together."
After this, a friend introduced O'Neill to Caroline Regan, who had brought the Curves gym concept to Ireland. His time with this ladies-only franchise was focused on balancing the books and this led to working on ideas for sales growth and expansion.
In terms of his main focus for the rest of this year, O'Neill says Smiles Dental recently acquired two clinics in Britain and two in Northern Ireland and he wants to gain a foothold in these markets and expand.
"Things are going well for the business. They're in a steady state and I don't think things are getting worse in the economy. People have adjusted their lives to suit the realities they're facing and this is impacting positively on us. The reality is that people want to know what something costs and like to talk about things they might like to do rather than just what they need."
May 2013