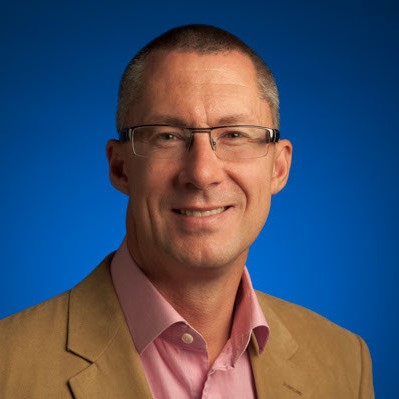 Gerard Dwyer
BComm '90, MBS '97
Since starting his career with Telecom Eireann, Ger Dwyer has been drawn to companies with new technologies and products that are useful or beneficial to society. It's taken him from Dublin to California and from telecoms to Google and the autonomous driving technology company Waymo and, most recently, to electric vehicle company Rivian, where he is VP of Business Finance.
About Gerard Dwyer
Tell us a bit about your background and early career
I grew up in Thurles in Tipperary in 1970s Ireland. My mum was a school teacher and my dad owned a small shoe shop. I didn't really know what I wanted to do so I chose commerce in UCD because my big sister Marian was there and she seemed to be having a very good time. And I thought it would be a nice broad degree that doesn't pigeonhole you early.
Some of my closest friends still in Ireland are folk I met in UCD, particularly through playing soccer in the superleague.
It was good fun but I needed to do something at the end of all of that. I still remember meeting a friend of mine, Ann Marie Bennett on the stairs of the Trap. She'd recently joined ESB and told me semi-states were the way to go. Later that week I saw an ad for Telecom Eireann. It always mattered to me that the company you work for is useful in some way. I thought everyone needs a phone – and they had a graduate programme. I joined in November 1990 and was in telecoms for the next 16 years, in various roles, including being involved in Ireland's first big IPO in 1998/99.
I went back to the Smurfit School when I was about 25 to do an MBS in Management Information Systems. I really enjoyed that whole analytics thing – using data to make better decisions, which was what I was doing in my job. It also introduced me to this new-fangled thing called the Internet for the first time.
A changing point in my career came in 2000 when I had the opportunity to work in South Africa. I got a phone call offering me a job and saying they had a job for my wife as well but we'd have to decide within 24 hours. We'd been in South Africa a few months earlier on our honeymoon so we just said, we'll take a chance. What could go wrong? What happened was the project failed and we were all fired within six months.
But it showed me I could survive outside Ireland and I went on to work in Switzerland, Denmark, Sweden and London on billing systems for mobile for the next couple of years, which was a great way of broadening my horizons.
I went back to Telecom Eireann – or Eircom as it had been renamed – in 2004. Then my boss David Martin left for a little company called Google in 2006 and I soon followed him. It was still relatively early days for Google and there was great energy in the Dublin office, which attracted people from all over Europe. We built the data and analytics infrastructure for the global sales teams, adding YouTube and DoubleClick as they came along. This enabled me to come to California at the start of 2011. I was initially Director of Business Intelligence in Finance and was then Finance Director for all of Google's technical infrastructure – so its datacentres, machines and networks along with its G&A (general and administrative) functions.
In 2016, I felt I had done all this functional stuff and I wanted to be involved in a business. Google had a self-driving car arm and was breaking that out into its own company, Waymo. I thought it sounded pretty cool so I went off to do that. And it really resonated with me – both my brother-in-law and three of my colleagues and friends in Telecom had been killed in eminently preventable car accidents. I believe this is a technology that will eventually have a huge impact on the world and a lot of lives.
After five years there, I decided to switch to the other big thing in automotive – electric cars – and joined Rivian in May of last year. Several things attracted me to the company – it has a really good culture, our CEO is both a visionary and principled guy who walks the walk, and we have a set of great initial products.
We launched the first electric pick-up truck in the world in Q4 last year and it won MotorTrend's Truck of the Year. I bought one myself in December and they're amazing: 0-60 in three seconds. We also have a contract to build up to 100,000 electric vans for Amazon. This is a revolution that's gaining speed and it's great to be a part of that.
What is your role at Rivian?
I'm the VP of Business Finance. My job is to work with leaders across all areas of the company in setting and tracking performance against the company's financial goals. .
Last November, we had the sixth biggest IPO of all time. We raised over US$13 bn – the biggest in the US since Facebook. We've designed a fantastic product and now the challenge is to ramp up production quickly and get thousands and thousands of them out to customers in the real world, plus build all the supporting infrastructure required to effectively support them.
My job is to make sure we spend every dollar wisely, keep delivering great products to customers and are investing wisely so that the company is around for the long run to deliver on its mission of "keeping the world adventurous forever".
How would you describe your leadership style?
Over the years I've learned, firstly, to hire people who are better than yourself. Everything starts with the quality of the people you have working with you.
After that, you set the direction of where you want to go – and you need to be very clear on what that is – and then get out of the way a bit. You can set the 'what', but I don't think you should try to overprescribe the 'how'. Different people have different styles on how they want to do it and the best people neither want or need to be micro-managed.
So, for me, it's set the direction, coach people, be clear on what's going well and what's not going well, and then give them the opportunity to do the best possible work they can do. And make sure they have the proper resources to do that.
What motivates you?
I want to have an impact. I really appreciate the opportunity I was given, by my parents, by Ireland, my college – all the people who put time and faith into me and gave me opportunity and allowed me to do things that I was quite often not qualified to do. So I want to work with companies where I feel what they're doing is genuinely useful or their products are going to have a positive impact on society.
I really like building things as well. I got to be part of the early days of building broadband and mobile at Telecom and I was with Google in the early days and it's similar here in Rivian. I love the energy that comes from something that's new and still a bit rough around the edges.
Who or what has influenced or inspired you?
Different people along the way and there have been lots of them. My mum and dad first of all. My mum was the only person in her family to go to college and she always had that drive to do well. In school I had a couple of great maths teachers, Pearse Murphy and Br Williams who really helped me. Then, when I did my master's in Smurfit, John Mooney was one of my professors and he introduced me to the Internet! We're still friends: he's in a leadership position in Pepperdine University in Southern California now.
At Eircom and in my early days at Google my Manager was David Martin and he was always great at telling it like it is and encouraging you to try things and build new things. One of the early CFOs at Google, Patrick Pichette, was incredibly supportive as well and gave me the chance to do things from Dublin so I owe him a debt as well.
And there have been plenty of others too. I've been so fortunate to have had so many people who gave me time and opportunity and let me go off and try things.
How important is ongoing learning to you?
It's very important. I've done various executive education courses over the years and I also like to read a lot to try to keep up with technology trends. One of the nice things about living in Silicon Valley is you're surrounded by people who are doing really different, interesting and cutting edge things.
I've had the privilege of delivering a guest lecture to the Stanford MBA class for the last several years and that's helpful because it forces me to both think and be current in what I want to say to the next generation of start-up founders.
Switching to new jobs also forces you to learn. I think my main process for learning is to put myself in situations where I don't really know everything and I'm forced – if I want to be effective – to get up that learning curve quite quickly.
What is the best advice you've received or would give?
The best advice I got was, be curious about everything. Try things that might not seem directly related to what you want to do. In my career I've worked in a variety of roles across finance, strategy, IT, analytics and even the pricing department in Telecom. And headed up the HR department at Waymo for a while.
By taking on roles – even for a short period – or putting your hand up for projects, you learn things that are always relevant. I would say, try things you're not qualified to do – you'll be surprised what people might give you the opportunity to do.
What is your biggest achievement to date?
We built an analytics platform at Google with our Ads engineering colleagues that's still being used today. For a not all that technical person, it was satisfying to be able to contribute to the technology and tools side at Google.
At Waymo, we did the biggest fundraise I think ever for a pre-revenue company, raising US$3.2bn in 2019.
But when I look at these achievements it's always about the people. I love hiring and building young people and seeing them develop and grow into leaders in their own right and do amazing things. I think that's probably the most satisfying thing and as you get older as well you realise that's all that really matters.
What are your plans for the next few years?
My current focus is on helping Rivian deliver on its massive potential: deliver really great products that people enjoy using and help progress everybody's adoption of electric vehicles. And I'm thoroughly enjoying that experience.
But I also hope to keep picking up things that keep me stimulated and interested and finding ways to take on yet more things that I'm not fully qualified to do. So if I had an ambition for the next few years it's that – whatever it might be.
Insight Track
How has your degree benefited your career?
It opened doors for me to work with interesting people and do interesting things.
What is your fondest memory from your time in UCD?
Superleague soccer on Saturdays with Tokoh FC. That league cup semi-final defeat on penalties in 1990 still hurts....
How important is your UCD alumni network to you?
Some of my closest friends to this day are people I met at UCD. Even the guy that missed the decisive league cup semi-final penalty (Hi Paul!).
What are your main interests outside work?
Biking, travelling. Trying to somehow match my 7 year old son Conor at Worldle.
Tell us something most people don't know about you
I once destroyed a perfectly functioning car engine armed with nothing more than a sock.
What piece of technology can you not live without?
My electric bike. Addictive.
What is your pet hate?
Lack of empathy. Meanness.
Who's your favourite writer and what's your favourite book?
Writer: David Sedaris. Book: Bonfire of the Vanities.
And what is your favourite band or musician?
International: Bruce Springsteen. Irish: Bell X1 – fantastically talented, much under-rated.
What's the last film you went to that you loved?
Coda, in a proper movie theatre recently for the first time in two years. Deserved its Best Picture Oscar.
What is your favourite dish to cook?
I've a pretty limited repertoire compared with my wife Trish's but I do a respectable enough spaghetti carbonara.
What teams do you support?
Tipperary GAA and Liverpool FC.
What is your favourite place in the world to visit and why?
Hard to beat the west of Ireland in the summer, so many great places. It's true you have to go away to properly appreciate home.
Where is home and why?
Wherever my wife Trish and son Conor are. Somewhere split between Northern California and Ireland.
Name three things on your bucket list
Visit Israel and Egypt
See Liverpool in a Champions League final.
Witness the great wildebeest migration in Tanzania's Serengeti.
What charities or causes are closest to your heart?
Milford Care Centre, Limerick; Alzheimer's Society of Ireland; and MPower Alliance, San Francisco.
May 2022