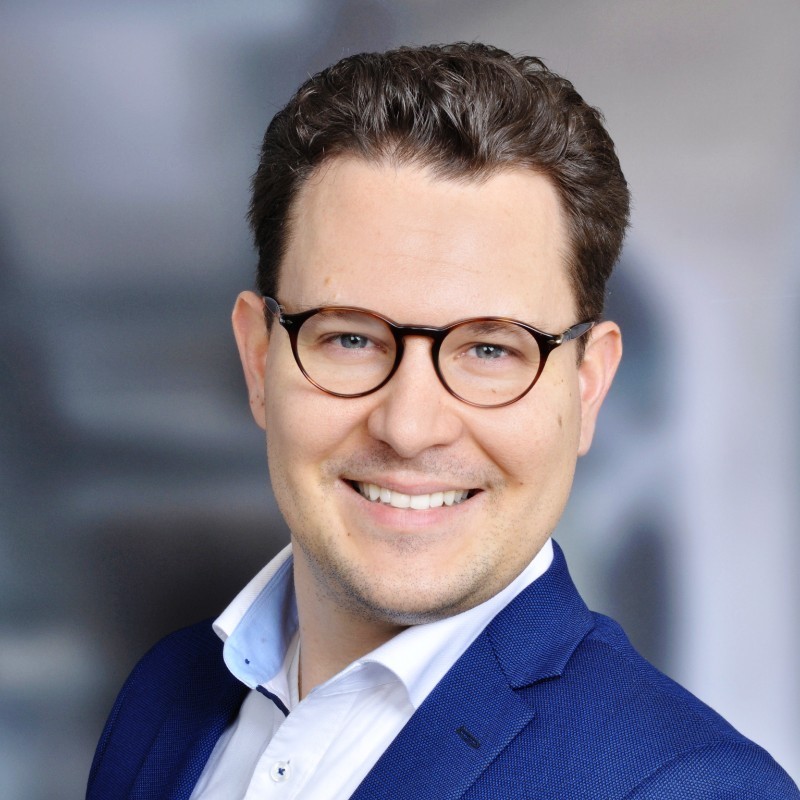 Hubert Halopé
MSc in International Management (CEMS) '16
With a strong international perspective and a passion for leveraging innovative technology for good, Hubert Halopé has found his niche in the World Economic Forum, where he is Lead/Platform Curator of Artificial Intelligence and Machine Learning.
About Hubert Halopé
Tell us a bit about your education and early career
My parents are French but I was born in Germany and grew up in Osnabrück in Lower Saxony. I have always been advocate of European values and European spirit and hence my ambition from my early years on to do something internationally. It's also why I wanted to study in English and have an international scope.
I started with my Bachelor's Degree in Economics and Business Economics at the University of Maastricht in the Netherlands. From high school I'd always enjoyed subjects relating to economics and politics so this was a perfect combination. My time in Maastricht allowed me to spend one year in China back in 2013/4, which was very exciting and influenced my life and character a lot. I did one semester exchange at the Renmin University of China in Beijing. Then, after finishing my Bachelor's Degree I returned to China for a half-year internship at BMW, working in import/export at operational level. It was a very exciting and unique environment.
I wanted to continue studying while having a more pragmatic study track, hence the natural choice for me was to do a Master's in Business or International Management. I applied to do the CEMS programme at the UCD Michael Smurfit Graduate Business School. My brother had previously done it and enjoyed it and it brought him a lot in terms of personal growth so I said I want to do the same.
My time at UCD Smurfit was the best time of my student life. It was a great student community, great professors and classes and I still carry all the learnings with me today. I did the second half of this holistic programme in Universitá Bocconi in Milan.
As part of the CEMS programme I did an internship in PWC in Digital Strategy Consulting in Luxembourg and then transitioned into a full time role there. This drove my passion for new tech and AI being the next thing after digitisation.
After a while I wanted to experience something different so I went to work for Délifrance, a small to medium sized company in the global food sector. That was through a government sponsored programme for young talent in France aimed at helping companies build out their export business and internationalise. This was a really pragmatic experience that gave me exposure towards what digitisation means and what change management means. During this time I was a Global Project Manager for the CRM system and other sales technology tools that were implemented across the business units and countries.
Then, at the beginning of 2019, I turned to another challenge at the World Economic Forum, where I work today, based in Geneva. I started on the partnership team for Europe and North America and brought my technology lens and digital lens from my past background. I did that for a bit more than two years and helped to move the needle internally for fostering or influencing more tech-driven processes and decision making. I also got to know the artificial intelligence (AI) team, which I joined one and a half years ago.
I'm now the project lead and central curator of the artificial intelligence and machine learning platform. What that means is that I curate initiatives and scale projects around AI governance and AI for good. That's my life task for now.
What does your role involve?
The World Economic Forum is the international organisation for public private partnership. My role is to work with multi-stakeholder communities, bringing together leaders and decision makers from the private sector, public sector and also civil society, including academia to collaborate on projects around responsible AI and AI for good.
One example of this is with our Centre for the Fourth Industrial Revolution in Turkey (C4IR Turkey – we have 16 of these centres across the world), where we work with the local business community on leveraging AI to combat, predict and mitigate wildfires. My role is to bring together the necessary experts and align everyone to a common vision, and also make sure what we're doing can be replicated around the globe and be freely accessible. The World Economic Forum is a not-for-profit so everything we do is openly available and freely available.
What motivates you?
It might sound a bit kitschy, but really what motivates me is doing good for the world. My role currently is to shape artificial intelligence to benefit humanity while minimising the risks that come with this general purpose technology.
The vision of the organisation I'm working for is also very important to me – in the case of the WEF it's to improve the state of the world.
Last but not least, it's also the people I'm working with – both my team and the people around the globe who have the same passion and are leveraging this exciting technology to do good.
Who has influenced or inspired you?
Many people have inspired me and influenced me on my journey. I would have to mention my parents and their resilience– they always keep their heads up when facing challenges and never give up. Also, I look at my siblings who teach me every day to dare.
If I look towards my organisation, the executive chairman Klaus Schwab is very accessible and I admire how he has reinvented himself and the Forum continuously. And I mustn't forget my current and past managers who have actively shaped my leadership style and aspirations.
One more person I'd like to mention is Michael Smurfit himself. He gave a keynote at the very end of my study programme at UCD – it was an inspiring speech and his humour has really stuck with me.
How would you describe your leadership style?
Based on team mates' feedback and various leadership assessments, characteristics that keep coming up are that I'm an empathetic leader, people oriented and a true believer that everyone has a talent to offer. I believe that sometimes talent is a very obvious and sometimes less so. I think a good leader should get this talent out of people and make them grow.
I also like to have a clear vision and to take a structured approach in trying to support that vision.
Is ongoing learning important to you?
Ongoing learning is extremely important, especially nowadays with all the technological advancements that are shaping our lives and jobs. I think ongoing education and learning is key to success, as are staying curious and being adaptable.
I recently concluded an executive programme at MIT around AI and AI Strategy for Business which really helped me to rethink the topic on AI governance, the future of jobs and also AI for good. It's really influencing my role and the project I'm working on.
But informal learning is also important. I really like reading books and these are not necessarily related to my job but bring in creativity and new perspectives.
What's your best piece of career advice?
For me it's listening to your gut and doing what you're passionate about. It takes a bit of courage but I would recommend everybody to do that – it hasn't disappointed me so far.
I would also say everything is possible. This is something I was convinced of before, during and after being a student and I still hold to that. Ultimately, it's related to following your gut. I would say follow your gut, decide what you want and go for it.
What are your plans for the future?
I can see lots of interesting challenges lying ahead in my current position and organisation and I'd like to widen and deepen my leadership role. In the very long run, I'd like to try out my entrepreneurial skills. Technology is something I'm passionate about so if I did start a start-up one day it would for sure be innovative and tech-oriented.
Insight Track
How has your degree benefited your career?
It has given me a solid business knowledge foundation and a network to tap into.
What is your fondest memory from your time in UCD Smurfit School?
The Three Tun Tavern.
How important is your UCD alumni network to you?
More and more important.
What are your main interests outside work?
Horseback riding and outdoor activities.
What piece of technology can you not live without?
Email.
Do you have a favourite writer or book?
Sapiens by Yuval Noah Harari.
What is your favourite dish to cook?
Omelette.
What is your favourite place in the world to visit and why?
Switzerland, love the mountain views.
Where is home and why?
For now, Switzerland having lived here for five years. It just fits with my French-German background.
What charities or causes are closest to your heart?
Environment, child safety (online/offline), education and culture.
July 2022