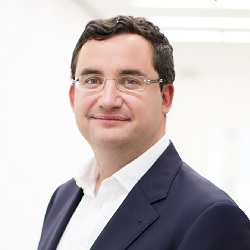 Ian Walsh
BComm '98, MBS '00
A planned two to three year stint with The Boston Consulting Group in London has turned into 18 years and counting for Ian Walsh, who's now a senior partner and managing director. He continues to be stretched and fulfilled by a role that allows him have both a business and social impact, including co-leading the firm's support of London 2012 and working with a high impact educational charity.
About Ian Walsh
Tell us about your education and early career
After school I went to UCD, where I ended up spending six years, completing a BComm and then an MBS in finance in Smurfit. During that time I also had two sabbatical years – one as auditor of the L&H and the other as president of the Students' Union. After UCD, I qualified as a barrister at the King's Inns. I have very fond memories of my education in Ireland. I built and have maintained a really strong group of friends from that time and we're still very much in touch. Dublin will always be home to me.
I moved to London, initially 'for a few years' to experience a bit of life away before settling down to a career in Ireland. I joined The Boston Consulting Group (BCG) in October 1999 and have been there ever since.
How has your career progressed at BCG?
Global consulting firms have a career model that's challenging but also exhilarating, directly supporting executives in large organisations to define winning strategies and to deliver operational improvement. Just as you're getting comfortable at one level, they promote you to the next level and expose you to new challenges and expectations, both on the client side and internally. I was elected partner and managing director after around10 years and was elected to senior partner in 2016.
My work mainly focuses on supporting clients in financial services. My work in the UK is primarily with leading banks and asset management companies, helping them on a range of strategic and operational issues. I lead our relationships with some of the major banks in the UK and lead the teams that support them on key programmes.
I've also become increasingly involved in our global work, leading BCG's retail banking practice worldwide since 2013. That exposes me to clients and partner teams in large and small countries alike, which is a really enjoyable part of my work. I probably spend 30% of my time in other countries. I think my current country count is 54!
BCG has also allowed me to invest teams in some important social impact work. I sit on the board of The Sutton Trust, a charity focused on trying to improve social mobility through education, through a combination of direct programmatic intervention and more broad-based research and lobbying. It's very different to my day job in financial services and great to support an organisation that has such a direct impact on the lives of students. Also, for several years in the run-up to 2012, I co-led BCG's support of London 2012, helping to develop the commercial, merchandising and pricing strategies for the London Olympics. The area I enjoyed the most was helping to design and ultimately deliver the target customer experience for the Games, which was generally viewed as a significant success.
My career at BCG helped me get appointed as a Young Global Leader with the World Economic Forum in 2015, which has opened up a new and exciting international network to me.
What motivates you?
I think I'm most motivated by helping and having impact. I really do enjoy working with businesses to help them deliver better propositions and services to their end customers, and to achieve better results for their shareholders, employees and other stakeholders.
Beyond the business world, I enjoy trying to translate some of those learnings into having impact more broadly in society, like the London Olympics or in education.
And I also enjoy helping some of our junior staff. Over the years, I've been very active within BCG's London office in all of our people functions. I really like seeing people develop their skills and transform their capabilities over time.
While I enjoy having impact, I also want to continuously learn myself. I'm probably one of those people who's constantly doubting themselves and seeking to improve. I think if you open your ears and your eyes wide enough, there's an opportunity to learn every day. That motivates me.
I also want make the most of my good fortune. I was born into a politically stable and developed country and into a settled and loving family. I had the royal flush of luck in how I started. For me, it would be a crime not to make the most of that luck. So that motivates me as well.
Tell us about your leadership style
When I'm working with teams here in BCG I think my leadership style is one of empowerment and support. My assumption is that our project managers and their teams are very capable and that if you empower people they will step up. I prefer to orchestrate than micromanage. At times that doesn't work and you need to lean in and provide more precise direction. But I think – especially in a company like BCG where there are lots of very smart and clever people – it's fairer to work on the assumption that people can do things rather than that they can't. That would be my overarching approach.
Beyond that, I try to encourage my teams to be as natural as possible, to value people's opinions – no matter how junior they are – and to have a bit of humour as well. One of the things I've really valued in this company is that I've never felt the need to be somebody else. I've never felt on Monday morning that I need to wake up and somehow adjust my personality, for better or worse!
What has influenced or inspired you?
The generations above and below me inspire me. My dad instilled in me and my siblings a work ethic of trying to do as well as you can with the skills you have. That has had a big impact on all of us. My three siblings are all doctors having studied medicine at UCD. And my mother encouraged us to be as ambitious as possible, to shoot for the stars. We've ended up living all over the world as a result of that, making for great Christmas reunions when we return to Dublin.
I've been very influenced by the arrival of my daughters, Emily and Madeleine, who are now nine and eight. I want to try to do as well as I can to set them up for the brightest future in what at times looks like it can be quite a difficult world. I think that's a very direct influence.
I'm also constantly inspired and amazed by the successes of others. When I look in the worlds of business, politics, charity or social entrepreneurship, there's a wide range of inspiring individuals out there and it all encourages me to try to do as well as I can.
What achievement are you proudest of?
I am proud of the personal network I have in my family, my friends and my colleagues in work. I have a really rich and warm set of friends. I feel I've had multiple Sliding Doors moments in my life and have ended up on the right side. I feel very fortunate with the personal network I've developed.
I also feel proud of the career I've followed. It's not easy to work in a global management consulting firm that has an 'up or out' policy that activates every two years and to still be standing after 18 years and be a successful partner. But I'm very conscious that there are a lot of people out there who've done a lot more with a lot less to start with as well. I had a very fortunate start that's hopefully been leveraged as well as I can to deliver a good career and a good family environment.
Any failures you want to mention?
I've definitely had weaknesses along the way. I've always tended to get a bit too deep into the detail and at times have struggled to delegate as suitably as I should do and all that has obviously had some impact on work life balance. I definitely try as much as I can to recognise my weaknesses and improve on them.
There have been various times in my career at BCG where we've lost big proposals and even whole accounts. I try to learn from each experience. But I've come to conclude that it's fairly cyclical. It's an ongoing journey of successes and failures.
Indeed, my failures stretch back to my time in UCD. I continue to kick myself that I lost the World Universities Debating Championships final, speaking with my good friend Caoilfhionn Gallagher.
What are your tips and advice for success?
First of all, be purposeful and have ambition and don't allow your twenties to drift along. Once you get into your chosen career, aim to over-deliver and to surprise. When you're given your first assignment, think about how you can do it better than is expected.
It's also important to learn to develop and deploy different styles. A lot of my learning in this type of career has been that different styles are appropriate at different times. You can't just have one style fits all.
Finally, in any career that involves providing professional services, there's both a hard and a soft side to that. There's proving your recommendation rationally and analytically, but then there's convincing people emotionally that it's right. If you can do the first but not the second, you won't succeed.
What are your interests outside work?
I spend as much time as I can with my two daughters and I love that. Beyond that, my wife and I really love music. I'm trying in a very pitiful way to learn how to play the piano, very late in life. We like travelling as well and where we can, we travel as a family. I'm also a bit of an obsessive when it comes to politics and I follow Irish, UK and US politics very closely.
Any plans for the future you'd like to talk about?
I never intended to stay here in BCG for as long as I have. At times it's hard work but I get a lot out of it and I do think I'm having an impact. They continue to make it interesting for me. Just in the last 12 months, I was part of a task force of 12 people within BCG to define the future strategy of the organisation and that was a really interesting engagement.
In the short term I see myself staying at BCG and trying to continue to have impact inside the firm and also with our clients. Beyond that, I don't know. I think I'd like to have an impact in some other sphere and to do something else in my career. And at some stage I'd love to live in Ireland again. I don't know when that will be but I do have a tacit agreement with my wife that it will happen at some time in the future.
Insight Track
How has your degree benefited your career and/or personal life?
My time at BCG has been pivotal, providing me with the skills and capabilities to build a successful international career.
What is your fondest memory from your time in UCD Smurfit/Quinn School?
I remember lots of drinks on Thursday evenings with my great MBS class.
How important is your UCD alumni network to you?
Most of my closest friends in Ireland are friendships first formed in UCD.
Tell us one thing that most people don't know about you
I spent a week in North Korea last year!
What piece of technology can you not live without?
My 160GB iPod, which still follows me everywhere!
What would you bring to a desert island?
My music collection.
Who's on your fantasy dinner guest list?
Barack Obama, Bob Dylan, Daniel Day-Lewis and Daniel Kahnemann.
What is your pet hate?
Poor queuing design in airports!
Who's your favourite writer and what's your favourite book?
Milan Kundera and his great work Immortality.
Who is your favourite musician?
I'm a Bob Dylan obsessive, having bought every splutter he has ever released and seen him dozens of times!
What's the last gig you went to that you loved?
Desert Trip 2016, featuring The Rolling Stones, Neil Young, Paul McCartney, The Who, Roger Waters and Bob Dylan.
What is your favourite dish to cook?
Something very simple!
What team do you support?
I'm a long-suffering Liverpool fan.
What is your favourite place in the world to visit and why?
Trips home to Dublin and our annual holidays in Ibiza.
Name three things on your bucket list
Return to scuba-diving/ learn the piano/ learn another language.
What charities or causes are closest to your heart?
The Sutton Trust, The Cairn Trust and Barnardos, among others.
May 2017