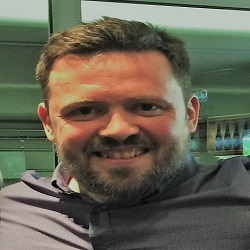 James O'Rourke
MBA '14
After building his FMCG career across a range of areas at PepsiCo, James O Rourke armed himself with an MBA and moved on to Diageo. In 2017, he moved again, this time to take up the role of country manager for the rapidly growing Monster Energy, a position he sees as a culmination of much of his experience to date.
About James O'Rourke
Tell us about your education and early career
Straight after school I studied marketing at DIT Mountjoy Square – we were one of the last intakes so I understand all the stories about what a great and unique place it was. We moved on to Aungier Street and I graduated from there in 2004.
I really enjoyed the course, although I didn't know exactly what area I wanted to get into. But marketing is a very broad discipline so it was perfect for me. On the first day, the head of the marketing school Roger Sherlock said there is no such thing as a marketing manager job. He told us we should use the next four years of the degree to explore different aspects of marketing that we might specialise in – and it was to my benefit that I've always retained that message of not focusing on a job title.
But after graduating I still didn't know so I got a summer job packing shelves for Walkers Crisps and ended up spending 11 years in PepsiCo, its parent company. After the first couple of months I became a sales rep for South Dublin, which was the biggest volume area in the business at the time. It was a big step for me, but when you're young you just go for it.
Then I had the typical FMCG career-building phase – I spent a couple of years in key accounts, a couple in category management, market insights and worked my way up to marketing manager for Tropicana and Walkers Crisps for Ireland. That was a great experience because it was my first time actually working in a 'traditional' marketing role. But, it wasn't what I thought it was going to be – like most multinationals in Ireland there is very limited scope to do full end-to-end marketing.
It wasn't for me so I just refocused back into sales. I managed the field sales team for convenience for Ireland. Then I was channel controller for Musgraves and discounters for the Walkers and Tropicana business.
I knew I needed a change and really wanted to do an MBA. At the time we had three kids, including twin babies, and a house in negative equity so going to Smurfit wasn't something we could afford. Over the years I had applied twice for a scholarship and got to the final interview but it didn't happen. I was set to give up at that stage but a colleague (and a Smurfit MBA alumnus) encouraged me to try one last time and I was fortunate enough to get an Aspire scholarship. The Aspire scholarship was set up in the Smurfit School by hugely generous benefactors who wanted to help the next generation of Irish business leaders across all disciplines get a chance to expose themselves to a first class executive education, and in so doing help Ireland accelerate its recovery from the recession.
The executive MBA was hugely enjoyable but with two new babies it was also a difficult couple of years – particularly as both were diagnosed with having autism spectrum disorder (ASD) in their early years. And then our second set of twins arrived just as I graduated at the end of 2014, so in hindsight the timing for the MBA fitted in perfectly!
Upon graduation there was an opportunity with Diageo which was a new challenge, and one I jumped at. There I was sales manager for the east coast on-trade for just under three years. It was something completely different for me and exactly what I wanted at that time.
And just over a year ago I moved again, this time to take on the role of country manager for Monster Energy. It was a big call to leave Diageo: I was happy, had a great boss and colleagues, nice customers to deal with and a really good working environment. Diageo has a strong people agenda and it was the perfect place for me to be. It helped me realise a lot about myself and who I am as a manager and leader and where I want to go in my career.
But I received a random call one morning from a European head hunter. I met them and it was just too good an opportunity to turn down. Monster is a high growth, high energy company and that is quite unique in the FMCG world. It was an opportunity to take a business that was performing and put structure into it and make a more sustainable, bigger, bolder business here in Ireland as opposed to just being part of a satellite operation.
And the role was a culmination of a lot of things I have done so far: sales, marketing, category management and insights all in one job. So here I am.
What does the role involve?
I'm country manager for the whole of Ireland and responsible for everything that happens with our business in Ireland. We are fortunate to have a tremendous local distribution partner in Coca-Cola Hellenic Ireland, and they are a massive part of our indirect team. My day-to-day role can cover everything from working on various strategic plans to innovation, logistics, NPD, marketing and sales – it's all encompassing.
What is your leadership style?
I get my energy from people and their achievements so my leadership style is a very supportive one. My big focus is on trying to help people deliver. I play devil's advocate from time to give people the confidence to pursue an idea. And I'm really just there to help them.
What motivates you?
My time in Diageo helped me uncover a large part of my personal purpose in life and in business, which is helping people develop, teams perform and challenge their perceptions of what is achievable. I'm not employed to come up with all the ideas. My job is to make sure other people perform. And that's been the same in Diageo, Pepsi and Monster – I've come to realise it's the same role.
On my first day on the MBA, Prof Niamh Brennan gave a brilliant address on what we could expect in our two years of the MBA. I was looking around me at engineers, accountants, scientists, heads of businesses and I just thought, if I'm going to be successful and enjoy the MBA, I need to realise I'm not the smartest person here. To redefine my vision of success on the MBA – it wasn't for me to get the highest grade – my strength is in bringing things together and helping other people move forward. It's all about seeing the bigger picture.
Who or what has influenced or inspired you?
The biggest influence has been good managers and people who've believed in and supported me. Being around good leaders and realising that things change and you have to continue to grow and develop and help others to do that has probably been the biggest influence on me.
What are your tips or advice for people starting out?
Whatever you do, you have to build in flexibility and adaptability and have some grit and determination. If you have to take a left turn, take it – but take it 100%. There is no one 'right' way to do things, so don't get hung up when the plan has to change – you can still get to where you want to get to. That's the advice I'd give anyone.
Don't be afraid to take the path less travelled: there is no perfect route. I don't think the linear model of a career exists now and I don't think younger people want that anyway. That ultimately is the challenge now for large organisations. How do they build in the flexible career options to retain talent, whilst maintaining business performance and growth?
What has been your biggest achievement to date?
There are many tactical achievements like launching the Naked brand in Ireland and seeing it overtake Innocent as the number one on-the-go smoothie in 12 months. But what makes me truly proud is the element of the achievement that speaks to my purpose. I see the achievement as having led and helped the team that did that.
Similarly in Diageo, when I think about the success Hop House 13 has had, it was all parts of the team delivering on plan and in turn what that meant to everyone involved.
On my CV, one of my listed achievements is the fact that when I was sales manager at PepsiCo five of the eight people on my team were promoted or moved on to new jobs. That to me is the measure of success as a people manager.
Any failures that stand out?
I try not to have regrets. I think you make the best decision at the time with the available information. There are definitely things earlier on in my career that I'd handle better now. But on the flip side of that I probably wouldn't be who I am now if I hadn't made those mistakes.
An area that I am consciously trying to improve is enjoying the moment, and the success to date. I am future focused and continuously thinking about what is next, or how it could be improved. I need to be happy now to allow me flex into future growth opportunities.
What are your plans for the future?
You always need to focus on your purpose and why you're doing what you're doing. My purpose is to help other people to succeed and to surprise themselves. That's what I want to do in the future – I want to keep that going, hopefully in more senior positions with Monster or other areas if they should arise.
I don't really focus on what I'll be doing in the future, I focus on who I'll be doing it with.
I was very fortunate to gain a place on the Aspire Scholarship in UCD Smurfit so in keeping with that ambition I would also like the idea of helping local Irish businesses to win on a more global scale, whether that's in FMCG or a different space in any capacity that may take.
What do you do in your spare time?
A lot of time is spent with the family. But when I do have time I like to go to new restaurants – I'm really into food – and I've had a Leinster Rugby season ticket for longer than I can remember now! I generally like being around other people, talking to them and learning new things. That recharges the batteries for me.
Insight Track
How has your degree benefited your career and personal life?
The MBA changed my self-perception and aspirations for myself, my family and my career. I can't imagine I would be here now without it
What is your fondest memory from your time in UCD Smurfit School?
The people. The office staff, the executive development team, the lecturers and most importantly the students.
How important is your UCD alumni network to you?
I have used the Aspire network more to date if I'm honest, but I think the network will continue to strengthen into the future.
Tell us something most people don't know about you
I have an Under 14 County Football Medal with my hometown club of St Peter's Dunboyne, and an Under 20 JP Fanagan Leinster League medal with Lansdowne. Two small medals but very big to me at the time, and still today.
What pieces of technology can you not live without?
Spotify and my wireless Eneby speaker in the kitchen from Ikea.
Who's your favourite writer and/or what's your favourite book?
I love historical and societal action themed stories from Tom Clancy as a teenager, to Robert Harris now – although reading Douglas Adams makes me laugh out loud. Hitchhikers is a tough book to beat!
What is your favourite dish to cook?
Anything Indian or dishes that I can barbeque!
What teams do you support?
Leinster Rugby, Seattle Seahawks and Aston Villa.
What is your favourite place in the world to visit and why?
New York City – the energy is just palpable and it's where my wife and I got married, so it will always have a special place for us.
Name three things on your bucket list
A tour of Japan and the US West Coast, a SuperBowl and to learn Italian.
November 2018