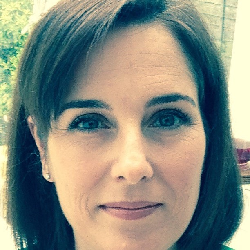 Jennifer Geary
BComm '96, MAcc '97
Jennifer Geary's qualifications led her to a career in financial services in Dublin, New York and London. She has just written her first book after completing a two-and-a-half year stint as Chief Operating Officer at 'Save the Children UK' earlier this year.
About Jennifer Geary
Tell us a bit about your education and early career
I went to UCD to do a BComm followed by a master's in accounting at the Smurfit Business School. From there I joined Arthur Andersen from the milk round. Just before joining, I questioned if financial audit was the direction I really wanted, but the partner who recruited me offered me the opportunity to work in technology risk alongside mainstream financial audit. It turned out to be a great choice that paved the road for me to go into broader operational rather than pure financial roles.
After three years, I qualified with Andersen in Dublin. I had itchy feet and my then boyfriend (now husband) and I decided we wanted some overseas experience. He also worked in financial services and had an opportunity in New York. I was able to move there with Andersen.
It was an experience of two halves, because it was bisected by 9/11. For my first engagement with Andersen, I was working with Goldman Sachs on Wall Street and my office overlooked the South Street Seaport. I couldn't believe I was being paid to be there! Our apartment looked across at the Twin Towers and the Empire State Building and it was an amazing experience. In the second year, 9/11 occurred which was incredibly traumatic for New York. And then Arthur Andersen collapsed following the Enron scandal.
That was an inflection point for my husband and me. We had the option to go back to Dublin but London seemed right – it was still a big financial centre and was just 45 minutes from home. Like so many Irish people, we said "We'll give it two years", which was 15 years ago now! I joined Barclays and spent 13 years there in a range of roles. The first five years were in the investment bank and then i moved into wealth management in 2007. For the last three years I was chief of staff to the group general counsel. My roles covered risk, technology and legal, as well as a finance element.
Tell us about your most recent roles
I had started to become quite passionately engaged in Barclays' citizenship agenda and wanted to seek out a non-executive director position in a charity to bolster that interest. I was introduced to Save the Children and they contacted me to say they had a much more pressing need - they needed an interim chief operating officer.
I convinced Barclays to second me to Save the Children for nine months. When that period ended, I was asked to stay in a permanent capacity. I stayed there for two and a half years during a hectic, rewarding period as we devised the strategy for the organisation out to 2030 and built platforms in finance, HR and IT to make the organisation fit for the future. I feel very proud of my contribution during that time.
Although I had a broad operational background, I found my first COO role challenging – the range of disciplines that are needed is so wide. I wondered why, in contrast to the CEO or CFO role, so little had been written about the role of COO to help prepare new leaders. I had an aspiration at the back of my mind to write a book and thought if I didn't do it now, I'll never do it. So I decided to take a few months to commit all I had learned to paper.
For the early part of the year I was absolutely focused on the book. I treated it like a job and was at my desk at 08.30 each morning, writing, reading, researching and checking references. The e-book launched at the beginning of July and I have been delighted with how it has been received. I even got a message from a CEO of a university in Senegal telling me how much it had helped her! Now the paperback is out, and a consultancy even wants to turn my content into a training course, which is hugely exciting.
How would you describe your leadership style?
Delivery with humanity. You can have a relentless focus on execution, but temper it by caring about your people, their goals and their lives. When I moved from a hard-driving City financial services environment to a not-for-profit organisation, I realised the traditional levers of influence like money and promotion no longer worked – you had to win people over with your vision and engage them in a dialogue to foster genuine buy-in.
What motivates you?
Joining up social good with private sector drive to make change in the world. In Save the Children, we incubated a number of new organisations and I find it really interesting to have the start-up accelerator mentality in a humanitarian organisation. I'm very interested in the idea of taking the accelerator approach and applying it to some of the world's biggest problems.
Who or what has influenced or inspired you?
Irish people speaking out on the global stage is very inspiring. Whether it's Mary Robinson on human rights, Clare Gilmartin (CEO of Trainline.com) in the tech and business world, Pamela Murphy (Infor COO) thriving in Silicon Valley, or Andrew Scott treading the boards in the West End and doing Shakespeare in an unadulterated Irish accent. I love how we Irish punch above our weight as a nation.
What do you feel has been your biggest achievement to date and are there any failures you'd like to share?
My book is obviously an achievement I'm proud of. Other big achievements include my two and a half years helping Save the Children UK define its strategy for the next 15 years, and also seeing the impact we have on the ground, and helping Barclays launch its citizenship agenda, putting social good at the core of what it's about.
Equally, I've witnessed some tumultuous times – the collapse of Andersen was a key moment. On a personal level, I wish I had spent more time on the people elements of change in Save the Children – there was such a lot of change going on and people needed more support and guidance to help them embrace new initiatives such as agile working.
What are your tips and advice for success?
It's all about the relationships. I was quite transactional and maniacally execution-focused in my earlier career. Now, I understand it's the relationships that persist. Maya Angelou said: "People will forget what you said. People will forget what you did. But people will never forget how you made them feel." That's a really important lesson.
Any plans for the future that you want to share?
After 20 years of hard-driving work, I am really enjoying the interlude of stepping back and writing my book. However, I'm not done yet! I'm looking forward to getting back into an operational role – but only for the right opportunity.
What are your main interests outside work?
Apart from running around after kids? I have picked up surfing late in life. I'm bad but I love it. That and yoga. My husband and I still love to travel when we can. Fortunately our kids are excellent travellers too.
Insight Track
How important is your UCD alumni network to you?
Thanks to David O'Reilly and the team in London, I have recently become reacquainted with the alumni network in London and I have genuinely enjoyed it.
Tell us one thing that most people don't know about you
I sing in a choir – it's one of the best diversions for the brain.
What's the last play you went to that you loved?
Andrew Scott playing Hamlet.
What team do you support?
We live around the corner from Crystal Palace football ground, so they're our team now!
What is your favourite place in the world to visit and why?
Still New York. Standing in the centre of Grand Central Station is my favourite place in the world.
Where do you go to completely unwind?
The beach! Brittas Bay at home and West Wittering in the UK.
What's the best thing about living in London?
The freshness – something new is always happening. That and Borough Market. And Shoreditch. And the theatres and restaurants. I could go on…
What charities or causes are closest to your heart?
Save the Children – obviously! And I'm now a trustee of Child's I Foundation – a wonderful charity, run by an English woman and based in Uganda, whose mission is to get children out of orphanages and back into loving families.
Jennifer Geary's book How to be a Chief Operating Officer is now available in paperback on Amazon.
September 2017