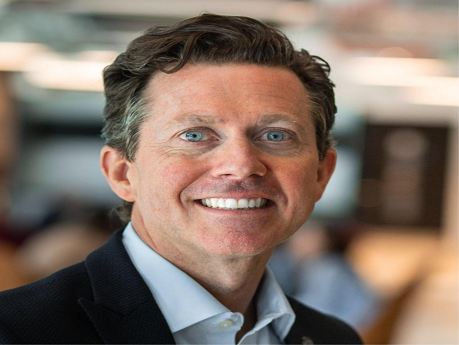 Jim Joyce
MBA '96
Boston born and raised, Jim Joyce did his MBA in Dublin, where he also met his future wife and was recruited to work in Schering-Plough's US operation. He returned to Ireland in 2005 to set up and manage its Irish subsidiary before founding two companies of his own, including HealthBeacon, which floated on Euronext Dublin in 2021.
About Jim Joyce
Tell us a bit about your background and early career
I was born in Boston and grew up in the suburbs of the city. Then I studied economics at Fordham University in New York and after graduating went into the investment field and worked for some of the bigger brokerage houses and banks as an investment broker.
A couple of years later, when I decided to do an MBA I picked Smurfit School programme for few different reasons. I was at a stage in my twenties where I was looking for something different and loved the idea of combining an MBA programme with living abroad and learning what would be a new culture to me. I do have Irish connections, but it's back to my grandparents and great grandparents. I was also aware that the Irish market was becoming really interesting in the global scene – it was right at the beginning of the Celtic tiger.
My mother happened to give me a clipping from the Boston Globe about an upcoming presentation on UCD's MBA programme for US candidates. I went to a hotel in Boston and Prof Mary Lambkin gave a lovely presentation on UCD. I was fascinated. A friend and I booked tickets for Dublin and we headed over for a site
visit and I just fell in love with the Smurfit campus and the people I met. A number of great things came out of my year here – I made lots of friends and had lots of experiences – but two things in particular stand out. First up, I met my wife, who's Italian and was studying in the University of Venice and was spending a year at Smurfit – we were both living on campus. Secondly, I was recruited during one of the interview rounds by Schering-Plough – since renamed Merck – to join its graduate management training programme.
My position was in the US finance division and brought me back to the States and to New Jersey. I worked hard, got exposure to all different parts of the pharmaceutical business and found really good mentorship. And to my surprise I kept getting promoted to the next level. At first, I found the pharmaceutical industry a bit overwhelming but ultimately became fascinated by it. Schering-Plough had blockbuster medicines that drove growth and opportunity inside the company.
I eventually went on to head up the US finance and then the international finance divisions. Then I saw an opportunity in the Irish market. At the time, the company had no dedicated division in Ireland. I convinced Schering-Plough to fund setting up a dedicated subsidiary here and also told them I knew a great guy to run it. I had to compete for it but did get the job as managing director for Schering-Plough Ireland. My wife, who really liked the idea of moving back to Europe and being closer to Italy, had worked with Goldman Sachs and was able to get a really good role at Citibank in Dublin. We told our then four-year-old son we were going on an adventure.
One of my jobs here was to hire companies to provide medical IV services to support clinical care in the community – a lot of our medications were very specialised drugs for cancer, multiple sclerosis and hepatitis, for example. But the Irish market had a really hard time servicing those medications outside the hospital setting. Another opportunity beckoned and I left Schering-Plough at the end of 2006 to set up Point of Care, which is focused on migrating clinical care to GPs and the home in cases where medications have to be supplied by infusion and subcutaneous injection.
After building the company up over a number of years it became a big provider to the HSE and pharmaceutical companies and was acquired by Uniphar in 2013. And that's when I came up with the idea for HealthBeacon, a smart sharps bin that helps to ensure that patients take their injectable medications. One of the big challenges of people self-injecting at home is that as many as one in two fail to keep to their medication schedule. Our sharps bin monitors electronically whether the patients are taking the right medication at the right time and it's all done in a passive way behind the scenes. And that increases likelihood that they'll be successful with their medication. I brought the idea to Kieran Daly, who I knew from Shimmer Research and who ended up being my co-founder, and we did an initial sketch and filed for IP almost
within 24 hours.
We've developed a number of products over the last 10 years and are launching our technology very successfully into the US market at the moment. We employ 70 people and listed on the Euronext exchange at the end of 2021. We're also launching a next generation product that will work with complex pill regimens and will be available this year. It means we can help almost any patient with a complex home medication regimen. For the future, we want to have a range of devices with a very common aesthetic
and theme and support so we can go after bigger opportunities.

What is your role now?
One of my main jobs is trying to share our solution and story with potential investors, employees and large customers and making sure they understand what we're doing and why we're doing it and how this could be a really huge company. That's been consistent, almost from day one, and it's something I really enjoy doing.
Going public has brought a whole new level of sophistication to it all. It's now a very professionalised process in terms of talking to lots of investors and updating the markets of progress in a very technical way. That has a whole different twist.

How would you describe your leadership style?
I really want to get the most out of my team. I want them to believe in our company's mission and to understand how they can be a part of it. I'm very much mission-led and trying to understand the people I'm working with – the capabilities they have today and what they could be at their best.
I'm optimistic and really enjoy people and diversity of experience and opinion and I believe everyone has something to offer. I like to see something in people that maybe they don't even see in themselves. I think my bosses did that for me in my career when they could have easily passed me over.

What motivates you?
When you're working in the healthcare area, you have an unusual reservoir of motivation if you have the opportunity to introduce support or technology that can help people who are dealing with really difficult diseases and conditions. For me, a huge motivating factor is that this technology can have such an impact on people's lives and has the ability to have a much bigger impact in future than it does today. Our job is to get this out to the world and to ensure it achieves its potential. That's a big motivator.

What's your best career advice?
I always advise getting involved in work where you lose yourself in it a little bit. You spend so much of your life in a professional environment and it doesn't have to be drudgery. It can be really exciting. It's important to try to find that opportunity where your skills and your interests match the work you're doing. I'd also say to set your ambitions incredibly high and then be forgiving to yourself, and forgive others around you. You're not going to hit the moon if you don't reach for the stars.

Who has influenced or inspired you?
Loads of people over the years. I'll pick out my own father, who worked in the investment field for a long time and had such resilience and persistence in his love of other people. How he just enjoyed working with others has always been a great inspiration to me.

What has been your biggest achievement to date?
I think it was probably ringing the bell in the stock exchange at the start of trading on the day we floated. Sitting there and celebrating all the fantastic people who made that company – fundamentally an idea that came out of me – come to life was really exciting.

Is ongoing learning important to you?
It's vital. In the digital heath technology field you have to be so up to date with what's happening out there. What's possible today will be completely different in two or three years' time so staying on top of everything is a huge part of the role.

Do you have plans for the future you'd like to share?
The main job right now is making sure HealthBeacon reaches its potential and that will take all of my time, all of my effort and all of my capacity for quite a while. I've made a life here in Ireland, having been here for over 18 years now and when I think about what's next I love the idea of sharing with other companies here what I've learnt about bringing ideas to life, raising capital and going public. So I see helping companies go public as my follow-up act.
It's amazing that 30 companies went through Euronext's IPO Ready programme and we were the only one that floated. I'd really like to see if I could help create the environment for other companies to be able to do it.
Insight Track
How has your degree benefited your career?
Beyond the importance of the degree, I was introduced to new concepts, business case studies and talented students that I stay in touch with today. Without that exposure I wouldn't be building and running companies in Ireland.
What is your fondest memory from your time in UCD Smurfit School?
I asked my future Italian wife to present alongside me at my entrepreneurial study classes an idea for futuristic health facilities. She was articulate and wowed the audience and I got an "A".
How important is your UCD alumni network to you?
Very important. It's a shared experience at a point in your career that bonds you forever. Networking, coaching and friendship for a lifetime.
What are your main interests outside work?
As a family we love traveling to exotic locations, we hit the slopes in Italy and are huge Irish basketball fans.
Tell us something most people don't know about you
I have 57 first cousins in Boston.
What piece of technology can you not live without?
Electric bike.
What is your pet hate?
Negativity.
Who's your favourite writer?
Robert Harris, historical non-fiction writer.
What is your favourite dish to cook?
Pancakes.
What team do you support?
Boston Celtics.
What is your favourite place in the world to visit and why?
Venice, it's a magical place steeped in winding history, a floating city museum.
Where is home and why?
Ranelagh – leafy city centre location, a walk to town and the kids can get the bus or Luas.
Name three things on your bucket list
Ring the bell on Nasdaq or NYSE.
Taj Mahal in India.
Watch my son collect his degree in a kilt from the University of Edinburgh with my
whole extended family and his grandparents in attendance.
What charities or causes are closest to your heart?
Magic Foundation, which helps children with rare diseases and growth disorders. They run an event each year in Chicago where doctors and companies come together for three days to support, entertain and delight the kids and their families.
March 2023