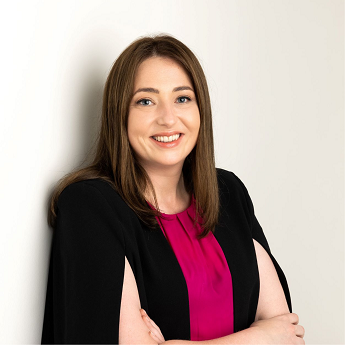 Judi O'Malley
MSc Project Management '15
Judi O'Malley started her career as a clinical vascular scientist before broadening her focus to include the business and product development side of things. In 2021, she co-founded Spiorad Medical, which has developed an innovative closure device designed to improve clinical outcomes for cardiovascular patients.
About Judi O'Malley
Tell us about your education and early career
I worked in part-time jobs in public houses from a young age as my parents were publicans. Then, I studied clinical measurement science in DIT and from there went on to work as a clinical vascular scientist in Connolly Hospital in Blanchardstown for the HSE, which I really enjoyed.
I stayed in that role for about 10 years and during that time went back to study intellectual property law with the Law Society. I was always interested in new technology and innovations and thought that would be a good way to learn a bit more about this area. I then spent a couple of years as a vascular scientist in the
Blackrock Clinic and did my master's in project management in UCD. At that stage I was hoping to move into industry and to learn more around the business and the development of new devices in therapeutics that could be used in vascular.
In 2015, I started working with multinational companies. My first role was with PEI Surgical, a distribution agency in Ireland that had the Medtronic portfolio for cardiovascular products. It was my introduction into sales and marketing within medical devices and I really enjoyed it.
From there I was headhunted by Abbott, which had just acquired St Jude and was developing the Mitra clip and also was launching the Portico Trans Aortic valve in Ireland. That was a really exciting role where I was working directly with a multinational and covering Ireland, Northern Ireland and London. It gave me very
good exposure on how products are developed and how they fill a market need. It also exposed me to what patients really need from products and also what the physicians who are using them need and the problems and challenges of new technologies.
It was in that role that I met the co-founder of my company, Dr Samer Arnous, who's a cardiologist. Together, we saw a gap in the market for a vascular closure device. The company I worked for had a device – and a monopoly in the market – at that time but it was quite difficult to train physicians on and had a significant complication rate. We thought we'd try to develop and bring to market something that would be better for patients and would mitigate the risk of embolisation for them, and also be easier for physicians to use and speed up their procedure times.
We formed our company, Spiorad Medical, in mid-2021 and I left my job – I was working for J&J at the time – to focus on it full time. That was an interesting transition, moving from being a full-time, permanent employee to going out on your own to develop your own business from scratch.
I'm really enjoying the process. The nice thing about starting your own business is that you're not siloed into any one particular area, which you might be in a multinational. When you're out on your own you have to really up your skills and development very quickly in a lot of fields you might not be familiar with. I found that
quite enjoyable as I am quite curious about a lot of things. It was a great opportunity to learn more about company finances, the regulatory pathway and products and how to develop, hire and manage teams, which I hadn't really had exposure to before.
At the moment, we're closing a fund and then we'll be looking to hire full-time R&D engineers. We're hoping to advertise for those roles in April or May. Otherwise, we outsource our engineering – we work with Veltron Precision and Dolmen Design, which have been great and do a lot of prototyping work with us – and we use an accountant, solicitor, IP attorney and regulatory affairs advisor and have a couple of board members who are consultant cardiologists or vascular surgeons. We're still quite early stage in terms of the product. For example, we recently carried out our first animal trial in Paris. We've managed to develop a strategic partnership with a multinational cardiac device company and were able to go on the back their animal trial. Now, we'll have to follow up with our own more rigorous animal studies.
Was it always the plan to set up a company or develop your own devices?
I have always been curious about science and technology. I was the kid who rang the customer services number on the back of the can of dogfood asking them what the ash was in the Pedigree Chum. At Christmas I was always the one who wanted a chemistry set or a microscope. That was always part of my personality.
What really focused me on a specific area was working on vascular, which was something I really enjoyed. And then I started thinking about how you invent something and how you bring a product to market. And that just developed to where we are now.
How would you describe your leadership style?
It's hard to answer that yourself and probably better to ask somebody who works with you. I think it's probably quite servant based. I'm here to serve patients and physicians and to do that in the best way I can. Our main goal is to simplify the closure of femoral artery access. We want to make a product that's safer and better for patients and easier to use for physicians. If I can serve patients better and serve physicians better I think that's the best way to go about my leadership approach.
What motivates you?
Really what motivates me is to be able add some value into the area I've been in for the last 20 years. I'm very passionate about health and in particular about vascular science.
As we know, cardiovascular disease is still the biggest killer in the world and it affects a tremendous number of people. If you can add value or make any improvement to mitigate any of that suffering or decrease it in any way I think that's something definitely worthwhile to be working towards.
Who has influenced or inspired you?
I've been incredibly lucky. My first introduction to working in vascular was in Connolly Hospital in Blanchardstown and my boss there, the chief vascular clinical measurement scientist, Dr Anne O'Shaughnessy, was an inspiration. She really developed my love and curiosity of vascular and I was very lucky to have a first boss like her.
From the start I just wanted to learn everything about it – aside from the clinical and physiological aspect I wanted to know the business, the devices, the technology and how we can improve it going forward. I really owe a lot of thanks to Anne, who's now the head of education and professional affairs at the Royal College of Physicians. She was a phenomenal boss and a phenomenal leader and someone I'm very grateful to have as a lifelong friend now.
How important is ongoing learning to you?
It's very important and I'm consistently learning. At the moment I'm doing a course online in CAD and 3D printing. Engineering is an area I'm not very familiar or strong on so that's something I'd love to develop more. That's probably the next thing I'll get my head into.
I also think it's important to keep learning through your role and to put your hand up and maybe take on some of those more challenging projects or tasks that are going to make you stretch a little bit.
What is your biggest achievement to date?
We're absolutely delighted to have filed our patent with the WIPO – the World Intellectual Property Office – and that should be public in April. It will be great to have secured IP, which proves the novel aspect of our device. The design is quite different and our device is the first of its kind to take on the extravascular approach rather than going into the artery. I think that's a great thing for Spiorad to have achieved. We also were delighted to win the GRIT International Accelerator this year, winning mentorship with Boston Scientific.
What's your best piece of career advice?
The best advice I've been given is that you just have to work hard. I would say, take on difficult tasks and push yourself out of your comfort zone a bit because that's how you're going to learn and develop. Sometimes people can be a little bit fearful about going into areas that are unknown but it is good to stretch yourself. It is important to continue developing within your focus but you can also learn across different areas and become more knowledgeable about all aspects of what you're doing so can communicate better with everyone on your team and with your end users.
What are your plans for the future?
Samer and I had quite a few ideas for new products and improvements on devices that are already available in different areas of cardiovascular. The reason we chose to develop a vascular closing device first was that we're both really experts in that field. We know it is a problem area that could be addressed better.
I'm certainly going to be staying in this space and we definitely have other ideas for products for a future pipeline. But our main focus for now and for the next five to seven years is getting FDA and CE marking on Spiorad and bringing our product to market and to patients across America and Europe.
Insight Track
How has your degree benefited your career?
Great immersion in business planning, developing a business plan, budget and team and executing on the strategy, while developing a great network. Really enjoyed lecture with Ashley Hughes on behavioural psychology and still go back to her notes and share with people for guidance.
What is your fondest memory from your time in UCD Smurfit School?
My fondest memory would have to be coffees in the student cafeteria with the smartest person in our class, Anna Mulhall, director of Bank of America and fellow student at the time who has become a trusted friend. I'm delighted to have not only received a master's from my time at Smurfit but also a beautiful goddaughter thanks to Anna.
What are your main interests outside work?
Spending time with loved ones, relaxing walks in nature with my dog Cujo and listening to podcasts – currently enjoying Lex Friedman.
What pieces of technology can you not live without?
Phone and car as I live in a rural area.
What is your pet hate?
Currently my pet hate is the dangerous cancel culture we are experiencing, biased insular viewpoints in an echo chamber demanding their opinion is the status quo.
Who's your favourite writer or what's your favourite book?
Sadly I have not read for pleasure for so long. However whenever I need a light escape Charles Bukowski has me covered. I particularly enjoyed Ham on Rye. I admire Bukowski's realism, authenticity and compassion for humanity while recognising the depravity of modern life.
And what is your favourite band or musician?
Love AC/DC and delighted to have seen Bon Scott's house in Perth.
What is your favourite dish to cook?
I was extremely fortunate to house share for many years with an Italian chef. Vinny kindly showed me some tricks to confidently make my favourite meal: lasagne, garlic bread, salad and coleslaw with a class of Ripasso.
What team do you support?
Liverpool, solely for Klopp – we could all learn from his phenomenal people management and leadership skills.
Where is home and why?
I live in Galway and absolutely love it here, however northside Dublin is my home; it's where my family and school friends are based and I have a huge fondness for Portmarnock beach.
March 2023