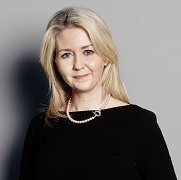 Karen Hennessy
MBA '02
Karen Hennessy's well-honed skills in the areas of strategic alliance and negotiation are serving her well in her role as chief executive of the Design and Crafts Council of Ireland, which is currently overseeing the Government-led year-long initiative Irish Design 2015 (ID2015).
About Karen Hennessy
Can you tell us a bit about your education and career background?
Having completed a BComm at NUI Galway, I trained as a chartered accountant. I then worked in the corporate finance department at BDO Simpson Xavier, before moving on to Glanbia plc, where I was head of corporate development nutritionals.

In Glanbia, my main responsibilities were divestments for the first five years and then acquisitions for the last five. Strategic alliances and negotiation were very much the backbone to both my career and education and continue to be hugely important to what I do.

I started my MBA in 2000 when my first child was six weeks old. I handed in my thesis in September 2002 and had my second child the next month. It was a very busy time but a fabulous opportunity that Glanbia offered. I met incredible people through the MBA who are now lifelong friends and who I still liaise with and contact on a regular basis. We had a very diverse skill set and that really showed you how to work in a collaborative way and play to the strengths of those in the group.

During my time in Glanbia I was involved in acquiring a number of businesses of different scale and that gave me a taste for having my own company. I left Glanbia in 2007 and set up DH Financial, a business consultancy partnership.

Shortly after I was invited to sit on the Design & Crafts Council of Ireland's finance committee on a pro bono basis. I started to work with them more closely and eventually became head of operations. Then I was acting CEO for about six months before being appointed CEO in May 2011.

Tell us a little about DCCoI and how you've been putting your stamp on it
DCCoI has been around for 44 years. We currently have over 3,000 registered client enterprises employing around 6,000 people. When I joined the organisation in 2009 we had 1,700 client enterprises so it's a growth rate of around 75pc during a period when funds declined by 18pc.

So we have had to be really strategic about the services we provide to our clients. I've delivered on two strategic plans during that period and been very focused on what can and can't realistically be delivered with existing budgets.

We are a promotional support rather than a grant giving organisation, so we are very focused on developing opportunities for our clients. We set up initiatives with a view to designers and makers eventually becoming self sufficient and taking them over. We also run mentoring programmes, seminars and workshops to ensure they have the skill sets to deliver on opportunities as they arise.

We have two national centres of excellence in Kilkenny: one for ceramics and one for jewellery and goldsmithing. Until recently these may have been considered as quite academic and I'm changing them now to be much more industry-led.

We're also creating awareness through campaigns like 'Designed and Made in Ireland', which is focused on encouraging people to actively seek out products that are unique, authentically Irish and distinctive and to support business in their local economy. Since 2010, we have seen a significant interest in buying and owning Irish crafts and design.

Tell us about ID2015
Irish Design 2015 came out of the Global Irish Economic Forum in October 2013. It's a Government-led initiative that the Design and Crafts Council was asked to convene on behalf of the Department of Jobs, Enterprise and Innovation, the Department of Foreign Affairs and Trade and Enterprise Ireland. We've set up a subsidiary company – Irish Design 2015 – to make this happen.

Through ID2015, we're profiling and celebrating Irish design across the island of Ireland and bringing it to eight international cities of commerce and design through a number of mechanisms.

There is so much good work happening out there that people may not be aware of. We are a creative nation and I don't think anyone would dispute that. But actual investment in design is a different matter. So, ID2015 is very much about profiling and highlighting the importance of design across a number of mechanisms.

It's also about creating a legacy, embedding design across Government policy and about ensuring that investment in design is a key component of the Government's plans going forward.

Within Irish Design 2015, we do all our work through partnering. We have multiple strands of partners who are fantastic. We've partnered with the OPW and they have given us the Coach House at Dublin Castle, beside the Chester Beatty Library, for the entire year as our design hub. And we've a number of beautiful exhibitions commissioned and coming into the country.

The National Craft Gallery in Kilkenny is also a significant hub and a new gallery recently opened PORTFOLIO @ Solomon in collaboration with the Doyle Collection Gallery in the Westbury Mall.

We're also partnering with a number of conferences, including the Ibec CEO Conference on 4 March, which is entitled 'Better business by design'. For me it's very exciting, because it shows the importance of design across all industry. Design is often a company's USP and we're showcasing to the industry leaders of Ireland the importance of design and embedding that at an early stage is where you'll make a lot of traction longer term.

Describe your leadership style
I am not a micro manager. I like people who I work with to own what they're doing, to be passionate about it, and to really stretch themselves in what can be delivered in any particular initiative. For me, seeing around corners and really stretching your potential for what you deliver on projects is something that's really exciting. I expect people to deliver to a very high standard but I give them the room to actually go ahead and achieve that.

What is your philosophy in business and in life?
One of my main philosophies is around fairness. I am as upfront as possible both personally and professionally and I'm conscious of the importance of listening to others in order to learn from their experience. And that's very much linked to a partnership philosophy. A lot of what I do is around partnerships and in order for those to work, you have to be very respectful of the other partners and really come to the table in a fair way. However, I am very focused about the end result and what needs to be delivered.

It's also really important to have clarity around the objectives of various parties in a partnership when you identify their expected outcomes and the benefits to them from an early stage to ensure that their objectives are being met, that's where the magic happens in the partnerships. Part of that is communication – it's picking up the phone and clarifying any queries or concerns before they could potentially become an issue.

Who are what are your biggest influences?
In truth, my mother and father have been a significant influence in my life. They are people who have instilled a hard working and fairness approach to life in all four of their children and I greatly admire what they have done both professionally and for their family. I also admire people like William Walsh who set up the Kilkenny Design Workshops in my native city and whose vision has had a definite impact from many designers over the last 50 years. I am currently following the work of Jason Mayden who is the creative director of Mark One and a lecturer in the d.school in Stanford. His approach to life and what he has achieved is hugely inspiring. He will be talking at the Ibec CEO conference on 4 March and I am really looking forward to finally meeting him in person.

What are your tips or advice for success?
When I have a new member joining the team my main tip for success is around basic good manners. Engaging and understanding where the other person is coming from is really important in whatever discussion or conversation you have. So it's about please and thank you, but also being able to see things from other person's point of view.

What are your future plans?
Once design and creativity have become a central part to all aspects of how we live our lives in Ireland, I'll be happy!

I like doing what I'm doing at the moment. I love the area I work in, I love people, I love partnerships, I love strategic alliances. That's my key area so I'd like to continue to work in a creative space in this area.

What are your interests outside of work?
My children: I have three great kids, the two MBA babies – Lauren is now 14, Luke is 12 – and I have six-year-old Alicia as well. Juggling being focused on both my family and on work is always a challenge. I travel a lot for work so when I'm at home, we have very focused, fun time with the kids. They're of an age that they're very easy at this stage.

My other personal interest would be piano. I play a lot of piano for pleasure, it's a great way to unwind.
February 2015