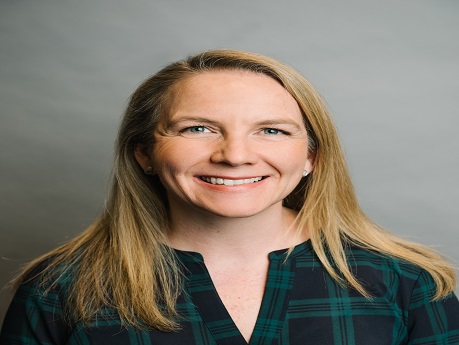 Kerry Spellman Curran
MBA '04
When she moved from Boston to Dublin for a year to do her MBA, Kerry Spellman Curran reconnected with family and found a new career path in strategic marketing, business development, and corporate leadership. Always approaching challenges with a proactive, entrepreneurial spirit and focused on developing and managing business growth initiatives, she's currently an executive director and managing partner of performance strategy and growth in global media giant, GroupM, US.
About Kerry Spellman Curran
Tell us a bit about your education and early career
As an undergraduate I earned a bachelor of arts degree at Boston College, majoring in human development and psychology – I thought I was going to be a social worker. Then, looking for my first job and something that would pay the bills, I ended up in financial services management for three years and really enjoyed it. But I'd never even taken economics at school and felt that if I was going to be working in the corporate world I'd need to do a business-related postgrad degree.
That's how I came to complete the MBA programme at UCD Smurfit Business School. I'd heard of people going to Ireland for grad school and my younger brother had gone to UCD for a semester abroad – a lot of students here do a semester overseas but I'd opted not to. I thought this would be my opportunity to get the abroad experience and the business education I'd missed because of the major I'd chosen.
And like many Irish Americans, reconnecting with family was part of it – I have cousins on my father's side in Ireland. And I've since gained more Irish family as my husband, who I met at a UCD alumni event here in Boston, is also Irish American.
From a social perspective, it was a lot easier for me to focus on the full time MBA because I was coming in from another country. I was fully immersed – all my friends and my whole world was the MBA and Smurfit School activities. It was a really great opportunity to build relationships and not just within the MBA programme –as the Smurfit rugby team manager, I coordinated the travel of 25 players to the US to participate in, and win, the MBA Rugby World Cup.
From an academic perspective it was definitely challenging. I thought because I had worked from 8 to 6 going to classes and studying from morning until night wouldn't be too much of a stretch but it definitely was an academic challenge. But you have your study group and you find the courses that are more aligned with your strengths and courses that are more difficult and figure out the balance.
I really got into the marketing courses and that side of the MBA programme. I was fascinated by everything from branding to connecting with your target audience and the strategy of showing people what will solve their problems. So when I came back I shifted from financial services and operations into more marketing-aligned fields. It was just around the advent of the explosion of internet marketing and search marketing so the timing worked out quite well and I pivoted into a career in marketing and media advertising.
The MBA is all encompassing and it was so valuable to get that foundation of understanding the finances behind the business, corporate strategy, negotiations and business law – even 20 years later I definitely still pull out things I learned.
I've had a number of positions – mainly in very large media agencies – over the years. The common theme of the roles I've enjoyed most is when I'm building something or solving problems. One of my favourite roles early on was as a strategist for a new business team, which involved helping brands that wanted to sell more or acquire more customers. I loved developing the strategy of how the solutions in our portfolio would help the client achieve their business goals.
I've been most successful and satisfied where I've been able to look at what the challenges are, what we're trying to achieve and what we need to do to get there – one of my strengths has been the ability to identify challenges and come up with a workable solution, while driving revenue growth for our company.
I got hired back to GroupM in 2015 to rebuild the sales and marketing team in one of the smaller companies, Catalyst. Most of its growth so far had been organic. With not a huge budget, I built an end-to-end sales and marketing infrastructure. That involved a lot of testing and trying new approaches, figuring out what was working best and pivoting quickly when things weren't working.
What is your current role?
Since the beginning of 2020, I have been an executive director and managing partner of performance strategy and growth for GroupM, US, focusing on driving growth for our specialty business units. Right now, I'm focused on generating demand and business growth of our proprietary solutions we're offering internally across our organisation. The building and growing aspect, utilising both my sales and marketing expertise, has continued to be my strength and what I'm passionate about.
What motivates you?
Since the beginning of 2020, I have been an executive director and managing partner of performance strategy and growth for GroupM, US, focusing on driving growth for our specialty business units. Right now, I'm focused on generating demand and business growth of our proprietary solutions we're offering internally across our organisation. The building and growing aspect, utilising both my sales and marketing expertise, has continued to be my strength and what I'm passionate about.
How would you describe your leadership style?
I definitely have a mentor/coach approach. It's important to me that the people on my team feel supported and have what they need to be successful, including coaching to strengthen areas where it's needed.
I had 11 direct reports through Covid and a 100% retention rate, which I'm still very proud of. It was a really rough time in everyone's lives and I felt it was very important to continuously be there and support the people I work with.
What has been your biggest achievement?
Academic success was always a challenge for me. Despite that I've become pretty successful in my career. I've achieved more than I really thought I had the capability or the aptitude for. It's been very satisfying to realise that I have the aptitude to be a really good leader and contributing member of a successful executive team.
From a specific role achievement, it was building the Catalyst sales and marketing team when I came back to GroupM. We were lean and nimble, and really had to hustle – there were just three of us on the executive team; we were able to drive significant triple-digit growth in growth in the first two to three years. I learned a lot and I'm very proud of what we achieved in that time.
How important is ongoing learning to you?
Very important, especially in an industry that is always rapidly evolving. Today I learn from colleagues, articles, conferences, and webinars. I was thinking recently it would be so great if they had refreshers for the MBA, but how you could ever fit it in I don't know!
One of my favourite projects I spearhead every year is an original research paper where we are uncovering business challenges and solutions for brand and agency marketers. Working with an editorial partner, my team builds the thesis and questionnaires to uncover insights that become tools for brands and other marketers to build better media strategies. To me that's as close as it comes to writing an academic research paper from the business school days. I love every aspect of it, including being part of something that helps other people achieve and get further with driving their business results.
What career advice would you give?
Relationships are one of the most critical aspects to your success. I would always advise trying to become a trusted colleague, friend, advisor. Find someone who is that to you and be that to somebody else. So much of your success is driven by people in your organisation and in your world when you have built trusted relationships and credibility. You know who to go to, where to get what you need and always have someone to bounce ideas off.
Something one of my great mentors and former bosses did so well was to always make time for coffee, lunch, a quick catch-up with the people in her orbit. Importantly, she wasn't just reaching out when she needed something.
I enjoy getting to know my colleagues on a personal and not just on a business, transactional level. It goes back to my psychology background!
What are your aspirations going forward?
My goal is to continue to build upon my successes in driving business growth. I've had the opportunity to become a bit of a Swiss army knife, with strengths in leading different aspects of strategic business management and leading high performing teams.
I aspire to be an impactful member of an executive leadership team at a company that needs to drive business growth. That's what I've been really good at – being at the executive table and understanding how business units work together to be successful.
From a title perspective, I want to be a chief growth officer or chief strategy officer tying all aspect of business strategy to drive growth and create success. Today I'm doing that within a very large organisation at business unit level but I aspire to do that – whether it's a start-up or a mid-size company – as part of the executive team.
Insight Track
How has your degree benefited your career?
The MBA course provided working knowledge of the critical business functions for driving success. As I've grown in my career, especially at the executive level, it has been increasingly valuable to have that educational background to apply to my day-to-day leadership.
What is your fondest memory from your time in UCD Smurfit School?
I was lucky to have an amazing group of classmates that I became close with through course work, coffee breaks, nights out and weekends away. At the year-end awards ceremony I was surprised and honoured to have the class present me a special award of recognition for my contributions to our class community.
How important is your UCD alumni network to you?
Very, if it wasn't for a UCD Alumni event in Boston in 2008, I wouldn't have met my husband! Overall, it has been valuable to meet classmates and other alumni from industries and career paths different from mine.
What are your main interests outside work?
I spend a lot of time volunteering as a board member of the parent organisation for my children's school. As the VP of community I enjoy organising family events to build and strengthen the community. I recently rolled out a mentoring initiative matching new families with returning families to welcome them to the community and ease the stress of starting at a new school.
Tell us something most people don't know about you
My big goal this past summer was to become a tennis player. While I made some progress, I won't be participating in any tournaments in the near future.
What piece of technology can you not live without?
I use my phone to access news, books, and of course, social media.
What kind of books do you enjoy reading?
My favourite genre is historical fiction.
And what is your favourite band or musician?
My running mix is '80s heavy metal.
Tell us about your most recent adventure
My family just spent a week in the Colorado Rocky Mountains where we had a blast horseback riding, hiking, white water rafting, and ziplining. I even jumped off a 60 ft cliff (tethered of course).
What teams do you support?
I'm a self-declared fair weather Boston fan. I only get into the teams when they are in the playoffs.
What is your favourite place in the world to visit and why?
Ireland will always be my home away from home.
Where is home and why?
My family lives outside of Boston in Newton, Massachusetts. We love that we're 10 minutes from downtown Boston with easy access to everything the city has to offer.
What charities or causes are closest to your heart?
I am a passionate about supporting women's heath, equality and civil rights, and democracy.

September 2022