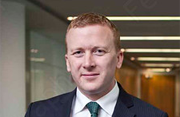 Michael Lalor
BComm '96
A long-held interest in finance, coupled with a strong understanding of the long-term advantages of developing mutually beneficial relationships with customers, have been key elements in Michael Lalor's career path and his current role as senior relationship director, HSBC corporate banking.
About Michael Lalor
Lalor decided from a young age that his career would be in finance. "I wasn't quite sure at that stage what aspect of finance I wanted to get into, but I developed on that interest when I did my degree in UCD and completed the BComm," he says.
During his studies, he became increasingly drawn towards stockbroking and this led to his first real job at Goodbody Stockbrokers in 1996. He joined the firm's settlements department and worked his way up to managing teams of around 20 people. "Then I moved into the private clients division, which was always an area I wanted to get into. That role was more to do with the customer."
His six years at Goodbody coincided with a particularly interesting time for the markets. "When I joined, the whole culture of owning shares in the private investor market had taken off. This had evolved as a result of some exciting technologies coming out in the US and a vibrant IPO market. Goodbody had geared up its operations to cater for that appetite and it was a good place to be." The dot.com crash in 2000 obviously made it a much more difficult place to be in.
"At that stage I decided to broaden my experience a little bit and I joined AIB corporate banking international, which at the time owned Goodbody so I stayed within the same group. It was a good move in terms of being able to use some of the skills I'd built up in Goodbody in both the sales and analytical side from an investment perspective. And I was able to apply that to lending. It gave me a good grounding in banking, which up to that point I didn't really have first-hand experience of. That time in AIB gave me the basis to move on and led me to joining HSBC, again on the corporate banking side."
He joined HSBC in 2007, just a year after it had set up its corporate banking operation in Ireland. "It's not often a new entrant comes into the market, so it was quite exciting to be involved in that from the very start."
One of the things that attracted him to HSBC was its focus on traditional banking values, he says. "We build a strong deposit base before we lend to customers. And we seek to lend to corporates that have a strong business model, a good track record and an ability to generate sustainable cash flows.
"I think what we have done quite well here locally is to make sure we aligned our strategy and the type of business we were doing with customers to that ethos and thankfully avoided plays in overheated sectors such as real estate. I think that sticking to the knitting, as they say, was a great contribution to our success here."
Local customers include home-grown plcs with a focus on international expansion. "A lot of my time is spent dealing with the decision-makers who are usually domiciled in Ireland. What we try to do is leverage off HSBC's global footprint. We try to match our global footprint against where our customers looking to expand." The other side of the business is around the company's multinational clients. "We support them here locally and from a European perspective."
Coming in as a brand new player in the local market had both challenges and notable advantages, he says. "Although we already had a funds and treasury business here, it was a standing start. We had connections in the industry, but we had to bring the global brand and represent it here locally. There was some pressure associated with that.
"When we came into the market, our target corporate clients were very well banked at the time. While HSBC was certainly of interest, maybe the challenge they had was to maintain a limited number of banks to manage. When liquidity dried up here, this coincided with HSBC really rolling out its presence and its capabilities. What we represented was firstly an international bank for our customers to help them overseas, but secondly a very strong counterpart.
"Throughout the crisis, HSBC has maintained a very strong credit ratings and financial metrics when compared to its peer group. That certainly offered greater opportunity to develop the business than in a normalised market. But in the first six months when I joined, it was tough to get your name out there and to drum up business. And for the corporate clients we have, it's still a very competitive market. They can still attract capital and good pricing, not only from banks but from international investors."
A focus on developing strong and lasting connections has been a key element in the company's success to date in the market, he believes. "I think what we have hopefully done is created and maintained long-term relationships with customers. But it's also about the type of relationship we've developed, which in my view should be mutually beneficial with something for both sides. I think a lot of that is down to the calibre of the people we have here locally, people who are willing to put in hard work for the customer and maybe take the longer term view on the relationship being mutually beneficial and hopefully building trust with the customer.
"It always amazes what can come out of a meeting with a customer or potential customer when you meet them face to face. Even if you think the opportunities aren't obvious before the meeting, I always come away with something, whether that's today or in the future. It's just keeping those connections and keeping that dialogue open.
Lalor cites his family as the key influence in his life. "Both my mother and father made sacrifices putting me through college and I like to think instilled in me quite a strong work ethic and ambition, which has stayed with me throughout my career.
"In terms of someone in the finance world, I've always been an admirer of Warren Buffett. I read his autobiography [The Snowball: Warren Buffett and the Business of Life] a while back and it's a fascinating story. What came through was that throughout everything he remained somewhat unaffected and maintained his own beliefs and intrinsic values, which is sometimes at odds with convention. I think he had the self-belief, self-confidence and practical considerations for things that sometimes can get lost. He had a clear investment strategy and he stuck with that. Sometimes they weren't the most exciting of businesses, but I think his strategy has borne fruit over the long term. More recently, I think his charity work is an incredible example to be setting."
Looking forward, Lalor says he'd like to do an MBA. "I've talked to a number of peers and colleagues and friends and it seems to be something that has given them a different perspective and it's obviously good for career development as well. I'm not sure if it's the best time with two young kids – a six-month old and a three-and-a-half year old. Maybe for the future, it's something I'd like to do.
"I'm very happy with HSBC. Possibly at some stage in the future I may consider international travel and HSBC is a good organisation to work for in that regard. But for the time being that focus is around family and really developing my career. And maybe the odd game of golf!"
May 2013