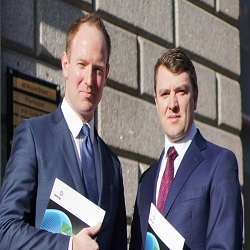 Morgan Mangan & David Kelly
Morgan Mangan & David Kelly – MBA '13
Having met during their MBA year in Smurfit, Morgan Mangan and David Kelly are now making good use of the skillsets and strategic thinking gained through the programme – and their own diverse career backgrounds – as partners in the recently relaunched Irish office of executive search firm Amrop.
About Morgan Mangan & David Kelly
By the time their paths crossed at the start of the MBA programme in Smurfit School in 2012, David Kelly and Morgan Mangan had chalked up more than a decade each of very different experience. At that stage, both were looking for change in their careers and were keen to develop the skills needed for a more commercial – and possibly entrepreneurial – future.
A chartered engineer, Kelly had worked for 12 years in technology companies, including 3Com, Nortel Networks, Valeo and HP/Celestica, in Ireland and Canada, and was involved in business transformation projects in sectors such as telecommunications, education, healthcare and construction across Europe, South America and Asia.
"I came to realise I had an entrepreneurial and commercial streak that I wanted to exercise," he says. "But people in technical roles – including myself at the time – often don't have the wider business skills. Deciding to do an MBA was really about adding to my own skillset."
Mangan, meanwhile, had spent 17 years in the Defence Forces of Ireland, having joined from school at the age of 17 after completing a cadetship. He had reached the rank of commandant and served on numerous overseas missions, including leading teams in Kosovo, Liberia, Chad and Sierra Leone. As well as operational deployments, he had worked in the HR section in Defence headquarters, identifying people for overseas and senior appointments.
"I had pretty much achieved all the goals I had set for myself in the organisation and thought it was a good time to look to do something new," Mangan says. "I felt an MBA would be a good platform for me to transition out of an organisation where I had got a lot of management and leadership experience but needed to add knowledge of the commercial aspect of business."
Both opted for the full-time programme, starting in September 2012. "That year was one of discovery and of broadening our own horizons through subjects such as competitive strategy, financial reporting and organisational design," Kelly says. "It unveiled the cloak of mystery surrounding the workings of business in the wider sense."
For Kelly, building up confidence around his own abilities was a key benefit. "You end up with the sense that the questions and answers are probably held within you as opposed to externally wondering what is the right thing to do or not."
After completing the year, Kelly went to work for Siteserv (now Actavo), starting off as head of strategy, a role that gradually became more operational. In 2016, he moved into executive search as a director in IndEx Partners, where he was involved in helping clients engage interim executives.
Mangan, meanwhile, spent the next five years working for logistics and supply chain company Syncreon, managing its Apple account – and building up his first corporate career experience.
For both, the long-term goal was to get involved in some kind of entrepreneurial venture. "David and I stayed in contact and we would always have discussed this and were always on the lookout for opportunities," Mangan says.
In 2018, Kelly was approached by Amrop with a view to assembling and leading a new team at its Dublin office. The firm, which currently has 77 offices in 49 countries, had a 35-year history in Ireland.
It was the perfect opportunity as far as Kelly was concerned. "I believed in the business and felt very confident about what it represents," he says.
Last September, Kelly was appointed managing partner, while Mangan is a senior partner in the business. Earlier this year, UCD master's graduate Pauline Houlihan joined as a senior partner, while a team of administration and research staff is also in place. Over the next two years, the plan is to double the size of the business.
Kelly believes his and Mangan's backgrounds, leadership styles and motivations are well aligned with the ethos and aims of Amrop. "The MBA combined with working in industry provides a very well-rounded view of the inputs and outputs of running a business," he says. "It also gives you a good perspective for working with clients, partnering with them and recognising their challenges."
Having a sense of purpose is an important motivator for Mangan. "And I do think the work we do is important by helping companies and businesses grow and build," he says. "One of the key skills I learned in the military was around team building and I think I have a good grasp of what companies are looking for.
"Through context-drive search, we look at the company, its culture, strategy and growth plans and try to find candidates who can really plug into that organisation and help it reach its targets and growth objectives. I like to find the candidates who can really help bring companies to the next level."
The key focus over the next year or two is to build up the business and re-establish the brand. "Trying to build an authentic, quality-driven best-in-class organisation that is valued by the market for what we do differently from our competitors and succeeds on the basis of our track record and referrals from our clients is what motivates me at the moment," says Kelly.
"We want to get the brand front and centre with plenty of wins. And there's a very good opportunity to do that at the moment with the amount of business that's coming in through Brexit," Mangan says, adding that establishing the company in regional cities is also part of the growth plan. "There's some really good stuff happening outside of Dublin and we're trying to build out brand awareness in cities like Cork and Limerick as well."
Insight Track
What is your leadership style?
DK: Within organisations, people start with the intention of wanting to succeed and deliver the best work that they possibly can. However, if the social contract is mismanaged and trust between colleagues erodes over time, performance will also tend to decline. To counter this, it's about building a sense of autonomy, purpose and mastery from within that enables people to deliver.
MM: I like to build teams that complement my own weaknesses. For example, I'm not the best person in the world on details so I need to build teams around me that compensate for that. I think my leadership is very trust based. And I like to lead through the idea of 'intent' rather than giving people very detailed plans. So, I would give people broad brushstrokes and allow them work within their own parameters to achieve success.
What motivates you?
DK: Irish business leaders tend to be quite perceptive in evaluating the quality of the value proposition from professional services firms. We are motivated to ensure that our clients become our best advocates in continuing to grow the business in Ireland over the coming years. Amrop should be synonymous with the descriptor of confidential trusted advisor.
MM: The Amrop tagline is "Leaders for What's Next", and I'm very motivated to work with companies to figure out what's next for them and how they can configure their executive teams to achieve that.
What tips and advice would you give for success?
DK: Success can be measured in any number of ways. It's important for people to take a step back and identify what's most important to them in terms of work and home life. I would advocate that people play to their strengths – understand what you're good at and try to specialise where possible. Sometimes there's a delta between what we would like to be good at versus what is more in keeping with our nature.
MM: Success means different things for different people. I'd be reluctant to advise anyone on that basis other than to say, pick your path and follow it.
How has your degree benefited your career and/or personal life?
DK: Taking time out to complete an MBA was a fantastic experience. It removed the veil of mystery about a lot of things in the business world that also tend to interfere with our personal lives. Backing yourself to make your own decisions and taking full responsibility for your actions can be a powerful state of mind to be in.
MM: The MBA was a truly transformative undertaking from my perspective. It prepared me to move my career in a very different direction, but also confirmed that the leadership and management lessons learnt in the military were truly first-class.
What is your fondest memory from your time in UCD Smurfit School?
DK: Competitive strategy case study analysis with Prof Pat Gibbons was always a high-octane affair where you needed to know your facts. Nucor steel gets better with every telling from his perspective.
MM: I thoroughly enjoyed the marketing module with Prof Damian McLoughlin. The content was great, and the context was always about more than marketing. It helped me to join the dots across a lot of modules. The fact that it was usually entertaining helped too.
What are your main interests outside work?
DK: I'm interested in aviation and may even be spotted from time to time identifying the likes of a triple-7 flying overhead at 40,000ft on its way from London to the Bahamas. I'm also interested in more normal activities such as golf, current affairs and businesses that are leading engineering and technological advancement.
MM: I'm an avid current affairs follower, so the twists and turns of Brexit are fascinating to me at the moment. Outside of that I'm a keen swimmer and try and get in a few open water races each summer in west Clare.
Tell us something most people don't know about you
DK: I competed in cycling road racing from the age of 11 to 21 and won two all-Ireland gold medals for the team at underage level. Paul O'Connell maintains he trained more as an underage competitive swimmer and it wasn't dissimilar in cycling.
MM: Some years ago I represented the Irish Army at the internationally famous Bisley rifle shooting competition. This sees over 1,000 competitors from British and invited foreign forces compete over a number of days in the British Army's premier shooting competition. Our team took home a number of medals which was a great source of pride.
What piece of technology can you not live without?
DK: I have a Sony A6300 mirror-less camera – I value capturing photos of Joni (6) and Luke (nearly 2) that are richer than what a cellphone can offer, although the latter is handy in a pinch.
MM: Realistically, my phone.
Who's your favourite writer and/or what's your favourite book?
DK: My current favourite writer is Ron Chernow who has written definitive biographies of the titans of American revolutionary history. His book on George Washington is a page turner and allows you to travel through time to get a vivid sense of the world in the late 18th century.
MM: I'm a big fan of 20th century American literature. Everything from F Scott Fitzgerald to Jack Kerouac. My favourite from that time has to be Kerouac's On the Road.
What's the last gig/play/film/exhibition you went to that you loved?
DK: With two young children, the opportunity to enjoy gigs, plays or exhibitions is limited. However, we did visit the Borghese Gallery in Rome last year – it's a sensational collection of Bernini sculptures and Caravaggio paintings.
MM: Probably How to Train Your Dragon 3. I enjoyed it way more than I ought to have.
What team do you support?
DK: Anyone with Ireland in the name. The ladies hockey team did us proud last year.
MM: Munster Rugby. Being from Limerick, I grew up attending schools matches at Thomond Park, and there's something magical about the crowd there.
What is your favourite place in the world to visit and why?
DK: I lived in Canada for five years and my favourite place to visit was coming back to Ireland. Taking advantage of places like Ballinastoe woods for mountain biking in Wicklow, cycling around Sheep's Head in Cork or taking the boat out to the Skelligs on a sunny day is heaven.
MM: I was lucky enough to study in Spain for a year as part of the Erasmus programme during my undergraduate degree. For that reason, I always try to arrange an annual trip to Spain or the Spanish speaking world to keep my now-rusty Spanish up to date. I've been to most places at this point but particularly enjoyed Cuba about 15 years ago.
Name three things on your bucket list
DK: Attend the Masters at Augusta, Georgia; go to Wimbledon at some point; and fly Concorde (may be difficult now that they're decommissioned).
MM: Learn to hang-glide; see Munster take another European Cup title; and accompany David on that Concorde flight!
April 2019