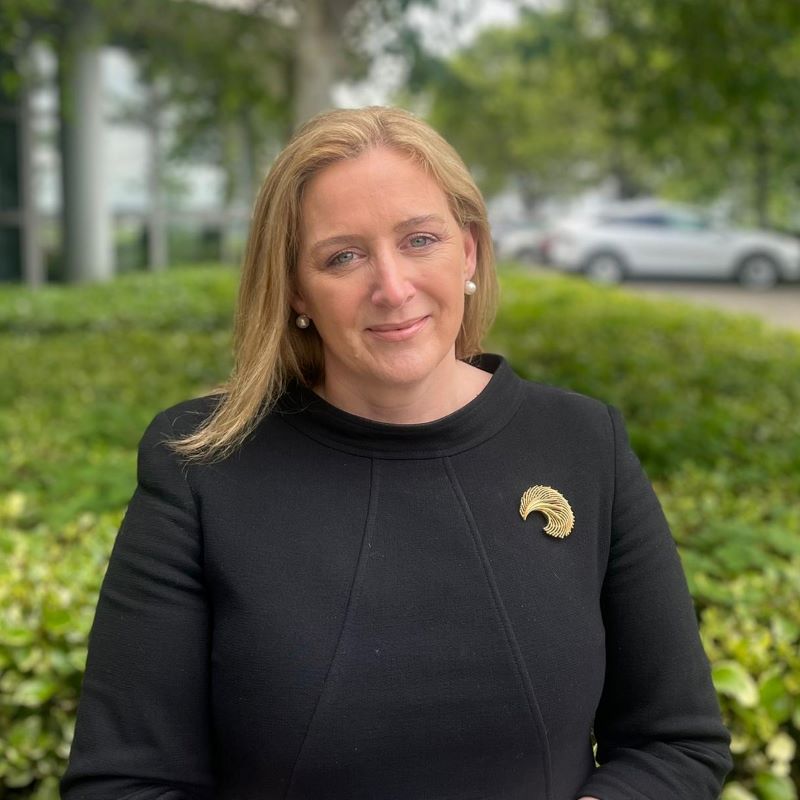 Neasa Kane-Fine
MSc in Digital Marketing '14
Having left school at a time of huge unemployment in the 1990s, Neasa Kane-Fine opted to put her studies on hold and start her career straight away. She learnt on the job before undertaking her MSc in Digital Marketing in 2014 and is now Director – Project Communications at RPS, where she combines her interest in construction and communications with a passion for work with positive impact.
About Neasa Kane-Fine
Tell us a bit about your background and early career
When I left school in 1992 I did a secretarial course and started work at Carr Communications a year later. I had always wanted to study but unemployment was over 15% at the time with graduates emigrating en masse, so I decided I'd work first and study later on at night, and my parents backed me up on that.
Carr Communications was like an informal apprenticeship. I got amazing formal and informal training from people like Terry Prone and Siobhan Molloy and many other leading communications professionals. I started as assistant to Terry Prone and progressed on to being a Junior PR Account Executive. After about three years there a client asked me to work for them as Communications Co-ordinator in Tallaght Hospital where they were building what was at the time the biggest construction project in the country.
A couple of years later, PR expert Mary Murphy, who I'd known from Carrs and had since set up her own agency, asked me to join her boutique PR agency. I worked with Mary for 10 years on some amazing projects that transformed the physical infrastructure of Ireland, including the M50 motorway, the regeneration of Ballymun and many water and waste management projects like Race Against Waste.
I come from a construction background so I've always been interested in business and in building projects. My mum was a teacher so sharing knowledge and communications was also really important growing up. Those elements combined when I went to Tallaght Hospital and cemented my career when I moved to work with Mary Murphy.
In 2008, the agency was acquired by RPS Group, an international consultancy firm. I joined RPS as a Director and have been leading the Project Communications Business Unit here since 2013.
Tell us a bit about your current role
In RPS we solve problems that matter. So my role is a combination of client advisory and strategic communications consulting, mainly for renewable energy, water and sustainable transport projects vital to futureproofing Ireland. It includes public consultation, stakeholder engagement and issues/crisis management.
I'm also managing the RPS project communications business unit which involves leading a team of professional staff, business planning, public tendering, business development, contract management and ensuring that I achieve monthly profit and revenue targets. People and relationships are key to everything we do in project communications. I love the mix of advisory and management; and I have amazing clients and work with a brilliant team.
Do you have a defining moment that helped shape your subsequent career?
When I had my twins in 2006 I had to make a huge decision to continue working full-time and that has defined my career since then. It was hard but it was manageable and I was on fire! I was working really hard during the day and focused on the kids in the evenings. I've an amazing husband who plays a very equal part in all of that, which made it possible to progress and develop my career alongside raising our children.
How would you describe your leadership style?
I try to be very much a collaborative, communicative leader with my team. I am also very reflective in terms of looking back on lessons learned and always seeking to drive for constant improvement.
I'm of the mindset that there are no mistakes, just learnings. If we can learn from any mistake that's really good. My team know that I will stand up and be counted and I will always have their back.
I try to plan ahead and anticipate issues/risks and prepare for them insofar as possible.
Also, I have learned over the years that business is business: it is vital to be able to stand back from our emotions and not take business issues personally.
What motivates you?
It is also really important to me that I work on projects that solve problems and improve people's lives.
I've been involved in shaping the narrative around environmental protection over the last 20 years, delivering campaigns on sustainability, water, waste and biodiversity for the government and the European Commission. It's really fulfilling to see that people now understand the impact of their activities and care more about the environment than they did 20 years ago – but we still have a lot to do.
How important is ongoing learning to you?
It's very important to me. I had always planned to go back and study but I wasn't sure when. I wanted to validate what I already had achieved in my career but also wanted to learn more. I would have loved to do an MBA but I had small twins and the fees were very high, so that was not logistically feasible at the time. The MSc in Digital Marketing was just starting and I wanted to learn about the theory behind social media and digital marketing as well as their role and context within traditional communications where I worked. That's why I chose that masters programme.
I loved the course. It was really interesting and I would happily spend my life up in the Smurfit Business School in Carysfort. It's such a lovely environment physically but the lectures were also really interesting. A key value of doing the course was also the other students many of whom worked in social media including Google and Facebook so there were great insights and engagement in the class.
Apart from formal study I always read and keep abreast of changing trends and thought leadership on management and communications. I try to put aside time each week for informal study including reading articles, listening to podcasts and I usually have a business book on the go too – along with a good courtroom drama or thriller.
I also think it's important to build a network and to contribute and give back to whatever profession one is in. I do some volunteer activity with the Public Relations Institute of Ireland (PRII) and with the wider communications profession. That is very fulfilling for me. I believe it is really important that, as we progress our careers, we are available as mentors and role models to support others starting out on their career journeys.
What is your biggest achievement?
I'm always achieving different goals in work but probably the two years when I juggled very small kids and part-time study with working in a very busy role was a big achievement.
What is your best piece of career advice?
Someone said to me years ago that you only regret what you don't do. There's never a perfect time to do anything but you have to grab opportunities when you have them. I embrace that kind of approach. You really don't regret what you do.
Also, never stop learning. That's advice I got from home. I always try to keep myself informed through formal and informal learning.
What are your career aspirations in the future?
I love working and volunteering and will probably be like many of my inspiring clients and colleagues who have never retired and are still providing expert advisory in their 70s. Now that my sons are older I am starting to think about my next career chapter, which will ideally be in a leadership role that benefits from my communications expertise and my knowledge of working in the infrastructure and environmental sectors.
Insight Track
How has your degree benefited your career?
Studying in my 30s validated that I knew more of the theory and context than I thought I did and that gave me greater confidence too.
What is your fondest memory from your time in UCD Smurfit School?
Not the group projects!
What are your main interests outside work?
Time with family and friends, volunteering, theatre, reading crime and courtroom dramas and a good Netflix binge like Bridgerton.
Tell us something most people don't know about you
Nothing - I'm an open book.
What piece of technology can you not live without?
There are days when I'd happily go off grid, but then I'd miss my Kindle.
What is your pet hate?
People who limit themselves and give up too easily.
Do you have a favourite book or writer?
Oscar Wilde.
And what is your favourite band or musician?
Any live bands, especially after the last two years.
What's the last play you went to that you loved?
Gabriel Byrne's Walking with Ghosts, in the Gaiety this year – laughed out loud and cried.
What is your favourite dish to cook?
Sunday roast with all the trimmings.
What team do you support?
I'm a Lilywhite (Kildare GAA).
What is your favourite place in the world to visit and why?
Paris for the miles of beautiful architecture and so much culture and style.
Where is home and why?
Wherever my husband and sons are.
Name three things on your bucket list
Istanbul on the Orient Express; drive on a racing track; and go to a rugby World Cup final.
What charities or causes are closest to your heart?
The Dublin Rape Crisis Centre; and tackling child poverty and neglect.
July 2022