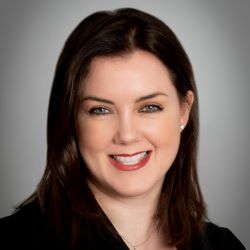 Patricia Kenny
DBS '97, MBS '98
Her passion for working with talented people, solving complex problems, ongoing learning and seizing opportunities has seen Patricia Kenny take up HR roles in Citigroup, Deutsche Bank, McCann FitzGerald and Paddy Power, working in Dublin, London, the US and Canada. Since 2017, she has been chief people officer and executive director at Aer Rianta International, which employs more than 4,000 people across the Americas, Europe, Middle East and Asia Pacific.
About Patricia Kenny
Tell us about your education and early career
Growing up I was influenced by my parents in my choice of studies. I initially considered teaching as a profession, like my father, and later business, like my mother's family. My primary degree was a joint honours BA in geography and human development. I later changed direction and completed the DBS and a year later the MBS, specialising in human resources.
In my final year of university, I applied for Citigroup's Global Human Resources Management Associate graduate programme. I commenced my HR career in 1998, 'doing a real job' with great responsibility, very early on in my career. I worked across various business divisions, including global operations and technology, consumer banking and capital markets. The training and development I received at Citi was first class. I was privileged to have the opportunity to develop my skills and train at the Centre for Creative Leadership and the University of Michigan. I found the pace of banking compelling and I was fascinated by the enormity and complexity of the company.
In 2003, I was headhunted to join Deutsche Bank's investment banking division, to work along-side the M&A bankers. The war for talent during this pre-financial crisis period was immense. Busy financial markets brought many exciting challenges and with promotions my experience grew quickly. During this time, I also trained as an executive coach with the Association for Coaching and the Institute of Leadership and Management.
In 2011, I was approached to join McCann FitzGerald and I decided to relocate back to Ireland to take up the position of director of human resources. I was instantly impressed by the quality of the legal talent and professionalism of the firm. In 2013, a former DBS classmate approached me and suggested that I join Paddy Power to help build out the global HR team and support the HR requirements of the double-digit growth online business. In 2017, I took up a role with the international duty-free and duty-paid travel retailer, Aer Rianta International (ARI), part of daa Group. This was somewhat coincidental, given that I completed my MBS dissertation on ARI in 1998.
What is your current role and what does it involve?
Aer Rianta International (ARI) designs, manages and owns duty-free and duty-paid retail outlets across the globe and has a managed turnover over of just over US$1bn. As chief people officer, the focus of my role is on growing our talent and culture to support the diverse HR needs of our business during the various states of business growth from start up to mature operations. I'm a member of the ARI executive team and sit on the ARI board of directors so my role is wide ranging.
What motivates you?
Achievement and accomplishment. I enjoy solving challenging business problems. I like getting things done and making progress.
How would you describe your leadership style?
I like to lead by example. Honesty, integrity and fairness are important values for me. I like people to do their best and to reach their full potential. I think the best leaders show a mixture of courage and compassion.
What do you feel has been your biggest achievement to date?
I've worked hard and have accomplished many things in my professional and personal life of which I am proud. One of my earliest achievements was to graduate top of my year with a first-class honours degree – it was a great boost to my confidence at an early age and encouraged me to continue with my university studies.
How important is ongoing learning to you?
I think it's critically important to invest in yourself, particularly given the pace of change. I have benefitted from many opportunities to continue to grow my professional skills. In addition to completing my BA, DBS and MBS, I am also a chartered member of the Institute of Personnel & Development; a member of the British Psychology Society and Association for Coaching and have had the opportunity to take up executive education programmes with the University of Michigan and Harvard Business School. I believe that you should try to develop or improve at least one skill each year.
What's the best piece of advice you have received?
Early in my career my father told me to "never look back and say I should have…"; I guess this philosophy has stood by me over the years.
What are your career or business aspirations going forward?
I have been fortunate to have worked with talented people, in different countries, different companies and industries. While these companies have many differences, they also have similarities – fast pace, commercial, customer focused and complexity. My focus is to continue to work with the best, most talented colleagues. Board work adds another important dimension to my work, as does my interest in promoting diversity and inclusion.
Insight Track
How has your degree benefitted your career and personal life?
My degree opened an entire career for me in HR and business. It also introduced me to many friends and a global network of colleagues and acquaintances.
What is your fondest memory from your time in UCD Smurfit?
I had many good times at Smurfit. I particularly recall chatting with friends at break time over tea and scones and having a good night out in the Wicked Wolf.
How important is your UCD alumni network to you?
Very. I have many good friends and a wide business network from my years at UCD.
What are your main interests outside work?
I enjoy spending time with my husband and two children. Going for walks in the park or along the sea with the dog. We also enjoy travelling – visiting new places and exploring old places together.
Tell us something most people don't know about you
I was lucky enough to fly on Concorde during my first business trip.
What pieces of technology can you not live without?
Sadly, it's my iPhone.
What are your pet hates?
People talking over presenters during award ceremonies.
Who's your favourite writer and/or what's your favourite book?
I enjoyed reading Tuesday with Morrie by Mitch Albom.
And what is your favourite band or musician?
I enjoy an eclectic mix of music; from Snow Patrol to Dermot Kennedy but equally I enjoy listening to whatever I hear on Spin1038.
What's the last film you went to that you loved?
I watched A Star is Born with Bradly Cooper and Lady Gaga and thoroughly enjoyed it.
What is your favourite dish to cook?
I'm not a big cook, but I can make a nice banoffee pie.
What team do you support?
Leinster and Ireland (and I would like to see Mayo win the All-Ireland final – my parents would be delighted!).
What is your favourite place in the world to visit and why?
We spend our summer holidays in the south of France, along the Canal du Midi – it's very relaxed, some beautiful scenery and great food. In the winter, it's the French Alps – skiing.
Where is home and why?
Home is Dublin. I grew up in Clontarf, lived in the UK, US and Canada for 10 years and now I live in Sutton. I love living by the sea.
Name three things on your bucket list
I would like to see the Northern Lights, go whale watching and holiday in the Maldives.
What charities or causes are closest to your heart?
There are many, including St Vincent de Paul, Irish Cancer Society and The Red Cross.


January 2020