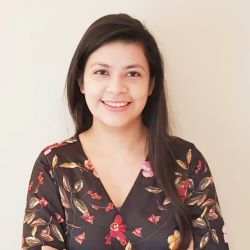 Pooja Dey
MBA '16
Wanting to add some international experience to an already solid CV and take time out for some further education brought Pooja Dey to Dublin and UCD in 2015. Just over five years later, she's firmly settled in Ireland with a husband, new house and recent promotion to global product marketing director at Sage.
About Pooja Dey
Tell us a bit about your education and early career
I was born and brought up in New Delhi. After graduating with a degree in mass communication and journalism from Delhi University I got my first job with CNN on its brand team.
I then moved on to the Times of India, the third largest English-language newspaper in the world. I worked on some very exciting mass communication type projects there, including Teach India and we secured some great partnerships to help fund the programme and build the brand.
I also spent a couple of years with the World Wide Fund for Nature (WWF), again in the corporate communications team, where I was responsible for driving brand specific fundraising initiatives. One of the biggest projects I was involved in was the Save the Tiger campaign.
I got to a stage where I felt I'd done some really cool stuff in India but my CV was missing overseas experience. I also wanted to take a pause and go back to education. So I started to explore MBAs abroad and prepare for my GMAT. I decided on UCD Smurfit School because it offers a one-year programme and the visa process is very friendly for international students. Also, it's one of the leading business schools globally and definitely number one in Ireland.
What was the MBA experience like for you?
I arrived in Dublin just over five years ago to begin what was nothing short of an unbelievably exciting journey. The year is packed with stuff to do, is incredibly busy and really pushes you out of your comfort zone. We were 48 students and 17 different nationalities but with similar goals and aspirations in life and there was really good camaraderie.
One of the most stimulating elements for me was meeting some really successful leaders through the alumni network, careers events and societies. I was co-chair of the Thought Leadership Club and even got the chance to interview Michael Smurfit and Joe Schmidt – the highlight of my MBA!
There were also many challenges and times when I questioned whether I'd made the right decision – if I'd get a job at the end of the year and adjust to this new lifestyle. It was a very interesting journey of self-discovery and I think if I hadn't done it I would have regretted it. And I think I've come out as a better person – the MBA helps you to reach your career aspirations but also helps define you and firm you up as a person.
During my MBA I interned with Zurich Insurance – I'd met them through the Thought Leadership Club. So I was able to think about and apply the frameworks I was learning in a business context. Getting that real-time, live exposure to all the theories we were learning was so good for me and was a great help in building my CV.
How has your career progressed since completing your MBA?
Towards the end of the programme, I was actively networking, which I think is a very important part of life today. I met some of the kindest people, who opened doors, introduced me to more people, did interviews with me and gave me training and insights.
Things started happening on the back of that. I got a job with 3M as product marketing manager in its energy and electronics division. That role was a very good building block and gave me the opportunity to apply learnings from the MBA.
During that time I met my husband – we married two years ago and now we have a house so I guess I'm going to be here for a bit longer.
After a couple of years with 3M I knew if I wanted to meet my career aspirations I would have to move from hardware to the software space. I had the frameworks and transferable skills – my approach is always to challenge and question before making strategic decisions and that's relevant wherever you are.
I moved to Sage nearly three years ago as product marketing manager for a product the company had just launched. After six months, I was settled in, getting very good exposure, building relationships and loving it. I was on my honeymoon in Bali when I got the news that the product had been discontinued.
I wasn't sure if I'd have a job when I got back but I was moved to work on another product Sage had acquired from Silicon Valley that it was launching into the UK. I was responsible for the entire go-to-market strategy and giving this US product a local flavour. The entire year and a half I worked on that was a massive learning curve and very interesting and rewarding.
Most recently I was promoted internally to global product marketing director at Sage. The new role started on 4 January so it's still all very new. I'm really excited about it all – new year, new role and a new challenge.
How would you describe your leadership style?
I look up to a few people in Sage who are really good at leading their teams and have tried to adopt some of their traits into my approach.
To me, there are three elements to leadership. Number one is being logical – it's important to be very clear about what we want to do and why and to communicate that to the team.
Second is being authentic. It's really important to have diversity in discussions and to be able to share your views – I encourage my team to do that and my managers and leaders have always encouraged me to do this. That really adds value to the quality of the work you do.
The last element is having empathy. You have to have the flexibility to trust people and allow them to do things in their preferred way. Particularly when people are working from home, they will do things at a pace that suits them and you have to respect that.
What motivates you?
I'm definitely motivated by reward. And that reward can be many things – it could be solving a problem for a customer, helping to drive business, a promotion at the end of the project or other incentives. I need to know what we're going to get at the end of the piece of work we're doing. Without that clarity I don't know what the purpose is of me doing what I'm doing.
The journey itself and what that looks like also motivates me. You have to have fun and enjoy yourself along the way.
It's really a mix of both but it starts with reward for me and then I am interested to know what the journey looks like, who is involved and if it's going to be a healthy collaboration.
Who or what has influenced or inspired you?
Two people in particular in the last couple of years have played a critical part in helping me and when I'm in doubt about something I always go to them.
I was fortunate enough to meet Nick, a senior executive at Sage, who is so approachable and full of empathy. He gives me the best advice. He never makes decisions for me but shows me the alternatives and allows me to think through which one is best.
He's also great at introducing people to each other. That gets the creative juices flowing – we know because we're meeting through him that we're probably similar or want the same things. He's so good at creating networks and they're so valuable, especially during the lockdown.
He is a very good champion for people he truly believes in. And that's what I do for my team and for people who are my mentees. I've learned so much from him that I want to give back in the form of mentorship to others.
The other person is my sister in law, Áine. She's really successful and also so positive. I've seen her in tough situations but always with an amazing smile. I've never heard her say bad things about people.
She's already experienced many of the things I'm going through in my career so I go to her for advice a lot. She gives me the management perspective on things.
We work in different organisations in the same building. I obviously know her personally but I get to see her indirectly in a professional capacity. I can see that her team loves her and I just love the aura she carries.
Another person who has had a big influence is my mum. When I was little and going to dance classes quite far away she learnt to drive so she could take me there. I love that –the idea of pushing yourself out of your comfort zone to give the best to the people who matter.
What has been your biggest achievement so far?
That would definitely be the MBA. I took it as a challenge and there was quite a lot of preparation with the GMAT and the interview process and then risk too – the fees and leaving the country, my friends and family and everything that was going alright for me.
If I hadn't taken that chance I wouldn't have become a much happier person. I've seen a transition in myself and I've found my husband so both professionally and personally I've achieved a lot more in life because of the risk I took.
What is your advice for success?
Don't be hard on yourself, especially now. At the moment, many of us are stuck in our homes and the only interaction we have is with our immediate family and work colleagues. The line between work and personal life is blurring. Enjoy your work but be kind to yourself and to each other at home as well.
If you're doing your MBA this year, try to make the most of doing any fun things that are happening like virtual catch-ups. It's not ideal but try to make the most of it.
In general, I'd also say think before you commit yourself to doing anything. Then it will be a lot easier once you're in it.
Insight Track
What is your fondest memory from your time in UCD Smurfit?
Visiting Mandela House, Soweto in South Africa. It was a very humbling experience.
How important is your UCD alumni network to you?
This is my first extended family in Ireland. Amazing support system – you know they are for you when you need them.
What are your main interests outside work?
Reading and listening to podcasts, and I dabbled in gardening last summer like many.
What piece of technology can you not live without?
My mobile phone. Especially WhatsApp – great way to keep in touch with family afar.
What's your favourite book?
There are so many amazing books. I'm currently reading The Architect's Apprentice by Elif Shafak. I am meandering through beautiful Ottoman monuments and lives.
What is your favourite place in the world to visit and why?
Take me to any wildlife reserve parks and sanctuaries. There is so much I learn from nature. It gives amazing perspective. Also an opportunity to unlearn and let go of lifestyle burdens we carry.
Where is home and why?
Home is definitely Dublin. I wish I could have my parents and best friends with me here all the time too.
What charities or causes are closest to your heart?
I volunteer with Seal Rescue Ireland five days a year through Sage Foundation. I love wildlife and seal pups are the cutest!
January 2021