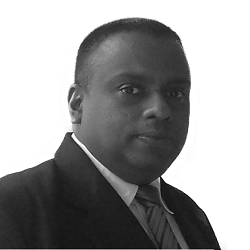 Pradeep Siriwardane
Pradeep Siriwardane – MSc '14
After over 20 years spent developing his IT, marketing and management skills in the public and private sectors in Sri Lanka, Pradeep Siriwardane recently started his entrepreneurial journey, setting up multi-merchant discount card provider, Runiti.com. He's also working on an mHealth app that he plans to launch in the global market.
About Pradeep Siriwardane
Tell us a bit about your educational background and early career
I was born in Galle – the most beautiful southern city in Sri Lanka – and raised in the capital, Colombo. In my childhood, I went to several primary and secondary schools and was actively involved in each one.
Just after finishing my senior school, I opted to go to the National Institute of Business Management (NIBM) to follow a diploma in computer science, which I passed with a 70pc average. In 2002, I completed my first IT degree in Trinity International University, USA. Subsequently, the British Computer Society awarded me with the Chartered IT Professional standard.
My first job was at the NIBM as a system analyst and I was subsequently given additional responsibilities as head of the computer hardware lab. After a year or so there, I enlisted with Sri Lanka Army where I was an IT officer and commissioned as a lieutenant. I served in a different area of the country in my IT role and was also promoted to head of research and development. I was mainly involved in implementing the ICT strategic road map for the military service. Process automation and decision making tools were my pet areas during this time.
In 2004, after seven years in the army, I joined MiTel as marketing manager with responsibility for driving the sales team across the south Asian region to achieve our corporate vision. For me, it was an opportunity to work with internationally diverse teams and to interact with different commercial organisations and cultures within Asia. I was promoted to head of marketing and operations in 2010 and ended up spending nearly 12 years with MiTel.
During my time there, I decided to move to the next step on the academic ladder by doing a master's in management and IT. I chose UCD based on three main criteria: the business school ranking; the fact that the programme is conducted in Sri Lanka but is delivered 100% by UCD staff; and also the course content. This was a turning point in my career: the programme encouraged me to move my focus to a more realistic and entrepreneurial orientation and gave me a broader view of strategic management. My thesis was on SMS marketing.
In 2016, I re-entered the government domain when I was appointed general manager/CEO of the Sri Lanka Convention Bureau, the government agency for promoting business tourism. There, I had overall responsibility for the entire operation, as well as the marketing strategy and how it mapped with the national tourism strategy. During 2017, the number of MICE (meetings, incentives, conferences and events) travellers to Sri Lanka increased by 3.70 and we incorporated digital marketing strategies into the overall plan. We also implemented new practices for improving employee satisfaction and service levels, and reducing operational costs.
What is your current role and what does it involve?
I left Sri Lanka Convention Bureau at the beginning of 2018 to start my entrepreneurial journey. My market research found that small and medium-scale shops are failing to leverage the benefits of IT due to financial and technology gaps. In response to this I developed Runiti.com – Sri Lanka's first mobile-based multi-merchant discount card. As a start-up, the entire tech team of 20 people is working incredibly hard to making Runiti a success. We are also crafting the model for an mHealth app.
How would you describe your leadership style?
In one word, it's situational. I am very task oriented and focused on employee satisfaction, which is particularly important when you're working with younger people. I think I am a timely decision taker.
What motivates you?
I am motivated by applying solutions I've come up with previously to today's issues. Also, in terms of numbers I love seeing patterns of incremental growth, particularly in sales and finance.
Who or what has influenced or inspired you?
In my personal life, my wife and daughter have inspired me a lot. Professionally, the Runiti team is inspiring and I think seeing growth in the company's sales and market will continue to do that.
What has been your biggest achievement to date?
As general manager/CEO at Sri Lanka Convention Bureau, I was the youngest corporate leader of the agency and drove a term to achieve very successful results despite various restrictions. In addition, I was recognised as the 'Outstanding UCD Sri Lankan Alumnus of the Year 2018' by University College, Dublin.
What are your tips and advice for success?
My advice is to love and be focused on that you do. Learn from the past and do not repeat the same failures again. In the corporate world, try to fill service or product gaps with tech-enabled solutions. Ensure there is unique value creation in your products and services in order to sail on Blue Ocean instead of the Red Ocean. Do not imitate – be original. Always appreciate your employees and what drives them to achieve their life targets. As a result, they will work towards your corporate targets and maintain the highest level of job satisfaction too.
Any plans for the future that you want to talk about?
I have two future plans in my mind that I hope to bring to success within the next five years. Firstly, non-communicable diseases (NCDs) have become a critical community issue due to current lifestyles, particularly poor physical activity, eating junk food and being under stress. This is a health and economic issue. Therefore, we are developing a mobile application to identify any disorder of metabolic functions and guide them for self-control. The app consists of artificial intelligence (AI), virtual reality (VR) and augmented reality (AR).
The second plan is to add value to my mHealth application to reduce GPs' workloads by implementing image classifications to read medical reports and recommend initial level medicines.
Insight Track
How has your degree benefited your career and/or personal life?
The post-graduate programme allowed me to gain a deep knowledge of systematic research, critical thinking and problem solving.
What is your fondest memory from your time in UCD Smurfit/Quinn School?
I was a student committee member. It was a bridge between students and the lecturer panel.
How important is your UCD alumni network to you?
It's important to me in two ways: first is the opportunity to have reunions and get-togethers with my batch mates: secondly is networking with the UCD family globally.
What are your main interests outside work?
Reading and morning walking. Reading helps me to update knowledge and walking makes for a healthy, fresh and stress-free start to the day.
What piece of technology can you not live without?
My mobile. It has live connection with emails, networking groups and also business schedules.
What is your pet hate?
People with zero ICT literacy who try to establish themselves as the experts and spread false information.
Who's your favourite writer and what's your favourite book?
3001: The Final Odyssey by Sir Arthur C. Clarke.
And what is your favourite band or musician?
The late Mr WD Amaradewa and the late Mr Gunadasa Kapuge – legends in Sri Lankan classic music.
What's the last exhibition you went to that you loved?
Well, very recently I went to an international book exhibition in Sri Lanka and had a very enjoyable time with family members.
What is your favourite dish to cook?
Black pepper pork with roasted local bread.
What team do you support?
The Sri Lanka national cricket team.
What is your favourite place in the world to visit and why?
I like to visit anywhere in the world where I can be disconnected with a connected world in order to relax and get in tune to nature.
Where is home and why?
Colombo, the best city and not like others.
What tips would you give to travellers to Sri Lanka?
Sri Lanka has a diverse climate and landscape together with a natural smile and heartfelt hospitality with Ceylon Tea. The country is known for adventure activities, including Ella for climbing and scuba diving and deep sea diving in Galle and Arugam Bay. There are also great heritage areas around the country to experience and enjoy and some of the best scenic and sandy beaches in Asia.
Name three things on your bucket list
Stay a few days in the Sinharaja jungle (largest rainforest in Sri Lanka) to connect with nature, travel around the world and try outdoor ice skating.
What charities or causes are closest to your heart?
Empowering technology for older people to improve and make life easier; education support (finance) for low income population; and to make the world greener, through plant growing and animal conservation projects.
May 2019