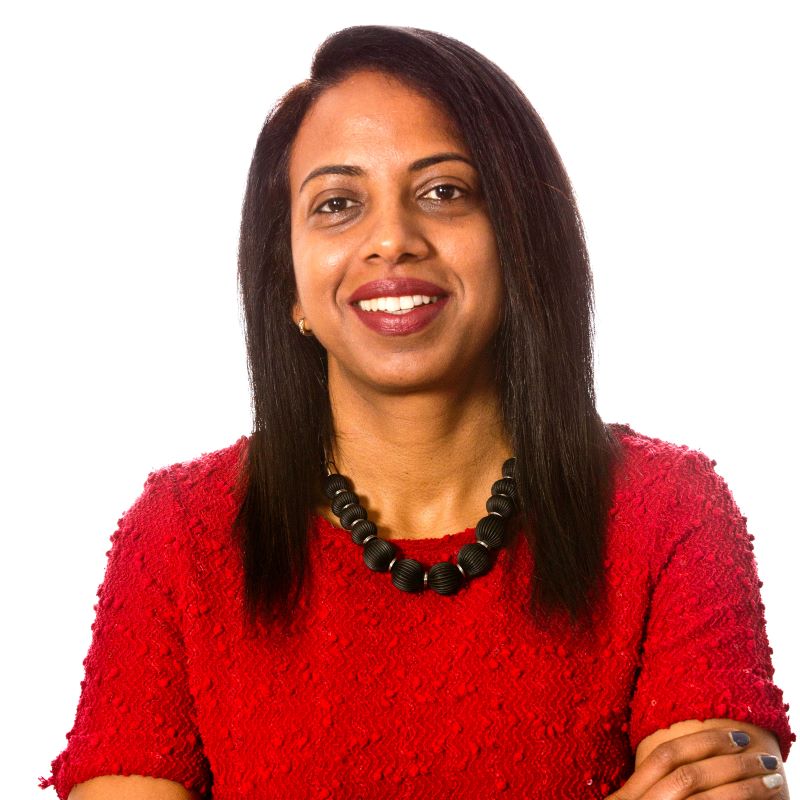 Punam Rane
MSc in Technology Management '10
Born in Goa in India, Punam Rane moved to Ireland in the late 1990s after being headhunted by an IT company. Apart from a two-year stint in Bangalore, she's been here ever since. She credits her master's from UCD Smurfit School with her most recent achievements – starting her own company and being elected to Fingal County Council.
About Punam Rane
Tell us about your education and career to date
I'm from Goa on the west coast of India and went to a convent school there. My college years I spent in Mumbai and that's where my parents live now. I graduated in physics and maths from the University of Mumbai and did my master's in computer science.
I spent two years starting my career before ending up in Ireland in the late 1990s when I was headhunted by an Irish company as an IT consultant.
I started a master's in innovation and technology management at UCD Smurfit School in 2007. At the time I was working for an investment bank, Northern Trust. Myself and one of my colleagues received company sponsorship to undertake a two-year Masters. The programme was hard, but it was definitely a game changer for my career path, both corporate and political. After that I was put on a leadership programme with mentorship from the CIO in the US. It was a great elevation in my career path.
Then, in 2011, I moved to India for two years to start two new departments for the organisation there. Maybe I missed the weather, and the teabags, but I felt homesick for Ireland, so I came back in 2013 when Fidelity Investments offered me a better leadership role. They were setting up a new global department and I had four teams across the world.
I was at Fidelity for two and a half years and then decided I needed to do something different. I had set up R&D centres for both Northern Trust and Fidelity and it was something I did very successfully. That was a trigger for me to do something for myself or something that was a game changer so I left Fidelity and started my own company - Appistoki Ireland – which is still running today.
We offer consultancy for retail banks and have clients all over the world. We also take on clients who are looking to develop new products. We have offices in Singapore and in Ireland and our centre of excellence is in Bangalore.
Tell us about your foray into politics
It was as if I wasn't busy enough!
I don't come from a political background, but politics has always impacted me, and I have always been connected with Irish politics. I was very aware, but I never got involved.
I'm from Dublin West and there was a change in our constituency when Leo Varadkar became party leader and then Taoiseach. It made a big difference to the community, and you could see the whole transformation that happened. Trying to understand what the new Taoiseach was going to do differently to what other leaders had done made me aware of that party.
Because of my work, I'm particularly interested in education and skills shortages in certain key areas and was already going into primary schools to try to help bring in a greater focus on STEM education.
I'm a member of HBAN (High Business Angel Network) and through that I have invested and mentored fintech start-ups.
I began attending Fine Gael meetings to get an insight into what was happening and that led to me being identified as a candidate to run in the May 2019 local elections. I thought this might be an option for me to give back to the community in some shape or form. I live in Castleknock but was nominated to run in Blanchardstown-Mulhuddart ward, which has a completely different demographic. It took a lot of effort to make people really believe I had something to offer – I was a new face and I'd never been involved in politics before. I had four months to campaign and prove I was the right candidate. It was challenging but the hard work I put in and the knowledge and experience from my master's really helped me. In fact, I'd give the entire credit for my recent journey to the two years I spent at UCD.
What is your leadership style?
It used to be quite aggressive and competitive, but I think my mentorship by many people has helped make it a bit more balanced. I always like to be at the forefront and to take ownership for work rather than waiting for someone else to do it. Along the way I've learnt empathy. I'm able to handle things a bit more democratically now and I think I've become a good listener as well by giving others the opportunity to express first before putting my point of view across.
What motivates you?
I love challenges every day! I thrive on them. I'm happy that I was elected from the ward I represent. It's a new ward and new demographics of people and there are so many challenges.
Has anything inspired or influenced you?
I come from a very well-educated family. In my family every person has been a high achiever. My parents and grandparents have been key influencers. My father was at a leadership level at one of the biggest banks in India. My grandfather was an assistant commissioner in the Revenue department in southwest of India. Sometimes it feels like pressure that you must do well but it's also a strength. I would like to give the credit of my success to my husband as well. He has been a support system throughout my career journey. We are business partners too!
I'm grateful and thankful to some of my mentors and to some of my best friends and owe a lot of my success to them. My political journey wouldn't have been possible without them.
What is your biggest achievement?
I think it's winning the election. It was a difficult journey and I had very little time but all the boxes on my checklist had been ticked. I must have knocked about 3,000 to 4,000 doors. There wasn't a single day that didn't go out knocking on more doors. And the number of leaflets I dropped, articles I wrote and posters we put up; everything was just mind boggling sometimes. Politics and the corporate world are quite different, but I used everything I learned in my corporate journey when running for election.
I got lots of support from the constituency and party HQ office. The party is a believer that more women should be in politics and have supported me in every way that they could.
What are your tips or advice for success?
Make sure you pick good mentors. This is very important and the key to your success (be it corporate or political). Each one will have a different mentorship style, and this will help you carve your own leadership and management style.
There's no replacement for hard work. You need to be surrounded by some of the best. You need to identify who your supporters will be. You need your team to help and support you in your journey. They'll be the ones feeding in and spreading the right information about you. The news needs to be spread because that's how you create momentum about your leadership or why you need to be chosen over others.
Following your own passion is vital. Everything I do, whatever it is, there's passion, dedication and hard work involved. You need to choose where you want to go, not have it chosen for you. There are always surprises, but if you're ready for it you take it all in and move ahead. I could have said no for fear of failure, but I decided I had nothing to lose.
What are your future plans?
To ensure I get elected again in 2024!
Insight Track
How has your degree benefited your career?
The master's degree at UCD opened up more career opportunities and was also instrumental in my transition from a corporate career to a political one.
How important is your UCD alumni network to you?
Very. It helps keep me connected with the college and its initiatives, and with my professors and college mates too.
What are your main interests outside work?
I'm passionate about mentoring technology start-ups and entrepreneurs.
What pieces of technology can you not live without?
I love Apple technology and have owned an iPhone from the day it was launched in December 2007 and have always had the most recent version of it and the iPad.
Favourite writer or book?
I have two favourites: The 7 Habits of Highly Effective People by Stephen Covey and An Era of Darkness: The British Empire in India by Shashi Tharoor. T
Do you have a favourite band or musician?
Growing up I was a big fan of the band Michael Learns to Rock (also known as MLTR), a Danish soft rock and pop rock band. But I think my taste has changed over the years and now I like listening to Ed Sheeran or Taylor Swift.
What's the last film you went to that you loved?
I like all the Bond movies and I am a big fan of them. I have watched all of them to date and looking forward to the release of the new one this year.
What teams do you support?
When it comes to football it's Chelsea of course! And I love watching all the Premier League football. But I do watch a lot of cricket and love going to see matches.
What is your favourite place in the world to visit and why?
Japan. It's the next place to visit on my travel list. I think I love everything about this country – its natural scenery, interesting ancient structures and landmarks, delicious cuisine, warm and friendly people, and rich culture and history.
Where is home and why?
Ireland is now home and while travelling abroad I miss everything about it: the people, Tayto crisps, Phoenix Park, the social life, the work-life balance, the Liffey and even the weather. I find myself carrying tea bags.
Name three things on your bucket list
Bungee jumping in South Africa
Running the Boston Marathon
Taking over as the CEO of a technology company (some day !)
What charities or causes are closest to your heart?
Every year I participate in the Calcutta Run, a legal fund raiser that supports The Hope Foundation and Peter McVerry Trust.
September 2021