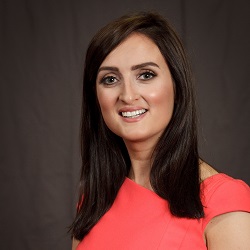 Sharon Cunningham
MBA '15
Having co-founded Shorla Pharma – a company focused on developing innovative drugs for women's and paediatric cancers – at the beginning of 2018, chartered accountant Sharon Cunningham was named Ireland's Best Young Entrepreneur for 2019 and was included on a list of 50 people to watch out for in 2020 by The Irish Times. Shorla Pharma is on course to launch its first products in the US next year.
About Sharon Cunningham
Tell us about your educational background and career to date
After graduating from UCC in 2006 with a BSc in finance, I trained to become a chartered accountant with PwC. Both my parents had their own businesses and as a young child I went with my mother to her accountant and would always be fascinated by the questions he asked around working capital, margins, and so on. After we'd leave, she would talk about what he'd said and how she could put some of his points into action, which I found so interesting.
While I was doing my degree I explored all the options but am very pleased to have gone down the accountancy route because it gave me a really solid grounding in business. I'm also proud to be a member of Chartered Accountants Ireland.
At the end of 2010, I was very happy in PwC and wasn't planning to move but a colleague mentioned a management accountant role in EirGen Pharma and suggested I went along for the interview experience. During that interview, the company's two co-founders inspired me with their story, their enthusiasm and motivation and I really wanted to be a part of that.
I spent the next seven years at EirGen and was fortunate to grow with the company and gain a huge amount of valuable experience. I progressed from management accountant to financial controller within a year and then to head of finance three years later. One of the non-executive directors was also a chartered accountant and was a great mentor. We went through various transactions and I got all the experience of the due diligence processes that came with them. We raised a €19m investment in 2012, the year after I joined, and sold in 2015 for US$135m.
At that point I had just completed my MBA at Smurfit. I'd done that with intent and while I wasn't entirely sure what that was initially it became clear as I was completing the programme. Orlaith Ryan, an EirGen colleague with a very different – but complementary – skillset, and I started talking and decided to set up our own company. Orlaith's on the science side and I'm more business: we're very likeminded and share the same vision but we have virtually no crossover in terms of our skills.
We set Shorla up in Clonmel, Co Tipperary in 2018 as a speciality pharmaceutical company, developing oncology drugs for unmet needs with a focus on women's and children's cancers, which we both feel very passionate about. Before leaving our jobs and setting up we spent two years planning everything and by the time we started we were ready to hit the ground running.
Orlaith and I invested our savings and we also took in investment in the first year and that was key. We have strategic investors who opened doors and made introductions and for them to believe in us and trust us with their money inspired confidence. We're now just over two years in and very pleased with the milestones we've met and the progress we've made.
Was there any defining moment that helped shape your subsequent career?
It was definitely taking a calculated risk to leave PwC in the depths of a recession in late 2010 to join EirGen Pharma, a relatively early stage pharmaceutical company. I was fortunate to get the opportunity to experience that company grow from a start-up with a handful of people to a multinational employing over 200 people in the south east of Ireland. It was a fascinating journey and the people I met there inspired myself and Orlaith to set up our own company.
What is your current role and what does it involve?
As co-founder of Shorla Pharma my role is extremely varied. If I'm in the office I can be working on anything from business development to financial modelling. I'm in Dublin at least one day a week for conferences/meetings and I travel frequently, particularly to the US to engage and interact with key opinion leaders, clinicians and the US health authority given that the US is a major market for Shorla Pharma.
What motivates you?
I'm motivated by the prospect of creating positive change and having a wider impact and I've always had an appetite for risk.
Shorla Pharma is a female-led healthcare company and Orlaith and I are both mothers of young boys. We are a driven and compassionate company with the patients' needs at the heart of our innovation, guided by our vision of delivering more effective, less toxic products. It is incredibly rewarding to have used the skills we have acquired and the opportunities we have been given to create superior products that will make a meaningful difference and bring affordable and accessible products to those in need.
How would you describe your leadership style?
I believe that leadership is not about a position or a title in an organisation, it is about action and example. I like to think I lead by example and show my colleagues respect at all times – that's how I communicate the vision and motivate people towards achieving a common goal. I'm clear about my standards and expectations – and they're unapologetically high!
What do you feel has been your biggest achievement to date?
Completing my MBA while giving birth to my little boys and working in a busy senior leadership role was a challenging but massively rewarding experience. It was one of the most intense and inspiring periods of my life and pushed me to my limits.
I started the MBA when my first son was nine months old, gave birth to one in between and was pregnant with my third when I graduated. I travelled from Waterford to Dublin twice a week for lectures and I was breastfeeding so my sister would kindly come along to take care of my baby while I was in class.
It was really tough but I'm so glad I did it. And the timing was right. I think if you really want to do something you should be able to overcome the obstacles.
More recently, being named the overall winner of Ireland's Best Young Entrepreneur 2019 was a career highlight. There were over 1,600 entrants and it was an intense process and fantastic to win. Having said that, I want to be further along with Shorla before I feel we can really celebrate.
Last year I led a global team to win the final pitch competition on the highly competitive MIT-Harvard Medical School Healthcare innovation bootcamp in Boston, USA. That was a unique and enriching learning experience among 70 like-minded people from 30 countries around the world and was definitely another career highlight.
How important is ongoing learning to you?
For me, continuous learning is essential to developing future opportunities and ensuring I reach my full potential. Regardless of what age you are or what stage of your career, I think you can always learn more.
What's the best piece of advice you have received?
A mentor once said to me that you're only as good as your last piece of work. I try to always keep that in mind and find it encourages me to continuously improve and to spend a bit of time getting things right. Remembering that sentence has definitely stood to me.
What are your career or business aspirations going forward?
I hope Shorla Pharma continues to grow and meet its milestones and that we realise our vision. I hope to continue to work with like-minded people who share the same drive and passion and that I continue to be challenged and feel purposeful and fulfilled in my career.
In the short-term, our first drug for breast and ovarian cancer will launch next year in the US market and we plan to expand worldwide after that.
Insight Track
What is your fondest memory from your time in UCD?
The beautiful Smurfit campus with its fantastic facilities and the friendships that I made there.
What are your main interests outside work?
Running, acting with my local drama group and travelling with my family.
What pieces of technology can you not live without?
My iPhone and hand-held Dyson.
What is your favourite band or musician?
At the moment I love Gavin James and The Script.
What's the last performance or exhibition you went to that you loved?
My three children starred in a local production of Annie at Christmas and it was fabulous.
What is your favourite dish to cook?
Italian dishes, for example, lasagne.
What team do you support?
Any team that my husband or sons play on (I'm not the most sporty!).
What is your favourite place in the world to visit and why?
I did a secondment to New York City in 2010 when I worked with PwC and I loved it. The city offers the most amazing plethora of art, entertainment and food and it fills me with excitement each time I visit.
Where is home?
A coastal village in Co Waterford called Stradbally, where I grew up and still live.
Name three things on your bucket list
Take flying lessons, live in another country with my family for a period of time and visit a list of places I haven't already been to, including Japan and Iceland.
What charities or causes are closest to your heart?
I sit on the board of Irish Rule of Law International, a not-for-profit initiative and I'm fascinated by the work that members of the Irish legal profession do in shaping the progress of fragile societies.

April 2020