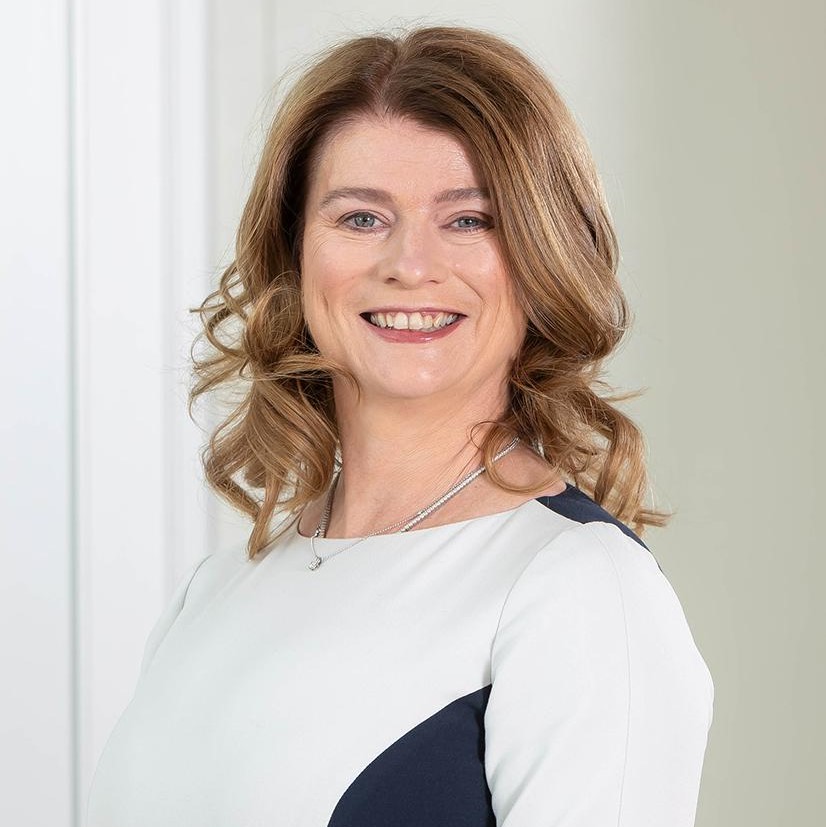 Sharon Daly
BComm '87
Head of Matheson's London office since 2019 and involved in some of the biggest commercial litigation cases in Ireland in recent years, Sharon Daly is driven by her love of law, innovation and winning, and helped along by masses of energy.
About Sharon Daly
Tell us a bit about your education and career progression
I grew up in south county Dublin and went to school in Holy Child Killiney, which I loved. Having been in an all-girls school I decided to study business and was delighted to get my place in UCD studying commerce, which I enjoyed but I knew I didn't want to be an accountant. My father was a senior counsel and I'd really enjoyed company and contract law during my BComm. So, I thought I'd give the law a go, and here I am!
I got my training in Matheson Ormsby Prentice – as it was then – and have stayed put since. I qualified into the litigation department and then focused on being a commercial litigator because Matheson's clients were mostly corporate rather than individuals.
I was made a partner in 2000, and subsequently launched the insurance practice with one of my corporate partners in 2002. I was appointed co-head of commercial litigation in 2007.
Over the last 10 years my team has been involved in some of the most significant commercial litigation cases before the Irish courts. These have included defending a major financial institution in a series of multi-billion-dollar, multi-jurisdictional disputes arising from the Bernie Madoff Ponzi scheme. We also acted for insurers in the largest property damage dispute to come before the Irish courts in relation to the liability of hydro-electrical dams for flood damage to property owners downstream of the dams. We were instrumental in making new law by establishing the duty of care in this litigation, and it is now one of the cases currently being taught to students in UCD.
Apart from the name change, Matheson is now a very different firm to the one I joined back in 1989. At that time, it was already one of the top five Irish law firms, but had a total staff of around 120 people. Now we employ more than 720 people across six offices and are Ireland's largest law firm. Like the rest of corporate Ireland, it was also very male-dominated – we had no female partners then for example. Now, D&I (diversity and inclusion) is central to the firm's culture and values. Fifty percent of our new partner appointments over the past three years have been female. We were the first organisation in Ireland to be awarded the Gold Standard Award from the Irish Centre for Diversity and Inclusion. We're a diverse, innovative, entrepreneurial firm.
What is your current role?
I was appointed head of Matheson's London office in 2019. There is a lot of demand for Irish legal services from UK-based financial institutions and corporates, and in advance of Brexit, Matheson decided to make a significant additional investment in our London office in order to meet our clients' needs. We have a multi-disciplinary team of associates based in London, while partners divide their time between Dublin and London. It's worked very well and clients are really happy that Matheson has actually increased its UK presence. Most of my client base was in the UK, so it made sense for me to relocate and I'm now based full-time in London.
I am a big fan of legal technology and have always done a lot of remote working, so lockdown hasn't had as much of an impact on my job as it has for some. In addition, I'm lucky that many of the commercial cases I'm involved with are continuing on a remote basis, so it has been business as usual, despite the lockdown.
One of the big challenges for the Irish legal industry is continued investment by the Irish Courts Service in technology. This is an area in which Matheson is leading. For example, I'm starting a major case in April that will run for the rest of the year, with all evidence being given remotely on a trial management platform. We used the same platform two years ago and were the first to run a completely paperless trial. So, we know what we're doing. It appears however that outside of the commercial sector the pandemic has had a huge impact, and Ireland really needs to continue to invest in legal technology going forward.
What motivates you?
I love the law and I love to win. It gives you such an opportunity to be innovative and to find solutions for your clients. It's incredible what we've done in the last decade in terms of making law. We've had the right clients because they have to be brave to let you explore the legal interpretation when there is no precedent. I really like what I do, and I'm incredibly lucky to have worked in Matheson where we have such a great client base.
On the management side, law firms are huge businesses. It's been amazing to see how, as a business, Matheson has grown and developed. In order to grow and sustain the business you have to understand how to sell yourself and the rest of the firm, and to bring people along. So, there's an awful lot that keeps me interested. Also, now we teach our lawyers the business of law and not just the law.
How would you describe your leadership style?
I'm very hands on. If you're going to be a trusted advisor to the client you need to know what's going on and to lead from the top. That being said you have to be able to delegate and to empower those on the team to take responsibility for what they're doing, because you can't do everything, and you have to mentor the younger members of your team. That is the model upon which law firms operate.
I have quite a dominant personality. I have high expectations of people who probably know I don't like missing deadlines or being unprepared for meetings. But, I'm very much in the trenches with the team, and we have a lot of laughs every day.
Who has inspired you?
It's probably very corny but I'd say it's my parents more than anyone. My father was a senior counsel and he absolutely loved what he did, worked very hard and was very successful. He always said to us, whatever you do with your life make sure you really like it, because if you really enjoy it, you'll want to do it. He was totally right.
My mother was a ballet dancer by profession. She's like a Duracell bunny – she has masses of energy and will take on anything. I have masses of energy too.
They gave me that drive to do what I do. There are lots of other people I admire but I don't think they inspired me in the way my parents did.
What are your biggest achievements?
I was incredibly proud when I was made partner in Matheson in 2000, particularly as law was a more male-dominated profession at the time.
More recently I'm massively into innovation. I think differently to a lot of other people in the firm and in the profession. I championed our digital transformation strategy in litigation and have been very involved in Matheson's efforts to become paperless. I was included in the Financial Times' top 10 most innovative lawyers in 2019, and was really proud of that.
I was also named Litigation Lawyer of the Year at the Benchmark Litigation 2019 Europe Awards.
But I don't know what my biggest achievement is – maybe it's my children!
What are your tips for people starting out?
I would say make sure you really love what you do. We now live in a world where we need to be mindful and to respect people's work-life balance, but it's sometimes difficult to do certain jobs without working long hours. If you like what you do you will be motivated and driven. In my experience this was the key to my success.
To women I'd say make sure you have a team at home because you can't do everything. I have a great husband who's also a lawyer. You have to have shared responsibility for all of the home life and its responsibilities. It took me a long, long time to work that out and to stop feeling guilty about being a working parent.
For me, it made sense to have my children young. Kids are amazing and very driven. People get very busy and that can get in the way of plans to have a family. I actually had my first child as I qualified. I decided as I had baby number one at 25, I'd have all of them then. I had three by the time I was 30 and managed to progress my career as well. But that doesn't work out for everybody and it is very much a personal choice. At Matheson we have parents of all ages and have progressive parental leave and coaching programmes in place to support our people, whatever family choices they make.
Then it's about confidence. You need to have confidence in your own abilities, but not overconfidence. Women in particular spend an awful lot of time trying to convince themselves they can't do things instead of recognising all the things they can do.
What are your plans for the future?
I know what I don't want to do, more than what I do want to do. I definitely don't want to be a judge, and I don't think I want to be an independent non-executive director.
I really love technology, so a legal tech business might be something I'd be interested in getting involved in for a while. I haven't made any decisions yet. But I'm not thinking about going anywhere immediately.
Insight Track
How has your degree benefited your career and/or personal life?
Commerce is a very broad based degree, and it has given me the ability to read balance sheets and to understand the business needs of many of my clients.
What is your fondest memory from your time in UCD Quinn School?
Commerce Day and the commerce balls.
How important is your UCD alumni network to you?
Networking is the key to building a business. We underestimate the contacts we build in university and their importance to your career.
What are your main interests outside work?
Travel and sports, usually in combination with friends and family. Sailing and skiing are big interests. I love to cook and entertain. Reading when on holiday. Walking, hiking and pilates to keep fit.
Tell us something most people don't know about you
I met my husband Alan at work. He left Matheson two days before we got married.
What piece of technology can you not live without?
Heads-up display on my car.
What is your pet hate?
Plastic surgery.
Who's your favourite writer and/or what's your favourite book?
Wild Swans: Three Daughters of China by Jung Chang.
And what is your favourite band or musician?
David Bowie.
What's the last gig/play/film/exhibition you went to that you loved?
I love the Royal Ballet – La fille mal gardée was the last ballet I attended in person.
What is your favourite dish to cook?
Neven Maguire's duck salad.
What teams do you support?
Leinster and Ireland rugby.
What is your favourite place in the world to visit and why?
Port d'Andratx in Mallorca or Oberlech in Austria.
Where is home and why?
Currently St John's Wood in London but I still have my home in Booterstown.
Name three things on your bucket list
Galapagos, Patagonia and an Arctic safari.
What charities or causes are closest to your heart?
Don Bosco Care, and all charities that focus on education.
March 2021