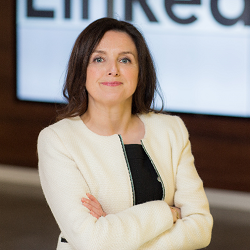 Sharon McCooey
BComm '88
Combining her passions for technology, relationships and scaling up businesses, Sharon McCooey landed her dream job in 2010 when she joined LinkedIn as head of its then three-person Irish operation and international finance director. Seven years later she's leading 1,200 people in Ireland, as well as being responsible for LinkedIn's development across the EMEA region.
About Sharon McCooey
Tell us about your education and career progression
I'd had an interest in business from a fairly early age, my father's influence I think, and I knew I wanted to start in that direction at college, so commerce at UCD was a great fit. I had a fantastic three years, but when I graduated, I was entering an economy in a bad way. It was 1988, before the Celtic tiger, and Ireland was in recession with high rates of unemployment and limited types of industry and roles as compared to today. It was very tough to get a job - and my approach to work was no doubt shaped by that - I still have the pile of rejection letters as a reminder!
I decided to add to my skills to potential employers and do my accounting exams, and opted for management accounting through CIMA as I thought it would be good for more general management, as opposed to auditing and accounting. The strategy worked and I joined a small printing company in Bray, and two years later moved to Ranks Hovis Foods. I really enjoyed Ranks Hovis because it gave me access to business systems and an insight into early automation and another childhood interest – technology – started to emerge into my professional life.
That experience led me to pursue opportunities in technology and in 1993 I went to Informix Software, my first job at a startup. I was there for six years and did a lot of travel: we were setting up offices in Europe and Asia and I also spent time at the company's headquarters in Silicon Valley. I became something of an expert in establishing and scaling tech companies in Europe, and moved on to do the same for Siebel Systems which was setting up its European operations centre in Galway, and expanding in Europe.
Business Objects, another US startup, followed. I was there for three and a half years and we'd grown to about 300 people when I left. That involved extensive amounts of travel around Europe, a lot of business partnering and a lot of strategy around growth.
I considered that to be my dream job at that point, but I had two kids under 18 months old and my husband, another UCD graduate, also had a busy job. It was a very difficult decision to make but I left my job and took three years off to focus on the family. I was trying to be a good mother and do amazing work, and at that point it felt like I didn't have that balance.
When I was ready to return to work I started with some consulting at PwC. At the time, I was exploring whether I wanted to do part-time work or even go to another industry. I did assignments in pharma, retail and a couple of other industries and I just thought, I have to get back to tech. I knew that was where my passion lies.
I had a shortlist of the places I thought I would want to work and LinkedIn was on it. In November 2009 I read an article that said LinkedIn was setting up in Ireland, and I knew that's what I wanted to do next. From that day until May the following year I had 12 interviews with the company in four cities, including taking an overnight economy flight to the US and back. At the time I thought it could be the dream job and seven years later I know it is!
Three of us set up the operation and we're now up to 1,200 people. We've gone from tens of millions of members to 130 million members in Europe alone, which we support out of Dublin. It's been a meteoric seven-year journey.
What does your role involve?
I've been responsible for the development of the Irish operation, which is our EMEA headquarters, from its infancy. Out of Dublin we sell to 50 plus countries. We have 130 million members around Europe. My role is about the development and engagement of all of those members and the development of the 1,200 people in the building and their careers.
I spend a lot of my time in the US. I have completed our office openings as we expand into new markets, including our China operation, a number of our offices in Asia and the European offices. We only had two offices in Europe when I started and we have 10 today.
What motivates you?
Relationships with people motivate me. I love working with a diverse set of people and helping them to develop and grow their careers.
What is your leadership style?
I'll divide that into two elements. I'm a long term thinker in terms of what things could look like, the business strategy and scaling plans.
On the other side, I'm very focused on inclusivity and development of people. I spend a lot of time making sure our business is an inclusive place.
Who or what has inspired you?
My dad instilled in me my work ethic and interest in business. I would say my parents influenced me to be a dual working family. My mother was a nurse and my dad had a business so I grew up in a family where there were two working partners.
In the broader sense, Silicon Valley has inspired me in terms of risk taking and my interest in all things tech. I am captivated by the immersive nature of that place. The way people work and collaborate with each other is fascinating and that has influenced the way I work.
I think tech leaders in Ireland are also influenced by that corporate culture that comes from Silicon Valley and we have a very collaborative way of working with each other. We do that well.
What is your biggest achievement to date?
My children are definitely my greatest achievement.
On the business side, if I had to pick one, it would be the scaling of LinkedIn in Ireland from three to 1,200 people in seven years.
Are there any failures you want to talk about?
I have daily failures. I think of them as learnings and things I won't do again. There's a sign on the wall in our new building: Sometimes you win and sometimes you learn. I like the fact that I can make mistakes and take intelligent risks.
What are your tips and advice for success?
Always be learning and see things as possibilities and not impossibilities.
What are your plans for the future?
I love transformational change. I would love to be involved in some way in changing education globally as I see skills mismatch as the largest societal issue of our age.
What are your main interests outside work?
My children and my family are most important. And then it would have to be great food, travel and great company. And if I can get all of those things at the same time, that's ideal.
Insight Track
How has your degree benefited your career?
My degree was a building block to lifelong learning which has become even more important today with the transformations of industries by technology.
What is your fondest memory from your time in UCD Smurfit/Quinn School?
Watching the bands with friends by the lake in UCD at lunchtime, including Hothouse Flowers.
And what is your favourite band?
U2.
What's the last exhibition you went to that you loved?
Andy Warhol in Noto, Sicily (accidently found while on holidays).
What is your favourite dish to cook?
An Irish breakfast on Saturday morning.
What teams do you support?
Munster Rugby and Donegal GAA.
What is your favourite place in the world to visit and why?
San Francisco, the place I call my second home.
What charities or causes are closest to your heart?
Techies4templestreet is a charity founded to bring together the tech community. All tech companies are welcome to join in for 2018. I sit on the organising committee.

July 2017