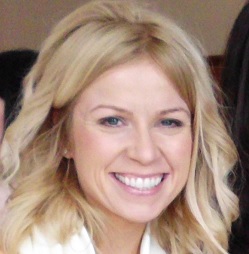 Sheelagh Howett
BComm '02
Keen to take advantage of a US internship visa while she had the chance, Sheelagh Howett left for an 18-month stint in Boston straight after graduating. Fifteen years later, she's still enjoying the fast-paced and encouraging environment at financial services firm Cantella, where she's chief risk officer and sits on the board of directors.
About Sheelagh Howett
Tell us about your education and career progression
After secondary at Our Lady's School Templeogue believe it or not my sole goal in terms of college was to go to UCD. I was one of 12 children and when I was maybe five or six years old, I went out to Belfield quite a lot with my brother Paul (BComm 87) so I was really familiar with UCD and already had a lot of great memories there! I started off doing Commerce and Italian but decided the Italian part wasn't for me and transferred back into a regular BComm degree specialising in banking and finance.
After my graduation my best friends were going to Australia for the year but I wanted to try to work in the US for a while. It had such a reputation of being so difficult to get a visa to work but the way things played out with my degree I was still eligible for a J1-type internship visa that enabled me to come over here and work for 18 months.
I reached out to some companies, literally by Googling financial and legal firms, particularly on the east coast as it was so close to home. I had a choice between a law firm in Philadelphia and a financial firm in Boston. I chose the latter, which was Cantella where I work today.
My original plan was to come over for 18 months and to then go home, but I just really liked the fast-paced environment. It was a great company with a young energetic team and there were no boundaries in terms of learning opportunities. If there was some area you wanted to learn about or get involved in, you could and it was encouraged.
A couple of years later, with some reinforcement from my family, I switched companies and went to work for Anglo Irish Bank. The idea was to get into a company that would give me some kind of transportability and the option to return home to Ireland. I stayed there for just over a year. It was a really great group of people but the job, which was corporate real estate lending, just wasn't for me.
As luck would have it, the person who had taken over my role in Cantella was leaving and I was asked if I wanted my job back. So I returned and I've been there ever since.
Tell us a bit about Cantella and your role
Cantella is a rapidly growing financial services firm located in Boston's financial district. It offers a challenging, competitive and fast-paced environment. The core of the management team have grown up here together over the last 15 plus years so we have a great working relationship and are dedicated to the success of the firm.
My official title is chief risk officer but I am involved in variety of different functions. I have a major focus on the compliance side of things in particular but I am also firmly committed to the growth and sales side of the company.
What's your leadership style?
I really believe in leading by example. I'm a big proponent of rolling up my sleeves and doing hard work and no job is beyond me. I don't believe in having to micromanage anything but I also think in order for a leader to be successful you need input from everybody on the team. Open communication is key in my opinion.
What motivates you?
It's really about keeping myself challenged in different ways. I'm constantly trying to learn new things and educate myself as much as possible.
Who or what has influenced or inspired you?
My family has always been very influential and inspirational to me. I am number 11 out of 12 children so I have always had a lot of supportive people around me. I mentioned going out to UCD with my brother Paul and he in particular has always been an inspiration and influencer in my life. In terms of right now, there is a core team around me that has always encouraged me and shown me support. They lead by example and that in turn motivates me.
What's your biggest achievement to date?
By far my biggest achievement is my son who turned three on 4 July. He makes me smile and laugh every day.
Are there particular mistakes or failures you feel you have learnt from?
Sometimes I wonder if I should have completed my original Commerce and Italian degree. I didn't experience the semester in Italy and maybe I should have taken the chance at doing that and then decided if the degree was for me. I wonder if I was partly afraid to take the chance at the time for fear of failure and I think the lesson learned is that taking a chance is not always the most comfortable decision but it's better to try than to have regret.
Do you have tips and advice for success?
Obviously hard work is vital. Also, be yourself, speak up for yourself, don't forget to ask for help and always ask questions. And, seek out opportunities.
What are your plans for the future?
We have a lot of exciting changes going on at work that will keep me very busy.
I try every day to spend time with my son and enjoy him. Every day there is something new that he says or learns and I am trying to savour those moments. I am expecting my second child on New Year's Eve, which will be a whole new challenge!
What are your main interests outside work?
I love to run. I used to do a lot of different races here and there but that has slowed down a bit since my son arrived. I still like to run, work out and keep active; it de-stresses me.
I also like to read and travel. We get back to Ireland at least once a year, usually at Christmas – my husband is American and he's just as eager to get back to Ireland at Christmas time as I am. You can't beat the Irish Christmas!
Insight Track
What are your fondest memories from your time in UCD?
Commerce balls and the nights out after finishing exams at the RDS.
How important is your UCD alumni network to you?
Extremely important, I just attended my first Boston alumni event recently and it was so nice to have that connection.
What piece of technology can you not live without?
My ipod – I LOVE music.
What are your pet hates?
People who chew loudly or talk with their mouth full!!!!
What's your party piece?
I will sing anything if I have the words and a few drinks!
What is your favourite band or musician?
U2, but so many more too.
What's the last film you went to that you loved?
The last film I saw was Lion and I cried my eyes out.
What is your favourite dish to cook?
It's not really cooking I don't think but I love making different salads.
What do you love most about Boston?
The four seasons – including the freezing winters and snow – and it's a quick trip home.
What charities or causes are closest to your heart?
All things kids.
August 2017