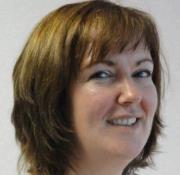 Siobhán McGee
Proudly Made in Africa (PMiA) Fellow in Business & Development
As part of an a new initiative aimed at promoting Africa as a place to do business and focusing on the role of commerce in reducing poverty and fostering sustainable growth in the continent, Siobhán McGee was appointed Proudly Made in Africa (PMiA) Fellow in Business and Development in January 2014.
About Siobhán McGee
The role, which is hosted at UCD School of Business, is a joint initiative of Value Added in Africa and is funded by Irish Aid/Department of Foreign Affairs and Trade, Concern and Trocaire.
While McGee has been involved with not-for-profits since 1991, starting off as head of marketing/fundraising with Concern, her route into the sector was somewhat circuitous.
After leaving secondary school she went straight into Bank of Ireland to work. "So I didn't engage with education at third level for a while," she explains. "I worked there for 10 years in various guises. Originally I studied the banking exams, which are now QFA, and went down that route focusing on finance."
During her time at the bank she worked in clearance, training, in an IT programming role and at a branch. "So I had a wide ranging set of experiences. One of my big learnings there was around customer service and relationships."
She also studied for a marketing degree at night at the Marketing Institute of Ireland during this time. "I accessed education timing wise in a different way having had some experience in the workforce. That informed what I chose to do and me understand that I wanted to work with people and to be equipped to create some good in the world, as it were."
Once she had her degree she transitioned herself into a marketing role in the NGO sector. "I worked with Concern originally as head of fundraising for a period. Later, as I moved into more management roles, I did a post-grad diploma in management and ultimately an MBA [both through Open University] over the next decade or so." Concern was going through a transformative period during her time there. "It was looking abroad and to business for learning then rather than to the NGO sector. It was able to evolve from its earlier structures and I think it's continued to be a leading organisation. I'm really proud of the fact that I worked with them for that period of time."
Blending roles
She left Concern in 2001 to take up the position of national fundraiser at the Irish Red Cross, where she spent the next four years. "Then I moved into a blend of academic work, teaching and working with NGOs, which is where I've been for the last 10 or so years and bridging the two." There are two main strands to this work, she says. "One of is the idea of developing leadership within the NGO and voluntary sector and education around that, which is more advanced in other countries than it is in Ireland. I worked with Trinity College for a couple of years in an initiative there around that.
"Because my original work was around fundraising I still have a huge interest in fundraising and marketing and how organisations engage with the public that way, which is very topical right now. So I've ended up contributing a fair amount around policy and the Charities Act, for example around how a regulator role would link with the organisations in the sector. I also wrote a statement of guiding principles for fundraising, which is the only best practice code for fundraisers in Ireland at the moment."
Over the last 10 years, she has also been involved in consulting work, "engaging with business around the intersection between non-profits and business; around CSR for example and corporate partnerships". Her experience in Africa has included numerous visits over the years, as well as two longer stints. The first of these was a two-year spell with Concern around 1999/2000, based in Nairobi, Kenya, as assistant country director for south Sudan. More recently, in 2010, she spent a year in Malawi working with the Red Cross in a capacity building role working with the organisation's leadership to equip them to strategise and access funds for their work.
The current post has emerged from the work and ideas of Value Added in Africa, a relatively new UK and Irish-based NGO. "It's concerned with poverty alleviation but has done an analysis of NGO inputs and of the emerging economies on the continent of Africa and the opportunities that exist there," says McGee. "It's coming from the point of view that trade and building economies will be the huge driver for lifting people out of poverty and looking at how we can enable that. A discussion began between the universities and Value Added and other people around what that would look like that.
"Out of that UCD has taken leadership, I think, to host this role, to give it a home within the university space and to engage with educators and students of business to transform and update our thinking about Africa as a place to do business with and perhaps in for some.
"All the indicators are that as a continent the drivers for business are very positive and we want to equip our students to be aware of and to be able to take advantage of that and, at the very basic level, that if they do engage directly in business with Africa that they do so with an understanding of the potential they have to impact on poverty as well as to make a profit."
While UCD is hosting the role, McGee will be working across the schools of business, initially in the Dublin region. The stated goal of the intiative is to sow seeds of informed awareness among future business decision-makers, supply chain managers and entrepreneurs about Africa as a territory and engage them in consideration of value-adding business models.

The idea is to incorporate subject and level-specific content into the existing curriculum at the relevant points of intersection, such as in cross-cultural management, global business mechanisms and entrepreneurship modules. "It incorporates classes, case studies and examples of organisations that are well underway down that path, and also guest speakers, and we're hoping that the research agenda will come as well so we can look at this more deeply from a research point of view. "I think it's an interesting thing that UCD has had the openness and insight to say this is actually coming up the curve so we need to be part of it."
African opportunity

While it's early days in the initiative, McGee says there has already been significant interest from business. "I think people who have looked at the stats and trends globally in terms of investment are seeing that there is something significant happening on the continent. The growth rate, for example, has consistently been 5pc. There are emerging populations of consumers and middle classes and incomes are rising. There are huge opportunities in infrastructure as well. And I'm finding a very strong interest from academics, because they do recognise Africa as the happening place, a new frontier."
The role is on an annual funded basis. "We're looking to year two funding to build it and we're also looking for partners to help grow and scale the initiative to support a broadening of it and hopefully a research agenda as well. Businesses are so interested in this area so there's an openness there to partners.
"This will be a significant initiative for the future. I think Africa's going to become more prominent. We're at the start of something exciting. And I'm open to talking to people who are interested in making that happen as well."
March 2014