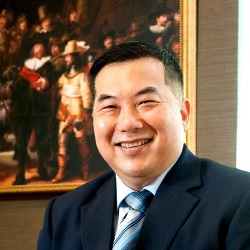 Timotheus Lee
MSc '13
Armed with extensive experience built up across a range of disciplines, Timotheus Lee is on a mission to help businesses across south east Asia region grow through the understanding and use of digital marketing. A graduate of UCD's Kaplan programme in Singapore, he was named Outstanding Alumnus of the Year 2016.
About Timotheus Lee
Tell us a bit about your education and career progression
I graduated with an advanced diploma in systems analysis and programming in the mid 1980s and started as a programmer in a bank. A couple of years later, I switched to design, starting on the in-house advertising team in an education centre and working my way up to being an art director. For a while, I worked for Softimage, a Microsoft subsidiary, providing training and technical support all around the Asia Pacific region.
Then, in the mid 1990s I started my digital marketing career as a creative director for a multimedia design firm. And I just progressed on from there in marketing roles, going into social media, email marketing, SEO and now video marketing.
I started doing the UCD master's degree programme at Kaplan Singapore in 2011. A friend of mine was attending a preview for the UCD programme and suggested I went along. I was impressed with the preview and even more so after checking out its international standing and the quality of the business school so I signed up. I've always been a lifelong learner and I love to study. I had done small courses here and there and just decided it was time to get a fully fledged degree.
I enjoyed it tremendously. It was a really interesting course and the lecturers were very good. I made a lot of friends and we're still in contact and meet up.
Initially, my goal was to do my best and to just try to pass. After the first module I got an A+ for the brand management module. So I did a strategy and plan on how to study and score as well as I could. It meant sacrificing a lot of my personal time: I had no social life for about two years and my family took a back seat.
It was well worth it though because I graduated in 2013 with an MSc in marketing with first class honours and I was the top student.
What kind of impact did the degree have on your working life?
I always had an entrepreneurial mindset but the degree truly moulded my mind, not only to have an entrepreneurial spirit but also to know how to do things well.
Since then, I've looked towards being a business owner rather than being employed. I'm in a sense freelance, working with a few different companies.
One of these is MI Digital, a digital marketing agency, where I am the principal digital marketing consultant, which involves creating business and marketing strategies, working with the sales team on pre-sales and with the production team to deliver digital marketing services, and training and consultancy for clients.
I am also a senior digital marketing consultant at Coleegs, a regional consulting firm. In this role, I'm primarily a consultant for businesses in Asia, but I also provide companies with research, analysis, proposals, guidance and coaching on their digital marketing.
In addition, I have my own businesses, including Asia Travel Gems, a travel site. And I'm a trainer and facilitator, teaching digital marketing topics at education centres in Singapore. This year, the training will expand into the south east Asia region, starting with countries like Malaysia, Indonesia and Thailand.
What motivates you?
In different periods of my life, different things have motivated me. Right now, I'm really motivated to help businesses understand what digital marketing is all about and how they can use it optimally to grow their business and be successful.
What's your leadership style?
I don't really have a specific leadership style. I believe your style of leadership should be led by the situation. So, it really depends on the needs of the team I'm working with. Right now, I'm dealing with an agency that's quite young, so there's a lot of coaching and transformational leadership style going on.
Who are your main influences?
Different people have influenced me at various times of my life. When I'm making big changes I look to different people for inspiration. For example, I looked to the Dalai Lama during a period when I was becoming more spiritual in order to have a bit of a balance to my life.
Currently, I would say Clayton M Christensen, the Harvard professor who invented disruptive innovation. He has influenced me a lot in the last few years. I read his book – How Will You Measure Your Life – and after reading it, I realised that I can strategise my life just like I can strategise my businesses.
What are your main achievements?
From an educational point of view, it has definitely been my master's degree with UCD. It was an amazing feeling to go up on stage and receive my award for top student and to go home and tell my parents and make them proud. Also, last year I received the UCD alumni award so that was another feather in the cap.
On the business side, I helped one business to a sales turnover of SGD10m within nine months and another to SGD7m over the same amount of time. In both cases, their sales revenues more than doubled, having been stagnant for many years. So I'm quite proud of that.
Any failures you would like to talk about?
Yes, how do we learn if we don't fail? In 2006, I started a company with a business partner and while it didn't really fail, it was not a great success. What I really liked was that I learned a lot in those years. These were valuable lessons that I know I can use in the future to make other businesses, and eventually my own business, successful.
What are your tips and advice for success?
One tip I'd give to anyone who wants to be successful, particularly in business but really in any area of their lives, is to not waste time. Don't procrastinate. Act now.
I've found that as I've done that I've become more and more successful in my life.
Also, I would say to any business owner that they have to learn to love selling. They must go around and talk about their businesses and sell their product and really look like they love doing it.
I think it's important to be an avid and an active listener, and to be truly curious about other people.
And the last thing I would suggest is to meditate. Be mindful. When you're mindful you can really focus. And once you're really focused, you can complete tasks efficiently, and achieve your goals in a shorter time.
What are your main interests outside work?
I love to travel. When I was in Microsoft I travelled a lot around south east Asia and also in the USA and that sparked the travel bug for me. I like to find places that few people know about and then share them with everybody through my site.
I like to have coffee and chat with friends when I have time. I find that's really valuable and time well spent.
And I meditate every day and I find it really helps. What the Dalai Lama said is very true. Somebody asked him once how long they should spend meditating each day and he said at least 10 or 15 minutes. But what if I'm really busy, asked the person, and the Dalai Lama replied that they should then meditate for one hour.
I love to continuously learn and I signed up recently for an online course to stay updated and learn even more about digital marketing.
What are your plans for the future?
I'm going to go all in with MI Digital and Coleegs to help businesses in this region. My plans are to see more companies, more brands and more products getting successful because of us. At the same time, I also want to help MI Digital and Coleegs to be successful.
On the training side, this year I will be conducting a workshop at Seamless Asia, a major two-day conference being held in Singapore for the ecommerce industry. And I'm talking to event organisers around the world about being a keynote speaker at other conferences.
And, of course, I want to grow my own businesses too.
Insight Track
Tell us one thing that most people don't know about you
I'm a geek. I love technology, and programming.
What pieces of technology can you not live without?
My Huawei P9 Plus, which I use for social media engagement, Facebook/Adwords/LinkedIn ads tracking, and take fantabulous photos and videos for my travel site – Asia Travel Gems.
What would you bring with you to a desert island?
A hammock, toolbox, kitchen utensils (especially knives), a satellite phone with access to Ka-band spectrum broadband satellites, my Huawei P9 Plus, satellite schedule, and duct tape.
Who's your favourite writer and/or what's your favourite book?
Clayton M Christensen – How Will You Measure Your Life?
The book teaches us to apply management theories to our personal lives. These theories are used to find out the causes of problems and opportunities, what actions to take in order to address the problems, increasing the chances of success for the business, and in this case, one's life.
And what is your favourite band or musician?
I don't really have any one particular band or musician that I favour. But I do have a favourite song, and that is the Great Compassionate Mantra. I listen to that when I wish to centre myself.
What's the last gig/play/film/exhibition you went to that you loved?
Kinky Boots – I love the story of how an established old shoe factory that was slowly losing its market share realised it needed to change its business model, capture a new niche market, and what steps it took to become a success again.
What is your favourite dish to cook?
Curry chicken. It's my mom's recipe, and everyone loves it! Goes very well with toasted French loaves.
What are your travel tips for people visiting Singapore (places to go or things to do)?
Experience the real Singapore, and visit the heartlands. See the public housing called HDB flats, have your meals at hawker centres and taste delicious local dishes, shop at the local stores at neighbourhood centres, and take a stroll in the neighbourhood parks to see what locals do to unwind. Or you can just do the tourist thing and visit the commercial places like Sentosa, the zoo, Marina Bay Sands, etc.
What is your favourite place in the world to visit and why?
Bhutan. I was there in 2007 to 2008, and it truly is a Shangri-la on earth. The place is so beautiful and tranquil. The people are friendly. Wonderful for relaxing and recharging. I loved watching the sun rise over the Himalayan mountains on a quiet morning and the mists gently swirling over Thimphu valley while sipping my coffee with breakfast, relishing the fresh and crisp morning air.
March 2017