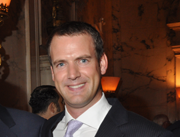 Trevor Madigan
BA '97
While many people fear change, some, like Trevor Madigan, consider it to be not only inevitable, but something exciting and positive and worth being a part of. It's this attitude that has driven Madigan's career in his 13 years since graduating and seen him work with some of the biggest and most cutting-edge technology companies in the world, including Mitsubishi, Nokia and Facebook.
About Trevor Madigan
Madigan grew up in Malahide and attended Blackrock College before doing his BA in politics and economics at UCD, graduating in 1997. He then spent a year at the London School of Economics (LSE), where he completed a DBS in business strategy.
"Like most Irish people, I had always been interested in travelling and experiencing things abroad," he says. "Also, I think a lot of the time we benchmark ourselves nationally, but global companies and the great brands in the world recruit people internationally. I think benchmarking yourself against other global institutions and citizens is the correct way to manage and look at yourself".
Straight after LSE, Madigan, who says he was always fascinated by technology, secured a job with Mitsubishi Telecom, which was launching the Trium mobile phone at the time. Based in Paris, Madigan describes the job as his first great break.
"I had a great boss at the time, Kouji Kodera, who is now head of product at HTC. He said, if you can survive the telecoms business, you can survive any business. It's the fastest moving and one of the most dynamic businesses in the world and I think he was absolutely correct there. The pace of change, the amount of new things that were introduced in a short period of time was unbelievable."
Two years later, he moved back to London to lead Mulberry's hi-tech accessories business. While at Mitsubishi he had worked closely with the company, which had created a hand-crafted leather accessory for one of the products he'd been working on.
"I think that was one of the biggest changes in my career. Going from a big corporation into a smaller company was a massive change. The thing I really learned at Mulberry from the founder and chairman at the time, Roger Saul, was the importance of having a passion for detail and a passion around the product. Sometimes in bigger corporations I think that can be lost."
After two years, he left for a five-month trip around the world. "It was something I always wanted to do," he explains. "It's important to get things like that out of your system in some ways. The thing I concluded after that trip was that I loved working and I liked having a salary. That discovery was one of the biggest achievements for me: that I was happiest working hard and working for things that interested me."
At the end of the trip, he landed in the US and managed to get a job with Nokia, where he spent the next seven years. "I had a magnificent time there. It's really a great global brand. I started there focused on the accessories business, interfacing a huge amount with the big retailers like Walmart, Best Buy and Radioshack, as well as the big carriers like AT&T and Verizon."
Then he went through the second major change in career. "The move from products to services was starting to accelerate at this time. Nokia spent up to US$10bn to try to get into the services business. I was fortunate enough to take a leadership position driving sales within this new move to services. It was really a hugely challenging time for a big corporation to stop thinking solely of product and to move into thinking about services and software as a way to drive future business.
"As the company changed I had to change as well. We went from products to services and Nokia had a huge involvement in everything from gaming to photo sharing to the beginning of a lot of social mapping and context products. The one I spent most time working on was music and that was another very interesting area to be able to be a part of.
"All these businesses started to converge and we've seen that continue. Nokia started looking at them as verticals: music, mapping, games and so on. Since then, the really successful companies have been the ones that have been able to put those things together in a very easy interface."
A key learning for Madigan at Nokia was around the importance of execution. "You can have the right strategy. You can have done your research, but executing and actually implementing the things that you planned to do as a company, as a brand, is really everything and everything you should be judged on."
Madigan's most recent move was in July 2011, when he went to Facebook to take up the role of global business manager.
"Being able to be involved in something that's at the bleeding edge of innovation is always something I love to do. And Facebook for me is that company at the moment. It's breaking new ground in new areas.
"The internet is only around 20 years old and maybe two billion people are now connected. Another five billion have still to connect. We used to say in Nokia that the next billion who connect to the internet will do so for the first time on a mobile phone. The thing that really excited me about Facebook was that innovation and being at the start of something that fundamentally is going to change the way we interact as people."
Madigan's job involves working with Facebook's key clients, which include Diageo, Procter & Gamble and Samsung. "We help guide them on their marketing strategy and how they can tackle social as part of that. We play quite a fundamental role in how some of these brands are changing the way that they're looking at marketing. As the internet has changed, marketing fundamentally has changed."
The Facebook workplace environment is a new and very positive experience, he says. "I think the feeling in the business and certainly at Facebook at the moment is that the people who are here are committed to changing the way that the world works. It's like no place I've ever been before where the goals are so aspirational. The company's motto is to make the world more open and connected.
"I've never been surrounded by so many smart, clever people. The dynamic here is really about working fast to change things quickly. That shocks a lot of other companies that are used to working in a more staggered fashion and it's been a remarkable thing to have experienced."
One of the things he has found very admirable about this new environment is the culture of encouraging people to try new things and to not be afraid to fail. "Failure is a rite of passage for the successful in the world," he says. "One of things I really admire about Mark [Zuckerberg] is that he has posters all across campus here that say 'Fail harder'. What that really means is, don't be afraid to try new things. Don't be afraid of failing because it's a learning experience.
"I think it's something that the Irish in general need to do a better job of," he continues. "We haven't embraced the concept of failure as well as we should. If you're in Facebook or you're in Silicon Valley, in the technology industry, it doesn't matter if you succeed or fail, you're still an entrepreneur, you're still an innovator.
"I think we're starting to see more of our graduates with that type of mentality and it's one we should encourage."
Madigan was recently appointed to the North American Advisory Board for the Smurfit School. "It makes me so proud to be able to be a part of my old university and also to give a different perspective, an American perspective," he says.
One of his aspirations for his role on the board is to drive home the opportunity that exists for Irish-American families to educate their children in Ireland. "I heard the Irish Counsel General in New York say at an event that one of the greatest things that we the diaspora, or the Irish-Americans, could do is send their child to be educated in Ireland. There would be nothing that we could do that would create a stronger bond between the people that are coming out of university now and future generations."
Madigan has lived in New York for eight years and he describes himself and his wife – who's from Connecticut – as "definitely New Yorkers". "The last thing New York needed was one more Irishman, but they got it! It suits the industry I'm in – moving fast is part of the core of New York."
The things he misses most about Ireland include rugby, the camaraderie of rugby fans and getting to play links golf on a regular basis. "Besides obviously my family and friends, but I think coming back from the States is a lot easier than it used to be."
For the future, Madigan says his focus is on doing a great job and executing it as well as possible at Facebook, and embracing changes down the line. "Having to change is a requirement nowadays. It's very difficult just to stay still and not to learn. So I think the plan for the future is to just continue that. Change is absolutely certain."
He compares the point we're at now to the time during the Industrial Revolution where the power of steam had been discovered and the invention of the steam engine was imminent. "I think the web is the same way. We've no idea what's going to happen, only dreams of what could happen.
"I'd love to continue to be a part of that. That just requires continuing to learn, continuing to stand beside and behind the smartest people in the world. If you can align yourself with those people, you're going to be a part of this great change. I feel certain at the moment I'm standing beside those people."
June 2012