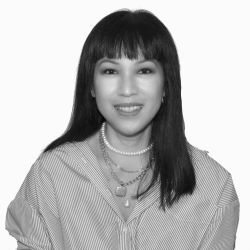 Val Arevalo
MSc in Marketing '21 (SG)
Val Arevalo's career has been defined by taking on opportunities as they presented themselves, whether by moving countries or taking specialist roles in her career. Currently completing an MSc in Marketing from Smurfit School, she is the senior product marketing manager for cloud services and IoT at Singtel in Singapore.
About Val Arevalo
Tell us about your education and early career
I'm originally from the Philippines. I did arts, majoring in communication for my bachelor's degree at The Philippines Women's University (PWU) in Manila. After university, I did some service jobs before landing in a small start-up technology research consulting firm as a junior field analyst. I was doing market research covering the adoption of nascent technologies in the Philippines.
After a few years of tech research, I moved to different tech companies working in various marketing roles. This was how I ended up with a career in tech. It wasn't part of any grand plan but rather opportunities after opportunities that presented themselves.
A few years later, an opportunity to work in Malaysia with Hewlett-Packard (HP) came up. I boarded the earliest flight to Kuala Lumpur without hesitation, with very little knowledge about the country. I worked for eight years, performing various channel sales, sales programmes, and partner marketing roles. I realised this industry was very dynamic and knew that this was where I wanted to be – in whatever capacity.
I moved to Singapore in 2010 because important regional decisions are made here, and developments are happening much faster than in Malaysia.
What is your current job, and what does it involve?
For the last five years, I've been working for Singtel, one of the biggest telecom companies in Singapore, as a product marketing manager.
My job is very much a matrix role that intersects with marketing communications, product development, and sales. I am responsible for the product messaging, positioning, and sales enablement for cloud services and IoT product portfolio. I run all the leads and demand generation activities across multiple channels.
What motivates you?
Learning new things motivates me, academically or otherwise.
From a career perspective, I guess what motivates me is challenging responsibilities. I will never stay in a job that will be the same forever. I stayed with HP for eight years, but that's because my role was very dynamic. There was always a challenge, which means there's an opportunity to hone new skills.
I learn a lot from doing, like trying new recipes, venturing into new sports, advancing my yoga poses, trying out new cuisine. It's always the small things that contribute to a more significant motivation and, ultimately, joy.
I also always want to have fun. If I'm not enjoying a role or this new thing, it's not worth doing.
How important is ongoing learning to you?
I always use the Einstein quote: The more I learn, the more I realise how much I don't know.
All my jobs in the last decade have involved marketing, but I've never been formally trained from an academic sense as my bachelor's degree was in communication. Doing this degree at Smurfit School is opening up a lot of things for me. It's bridging my professional experience with academic learnings and creating this powerful arsenal as I progress in my career. I am super stoked and fired up because I am doing this programme despite this being a tough year.
What is your biggest achievement?
I'm proud that everything has happened organically and by following my instincts and having the courage to move from one place to another. And I'm proud to have been a part of something that was growing and developing. When I look back at the companies I worked for, it follows a great story of parallel technological progress.
I have launched a lot of products and services. They are outstanding achievements; however, I define my biggest achievement as having the courage to go after it.
Who or what has inspired or influenced you?
Many people have influenced my life. The people that inspire me are my mentors, people I work with, my friends who are hustling their way in this world,
The inspiration comes from many places and many people. Inspiration always comes from people whose stories are similar to mine, people who are near and dear to me.
How would you describe your leadership style?
I believe in building a very strong team with a democratic approach where everyone has a voice in the direction of the team, particularly where goals and metrics are concerned. I think if people are part of the decision making, then the sense of accountability is higher.
I also don't believe that I'm the only one who knows the best thing to do or the best direction to go in. I believe that collective wisdom is powerful.
What are your advice and tips for success?
Growing up in the Philippines, there is a benchmark and societal pressure to accomplishing things at a certain age. I was distraught that I hadn't done anything in my life yet. I was 22 at the time.
The best advice I was given was to define success according to my passion and my capabilities and not the expectations of my family or friends. And if I didn't have all the necessary capabilities, then continue learning and never give up.
I think it was the best advice I ever got, and it has guided me through my career in pursuing my passion. I have been successful in my career without having grand plans but instead only armed with bravado and thirst for adventure.
When you measure success on your terms, there is more freedom to pursue your dreams. I would give the same advice to anyone starting: define what success means to you, and define what that looks like.
What are your plans for the future?
I embarked on the MSc programme to deepen my knowledge and legitimise myself in how I move forward with my future. I plan to launch a digital business built on enabling businesses to connect and engage their customers better.
Insight Track
How has your degree benefited you?
Quality education equates to better job opportunities and career trajectory for me. This programme is opening up many great opportunities for me, despite the job and economic climate right now.
What is your fondest memory from your time in UCD Smurfit School?
Unfortunately, Covid has robbed us of the opportunity to be on campus and see our cohorts in person. With much creativity, we managed to enjoy it virtually.
How important is your UCD alumni network to you?
It has been very useful for me in forging relationship that lead to potential business collaboration, sharing knowledge and boosting my network.
What are your main interests outside work?
Travel, food, fashion, music and fitness.
Tell us something most people don't know about you?
I'm an extrovert with massive stage fright, a typophile, and a total opacarophile.
What piece of technology can you not live without?
Mobile phone with unlimited global roaming data.
What is your pet hate?
Limp handshake and clammy hands.
Favourite writer or book?
Antoine de Saint-Exupéry – The Little Prince.
Favourite band or musician?
Not exactly a band, rather a love for house music and its many sub-genres. My favourite artists are Black Coffee, Rampue, &ME, Monolink and Be Svendsen.
What's the last performance or event you went to that you loved?
Summer 2019 in Ibiza with my friends dancing all night at Cova Santa.
What is your favourite dish to cook?
I'm an intuitive cook, so I can never follow any recipe faithfully, but I love recreating Yotam Ottolenghi's recipes like the sweet potato, orange bitter and feta. And any recipe with a generous amount of Brussels sprouts.
What team do you support?
US gymnastics, specifically Simon Biles.
What is your favourite place in the world to visit and why?
Italy, Greece and Portugal. Requires no explanation.
Where is home and why?
Home is, as Tom Waits said, anywhere I lay my head.
What are your insider tips for visitors to Singapore?
Sunset at Marina Bay Sands rooftop overlooking the city is beautiful. Don't pay to go up; book a cocktail or two at CE La Vie instead for better spot.
What's on your bucket list
Travel the world with my partner.
What charities or causes are closest to your heart?
Giving.sg.
September 2021