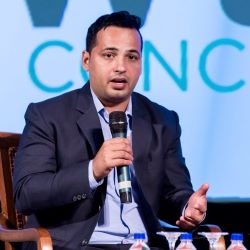 Vijay Rathee
MSc Project Management '12
After the failure of his first start-up in India, Vijay Rathee moved to Dublin to study and work before subsequently setting up a second – and this time successful – company. He returned to India in 2017 to start Bizztor, a product development and digital consultancy agency aimed at start-ups and SMEs, but spends a few months each year in Ireland where he continues to work with Irish and UK-based customers.
About Vijay Rathee
Tell us about your education and early career
I was born and raised in a small village near India's national capital, Delhi. After graduating in engineering I bootstrapped my first start-up, which failed within a year.
Ireland is very popular in India for its universities. I had always desired to do a master's from one of the Irish universities and was lucky enough to get the opportunity at UCD to do an MSc in project management, which I started in 2011.
During my course at UCD, I had the chance to learn from some of the fantastic lecturers and had amazing experiences. I learnt a vast amount about the corporate world and many other things which were required to succeed. I was given a solid platform of learning to progress my career.
After completing the programme, my first job in Ireland was in a company called CityPost, which offered me great opportunity to work in IT projects. During my three years with the company, I gained very valuable experience and exposure to the market.
In early 2014, the entrepreneurial bug bit me again and I quit my job to launch my second start-up, this time in the SaaS (software-as-a-service) space. This business improved my industry knowledge even more. Two years later, I sold the business and decided to move back home to India.
Currently, I run Bizztor, a tech company that help early-stage start-ups and SMEs with product development and digital growth strategies. We're based in three locations across the globe and 70% of our employees – with 10 different nationalities – work remotely. I also continue to spend a few months each year in Ireland, working with Irish and UK-based companies.
Was there any defining moment that helped shape your career?
While creating and running my start-ups, I faced challenges in finding the right technology partner with an in-depth understanding of early stage companies. Now, later in my career, we are solving that problem for start-ups facing challenges in product development and launching into the market due to limited funds and resources.
Currently, my company is helping start-ups by partnering with them and using our team expertise to help them achieve success.
What is your current role and what does it involve?
While running my start-up, I have to wear many hats all the time. But my core role involves managing the overall product developments and growth campaigns for our partner clients.
What motivates you?
For me, motivation is something that comes from within. Professionally, I feel motivated when we see our service is helping clients succeed.
How would you describe your leadership style?
I believe in doing things instead of telling. I try to keep everyone in the team involved and making decisions. I like to give the team the freedom to try different things in the business.
What do you feel has been your biggest achievement to date?
Having the courage to leave a full-time job and established career to start my own company. It was a very tough decision to risk everything. I invested so much time, resources and energy into it.
Being the first entrepreneur in my family and learning most business things myself was also a challenge and is now also an achievement.
How important is ongoing learning to you?
I believe that learning must not stop at any stage in your life; we must keep learning new skills that will help us. Taking short professional courses or regularly reading books can be a game-changer in life.
What's the best piece of advice you have received?
While on my first job, my manager told me to adopt a habit of listening to learn, not to respond, and to enhance my professional skills regularly. These habits, which I developed over time, are helping me in a big way in my professional career.
What are your career or business aspirations going forward?
At my current company, we are engaging and helping start-ups to build products for the future. I am also much involved in the start-up community with our meet-ups, events and other online activities. The community is undoubtedly helping new entrepreneurs and I want to stay engaged in this and provide support as much as I can.
Insight Track
How has your degree benefited you?
It's been a huge benefit to my career as it helped me to shape it to where it is today. Through my degree I've enhanced my business knowledge, made friends and learnt a lot about different cultures all of which is helping me while running my company.
What is your fondest memory from your time in UCD Smurfit School?
The charity project and event we did to raise funds for a local Dublin charity.
How important is your UCD alumni network to you?
There are many great minds from UCD which are very helpful to each other. Being overseas now, it's rare to meet people in person but through LinkedIn I am well connected.
What are your main interests outside work?
I love to explore the outdoors and take short holidays with friends. I am currently reading books and investing time in my personal health.
Tell us something most people don't know about you.
My first professional job did not involve an application or interview process. I sold my small online business to the company and was acqui-hired.
What piece of technology can you not live without?
My laptop with the internet.
What is your pet hate?
People with fake smiles and two faces.
Who's your favourite writer or book?
It's tough to choose one. I prefer reading books around start-ups and entrepreneurship. Rich Dad Poor Dad by Robert T Kiyosaki is my all-time favourite.
And what is your favourite band or musician?
I enjoy listening to Hindi songs, and my favourite singer is Lata Mangeshkar.
What is dish do you most enjoy cooking?
I love to cook omelette at breakfast.
What teams do you support?
Barcelona FC and Delhi Daredevils in cricket.
What is your favourite place in the world to visit and why?
Rishikesh – you feel connected to yourself there and the Ganges connects you with spirituality.
Where is home and why?
Delhi – most of my friends and family are here and also the core of my business setup is in Delhi. But I have many friends in Dublin, which I would call my second home.
What are your insider tips for visitors to your region in India?
If you are considering a visit to India, I would suggest you must do it. An insider tip is not to believe everything the media shows you. They always pick the worse side of it. Do not compare it with anywhere else and you will enjoy every single hour spent here.
Name three things on your bucket list
Taking my start-up to IPO
Seeing Mount Everest
Amarnath Yatra
What charities or causes are closest to your heart?
I wish to do a lot. Currently, I support children from rural India with education initiatives in a personal capacity and through local groups.
April 2020