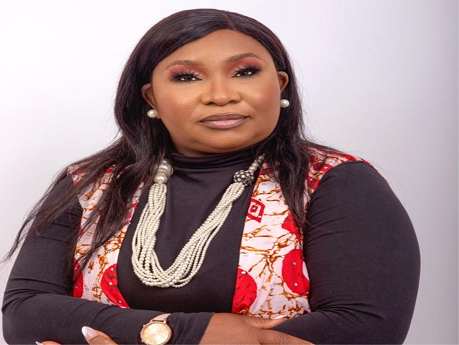 Yemi Adenuga
BBS 2010
Yemi Adenuga left a successful broadcasting career in Nigeria in 2000 to move to Ireland where she initially worked for IBM and studied for a business degree and an MBA. She started her first business in 2010 and now runs several – including MIB Institute – and, in 2019, became the first black woman to win a seat in Irish political history when she was elected a Meath county councillor.
About Yemi Adenuga
Tell us a bit about your background and career to date
I'm originally from Nigeria and grew up in a really large family where my father had seven wives and 27 children. My mother was the last wife and she had only girls, six biological daughters and she raised four step-daughters after my father's sixth wife left. This was a time when it was important to have a boy child and my father's family didn't believe my mother's girls would amount to anything. On one occasion my uncles and aunties said to my mum, those girls of yours are going to end up on the streets of Lagos and that's all they'll ever be good for. My mother was devastated. I heard those words and, as a 13 year old girl, was desperate to stop my mother from crying. I promised her that my sisters and I would work so hard and make her so proud that those aunts and uncles would wish their boys were girls. That became the motivation behind me wanting to be somebody. I called my sisters together and said we're going to have to be successful people and to go above and beyond what any boy would do.
That paved the way for my life's trajectory in becoming somebody. I learnt so many life lessons on that path to finding myself. It was difficult, it was challenging and I made a lot of mistakes. But I didn't see them as mistakes, I saw them as lessons in how not to do that thing the next time.
I did everything I could to make sure I had an education. I initially studied secretarial studies just to get into higher institution, then accountancy because I got the opportunity, then mass communication because I started working in broadcasting. No one told me what I was good at. But after I found myself, I'm delighted that I now also have a business degree from UCD and an MBA from Liverpool John Moores University as well as a postgrad certificate in enterprise and entrepreneurship from the Innovation Academy in UCD.
For my first paid job I worked in marketing for a couple of years. Then I worked for a radio station, Ogun State Broadcasting Corporation. I was a presenter, producer, scriptwriter and director – you had to learn to do everything. That was fantastic for opening doors within the broadcasting industry. I moved on to work for the first private radio station in Nigeria and became the first voice to be on the first private radio station in Nigeria, which is historic.
The owners then started the first private television station. I was the producer of the first programme that was aired on that station. On that channel I was a newscaster, producer, scriptwriter and director, and I had a talk show called Sharing with Yemi – it was Nigeria's number one talk show for the years that it ran.
When I got to Ireland, I had the chance to work in accounting for the first time. I started with IBM in the manufacturing area and then I got an opening to move to the cost accounting department, where I stayed until 2010 when I left to start my own business.
The first couple of years after that were not very successful but I did learn how to manage the business and run things well. Then I set up what is now the MIB Institute of People Development, which offers people development training for corporate organisations, groups and individuals. It's about helping people discover who they are within the big picture of a company's success.
I'm also an elected public representative. I went into politics in 2018 when I was asked by Fine Gael to represent the party in the local elections. At first I said no, but my husband reminded me what I say to my students about opportunity. I always say, one, you have to recognise it; two, you have to take it; three, you have to use it well; and four, you pass it on.
I always wanted a bigger opportunity to do more of what I was already doing in Navan so I said yes to politics and I'm so thankful I did. That gave us another historic moment when I became the first black woman to be elected in the history of Irish politics, and the first migrant to be elected into Meath county council. But the excitement for me was that the people of Navan embraced me, recognised all that I have been doing over the years and elected me to serve. I'm so happy to be able to make a difference in my hometown of Navan, especially for women and young people because that is my passion.
Through my work I visit a lot of schools and speak to young people about their plans for the future, the importance of finding themselves and being responsible citizens.
I also set up a social enterprise called Sheroes Global a couple of years ago. Our focus is to inspire, empower and impact women and young people to be more and to celebrate them when they dare to be more. Through Sheroes we've set up several programmes, like Women's Network, Girls Club and the Boys to Men Project, and we have an annual conference and awards.
I'm also a trainer, a coach and high impact keynote speaker at conferences globally.
What motivates you?
As a coach and people development strategist who builds people, I'm motivated by seeing the success of the people I have coached, mentored or trained, who are value driven, who can paint a picture of where they want to get to and work smart to get there. The experience of my past in this regard inspires me to keep mentoring people to be the best they can be.
I run a mentorship programme that's been operating for 26 years and has mentored 22,000 people in countries around the world. For me, the motivation behind that is to help people who have a goal, who want something more, something bigger. The successes of my mentees motivate me hugely.
I'm also motivated by my faith in God. I'm a Christian and I believe my journey in life so far has been impacted by God's help and I am constantly motivated by the strength I draw in this supreme being that is bigger than me.
Who has influenced or inspired you?
One of my very big influences as I grew up was my mother. It's not a cliché – it is actually my reality. My mother was not educated – she only got a chance to go to primary school – but she's one of the smartest women I've ever met in my life. She gave everything she had to make sure her girls went to school. She constantly prayed for our success. I learned to pray for my children – I have two boys who are 14 and 15 and two girls who are 23 and 30 – from watching my mother pray for us.
In terms of finances, she also taught me to be content with what I have, enjoy it and manage it well.
A person who also influenced me in my business life was a former boss of mine, the owner of the private radio and television stations I worked for in Nigeria. He was a business guru and would take risks that were unbelievable. That's how he was able to become a phenomenal businessman. And he would share his expertise with me.
I also learnt a lot from him about connecting with people. His company had over 1,000 employees but he knew everyone by name and what was going on with them. I still can't understand how he did it. He was a huge influence on how I relate with people who I work with and how I show empathy and concern for things that are happening to them in their personal lives.
I am also inspired by business women like Norah Casey, Orlaith Carmody and Alison Cowzer whose success stories remind me that you can achieve your goal if you work hard and smart.
How would you describe your leadership style?
My leadership style is a cross of a few different styles. I'm visionary and I see things in big pictures. My passion is brought alive when I help people transform themselves. I'm a servant leader at the same time.
One thing's for sure, I'm not an authoritative leader. I love participation. I love people I lead to feel included, get involved, and participate.
I'm the kind of leader who also loves to delegate. I've had to learn to do that over time as I realised that in order to be able to help the people I work with or mentor to become successful I needed to give them the opportunity to lead or to use what they've learnt to move on to bigger stages.
I'm the kind of leader who really wants to enable the people I lead. I always say to people, the only way you can show me I've impacted your life is by succeeding and being better than me.
I haven't found a phrase that describes all of this combination.
How important is ongoing learning?
It's very important to me – both formal learning and informal learning are. I value the things I learn from the people I meet, teach and mentor.
I did my bachelor of business studies at UCD through a distance learning programme over four years and then went straight on to do a full-time, one-year MBA. It was a tough time – through the degree programme and my MBA I was pregnant twice with my boys. I don't know how I finished but I got them done because I was determined.
I've done quite a bit of leadership training and I'm now looking to finally start a PhD. It's not about the doctorate, it's about the bigger impact I want to make in Ireland. Ireland is my home now and I really want to make a bigger impact.
I always like to improve myself. I say to people, whatever it is you're good at make sure you learn to become better at it, if not the best.
What are your favourite pieces of career advice?
One that I received years ago that's stuck with me for so long and has shaped who I've become is to love what I do, and do what I love. That was given to me by a teacher in secondary school. He also discovered me in terms of public speaking. He encouraged me to step out and join the literary and debating society in school. I was so afraid, I just wanted to disappear. I was so shy. When I tell people I was shy they don't believe it.
The second person who gave me advice I have lived by was my father, which surprised me. He told me that I could be anything I wanted to become and that also stuck with me.
I always tell people now, you can be anything you want to be. You just have to figure out what that is first. And in discovering what it is, you have to think of the things you love and enjoy doing so that every time you wake up, you're excited about it.
What is your biggest achievement?
I would say impacting about 22,000 lives in over 26 years through mentorship, becoming a highly sought after global keynote speaker and making history as the first black women to be elected in Irish politics, in a country that's embraced me and helped me to find a sense of belonging. I have made a home for myself and my family in Ireland.
I'm grateful to be the first black woman to win an election in Irish politics and I'm making sure that I'm definitely not going to be the last. I want to ensure there's more representation, not just for migrants, but for people from ethnic minority backgrounds and for groups that are disadvantaged in society. Representation matters.
What are your plans for the future?
If you'd ask me a year ago if I aspired to go further in politics I would probably have said I don't know yet. But, now I would say I would like to give it a go. Looking at the impact and the excitement my running in the local elections and winning has had on women an on young girls from different backgrounds shows me we also need representation at a national level. We still don't have anyone from a migrant background sitting in the Senate or the Dáil. There's a gap there that needs to be filled and I want to take a plunge at it. If I win fine and if I don't I'll have encouraged many others to step out as well. If you don't try you don't know if you'll win or not.
Also for business, I have an aspiration to take on more global keynote speaking engagements. I get a lot of invitations to speak on international stages and I want to be able to do more of that, to inspire people more and to positively impact and influence people more to know that it doesn't matter where you come from. It's where you're going or want to go that matters.
Insight Track
How has your degree benefited your career and personal life?
It has earned me respect, given me confidence and a pathway to career and personal advancement.
What is your fondest memory from your time in UCD Quinn School?
I have two fond memories: The first is attending Dr Maeve Houlihan's organisational behaviour classes. She was my favourite lecturer. And the second memory was writing my final exams lying on a mattress and trying to finish between pains that felt like contractions when I was pregnant with my third child. The supervisors were incredibly supportive.
How important is your UCD alumni network to you?
It is very important as it is a brilliant platform to engage with and stay connected to UCD grads who are excelling. I wish I could get involved more.
What are your main interests outside work?
Spending quality time with my family, travelling, writing and cooking.
Tell us something most people don't know about you
My car is called Aretha.
What piece of technology can you not live without?
My phone.
What are your favourite books?
A Lineage of Grace by Francine Rivers and How to Make Friends and Influence People by Dale Carnegie.
Who is your favourite musician?
Tasha Cobbs Leonard.
What's the last performance you went to that you loved?
I went to see Grease The Musical performed by students of Coláiste Na Mí Navan at the Solstice Arts Centre. Navan and I loved it.
What is your favourite dish to cook?
Seafood okra stew.
What team do you support?
Arsenal – because my husband and boys support them.
What is your favourite place in the world to visit and why?
Dubai, because it is my perfume oils haven.
Where is home and why?
Home is in Navan because my heart and family are there and we are the Adenugas of Navan.
Name three things on your bucket list
Bungee jump, fly a plane, visit Mauritius
What charities or causes are closest to your heart?
The Sheroes Boys to Men Project, because its goal is to raise boys to be good men and it is working to raise a generation of good men.


September 2023